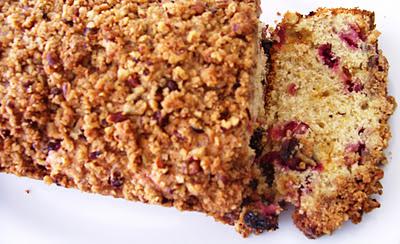 I have been out of commission this past week. As far as baking goes…it wasn't a break by choice. I got hit with a stomach bug and it is just now moving on. I did not have an appetite, didn't even want to smell food. My meals consisted of saltine crackers, Gatorade, and Ginger Ale. This weekend was my first time having as much as a sandwich, and I am slowly getting my appetite back.
I was very eager to get back to baking, but didn't have a taste for anything too sweet. I also wanted to make something using some of the leftover items I had from the holidays.
I came across this recipe a while ago in my cookbook and marked it, so I decided to go with it. This bread is good and not to sweet at all, it was perfect for what I was looking for. I think it will be the perfect breakfast for a couple of days to help coach my stomach back to health.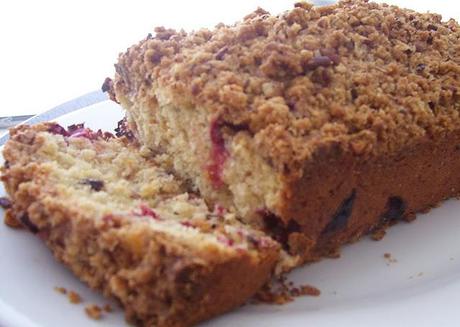 Recipe adapted from:

Taste of Home Baking Classics
1/3 cup packed brown sugar
3 tablespoons all-purpose flour
2 tablespoons cold butter
3/4 cup finely chopped pecans
Bread
2 cups all purpose flour
3/4 cup sugar
1 1/2 teaspoons baking powder
1/2 teaspoons ground nutmeg
1/2 teaspoons ground allspice
1/4 teaspoon salt
1 egg
3/4 cup orange juice
3 tablespoons butter, melted
2 tablespoons grated orange peel
1 cup frozen cranberries
1/2 cup raisin
In a food processor, combine brown sugar, flour, butter until crumbly. mix in pecans; set aside in a small bowl.
In a large bowl , combine the flour, sugar, baking powder, nutmeg, allspice and salt.
In another bowl, whisk the egg, orange juice, butter and orange peel. Stir into flour mixture just until moistened. Fold in cranberries and raisins.
Transfer half of the batter to a grased 9-in. x 5-in. x 3-in. loaf pan. Sprinkle with half of the streusel; repeat layers.
Bake at 350 for 60-75 minutes or until a toothpich inserted near the center comes out clean.
Cool for 10 minutes before removing from pan to a wire rack.
Yield: 1 loaf (16 slices).