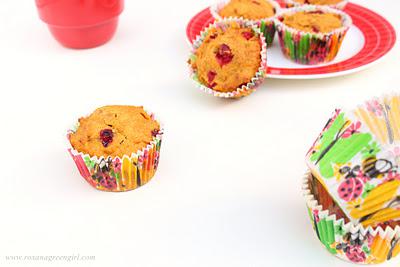 You don't know what you have until it's gone. It's so true! I knew I'm going to miss blogging but not as much! I missed writing, reading, baking, oh, how I miss baking! While I was visiting my family I turned the oven on 2 times in 5 weeks. 2 times!  Once to make roasted potatoes and once to make an apple pie! My family and friends pampered us to the last minute! 
Coming back home to an empty fridge is not the baking friendly kitchen one's looking for but I couldn't wait any longer to do some shopping and turn the oven on! I was craving some pumpkin goodies but after seeing fresh cranberries at the store the idea of combining the two seemed like a great idea. And oh boy, what a delicious combo. The sweetness of the pumpkin goes well with the tartness of fresh cranberries. The agave nectar used as a sweetener gives the muffins a unique flavor enhances by the orange zest.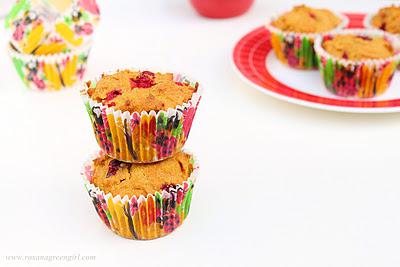 To make the muffins is pretty easy and don't even require a mixer. All you need are two bowls and a whisk.In one bowl mix the dry ingredients : whole wheat pastry flour, baking powder and a pinch of salt and in the other bowl some of the wet ingredients : canned pumpkin, agave nectar, orange zest and grape-seed oil.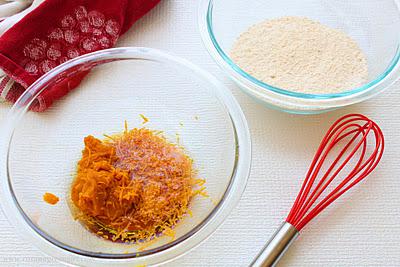 Give a whisk yo each bowl and then combine the dry ingredients into the wet ones. Add some milk and fresh cranberries and mix until combined.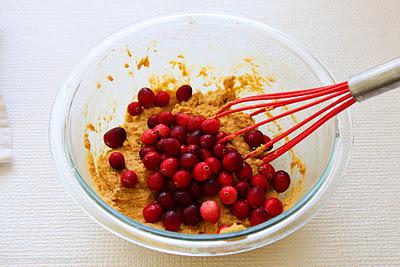 Scoop the batter into prepared baking pan and bake in preheated oven until the toothpick test.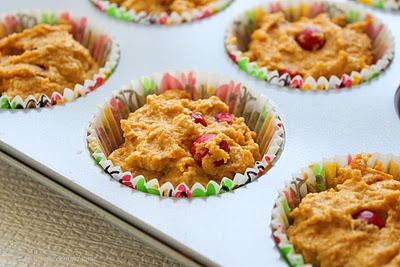 You see, you have no excuse NOT to make these!
Cranberry Pumpkin Muffins (Vegan)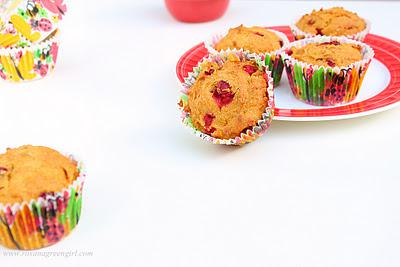 Ingredients 
1 1/2 c whole wheat pastry flour1/2 tsp baking powderpinch of salt1/3 c agave nectar 1/4 c canned organic pumpkin4 tbsp grape-seed oilgrated zest from 1 small orange 1/3 c almond milk1/3 to 1/2 c fresh cranberries
Directions 
Preheat the oven to 375F. Line a 6 muffin baking pan with paper cups or grease it with some baking spray. In a bowl combine the whole wheat pastry flour, baking powder and salt. Set aside. In another bowl whisk the pumpkin, agave nectar, grape-seed oil and orange zest. Slowly combine the dry ingredients into the wet once. A little at a time add the almond milk followed by the fresh cranberries. Stir until just combined. Do not over-mix!