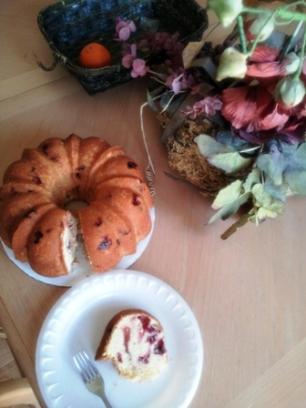 It's funny that I bake with Cranberries so much now, being that they are my least favorite berry; but I keep coming across recipes with flavors that sounds so great that I have to make them. This recipe is one of those great recipes; the pound cake is one of the best I've ever made. I enjoy cranberries mixed with orange flavoring but it didn't come over strong enough for me in this recipe actually. Delicious cake will definitely make again; I will just add more orange flavoring the next time.
J
Cranberry Orange Pound Cake
Recipe adapted from:

Taste of Home Baking Classics
Ingredients:
3 cups all purpose flour
1 teaspoon baking powder
1/2 teaspoon salt
3 sticks (1 1/2 cups) unsalted butter
3 cups of sugar
6 eggs
1 teaspoon vanilla extract
3 teaspoon grated orange peel
1 cup sour cream
2 cups fresh or frozen cranberries
In a medium bowl Combine flour, baking powder and salt; set aside.
In a large bowl, cream butter and sugar until light and fluffy. Add eggs, one at a time, beating well after each addition. Mix in vanilla and orange peel. Add the flour mixture to the butter mixture alternately with sour cream. Fold in cranberries.
Pour into a greased bundt pan.
Bake at 350 degrees F for 65-70 minutes or until toothpick inserted near the center comes out clean.
Cool for 10 minutes in the pan, before removing from pan; then place cake on a wire rack to cool completely.