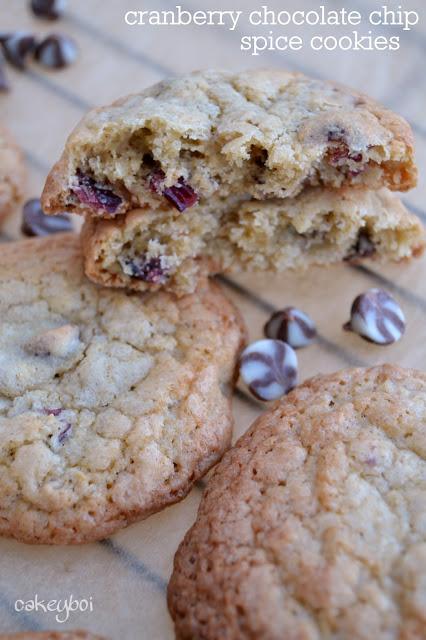 It's been a while since I've made cookies. Cookies are one of my favorite 'goto' bakes to make. Simply combine the ingredients, scoop, bake and mostly you're done.
I always like to add a bit of flavor though and these cookies contain ingredients which are a good segue between the autumn and Christmas period.
In them are dried cranberries, which are very synonymous with the festive season and also Thanksgiving as well. They give a sweet, juicy burst to these biscuits.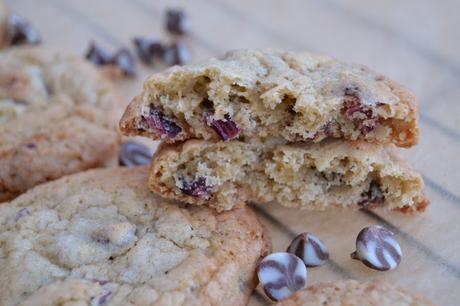 I've also added chocolate chips, but haven't specified which chocolate as I think any would work in this recipe. I personally used ones I had picked up in Canada, which are swirled with white and milk chocolate. Very pretty, like a cream and brown coloured big top. White chocolate and cranberries go so well together, but then again dark chocolate does too. So really, any chocolate chips you have on hand are ideal.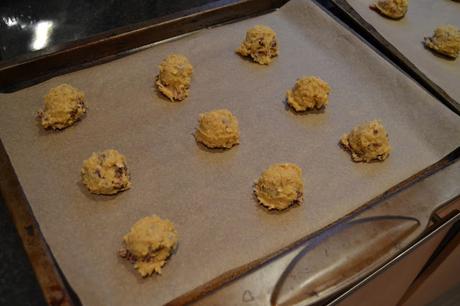 I've added some spice as well with Allspice, giving a nod to seasonal pumpkin spice flavours and Christmas spiciness too.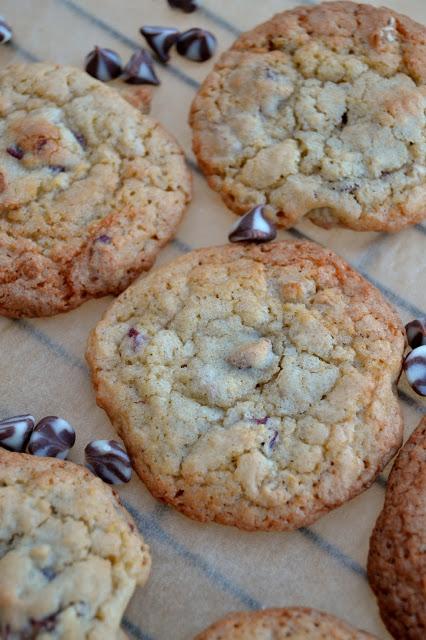 The cookies also have oats in them to provide a bit of body and texture.
All in all a flavourful easy cookie to knock up that is ideal for this time of year. What shall we call it - Wintumn? 
Here's how I made them...
Cranberry Chocolate Chip Spice Cookies by
S Vettese
November-21-2016
Cookies filled with juice cranberries, sweet choc chips and warming allspiceIngredients
170 grams unsalted butter, softened
225 grams granulated sugar
1 medium egg
1 teaspoon vanilla extract
 125 grams plain flour

1/2 teaspoon baking powder

1/2 teaspoon bicarbonate of soda
115 grams unsalted butter, softened
Pinch of salt
2 medium eggs
80 grams porridge oats
100 grams chocolate chips
75 grams dried cranberries
InstructionsPreheat the oven to 180c (160c fan) and line a couple of baking sheets with greaseproof paper.
Sift together the flour, baking powder, bicarb and salt in a bowl and set aside.
In a separate bowl, cream together the butter and sugar until light and fluffy.
Add the egg beat in.
Add the vanilla extract and stir in.
Add the dry mix and beat together.
Add the porridge oats, chocolate chips and cranberries and stir through.
Scoop out tablespoon sized balls of cookie dough and place on the baking sheets spacing them slightly apart.
Place the baking sheets in the oven for approximately 12 to 15 mins until the cookies are golden brown around the edges.
Remove from the oven and allow to cool for 5 minutes before transferring them to a cooling rack.
Enjoy with a cuppa!
Details
Prep time: 20 mins
Cook time: 12-15 mins
Total time: 35 mins
Yield:

20 cookies