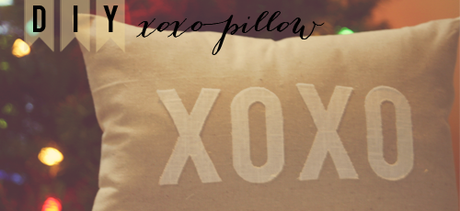 I think it's a good sign that I'm satisfied with the gifts I made when I end up keeping one of each for myself.

I made one of these for my sister (and one for myself), while my mom got 2 that were similar. This pillow ended up being super easy to make for 2 different reasons:
- 1 -
I wanted to avoid putting zippers in my pillows. Zippers are a pain in the neck (in my opinion) and I'd rather do without them when I can. However, I still wanted the pillows to be washable, so I ended up using a method I'd seen on Martha Stewart referred to as an | envelope-back | It's a pretty foolproof method that saves a lot of frustration (if you hate sewing zippers as much as I do), and the best part is the pillow slips right out when it's time to wash the pillowcase.

- 2 -
The letters were simple because I used the exact same method as I did for my | appliqued onesies | I chose a thick font | Bebas | because it's easily readable and the block letters were a breeze to sew around. A cursive font would make an elegant pillow, just a little more difficult to sew.
I used a natural linen for the pillow and white linen for the letters. My advice is to figure out where the center of the front of your pillow will be before you sew it all together, that way you can go back and sew around the edges of all your letters with ease.
 In other news…
We're finding out the sex of our baby today!! Disregard | this | post from months ago. Who was I kidding?  I'm the ultimate planner and I kind of can't stand knowing whether it's been a little boy or girl doing acrobatics in my belly the past couple of weeks. It feels like Christmas morning around here and we can't wait to share the news with our families this evening at dinner!