It's that time of year again - craft show time!!  Dilemma - I am having some serious crafty / artist block right now.  On top of that, I can't seem to find any extra time to work on anything!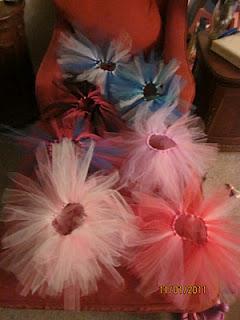 The craft show is next weekend, November 12 and 13.  To date, I only have 7 doll tutu's, 5 child size tutu's and a handful of doll outfits and embroidered washcloths left over from last year.  AAAHHHH! What to do, what to do?!  My goal for this year was to create princess costumes for the dolls, tutu's for both children and dolls, and some quilts.  Needless to say I did not quite meet this goal!
So - for the next week I am going to set small goals and try to accomplish as much for the craft show that I can.  Tonight and for most of the day tomorrow I am going to make as many doll tutu's that I can ( or until I run out of material! )  These are actually quite simple, so I am hoping to make a good number of these.
I started by tying elastic around the doll's waist.  The first tutu that I made came out very full, so I decided to use slip knots on the rest of the tutu's. This resulted in using less tulle and the skirt's were not as full as my original - but they still look adorable!  I plan on embellishing the tutu's with some ribbon and small flowers. Now I just hope they sell at the craft show!  If not, they will be the first items on my Etsy page.   :)
Happy crafting and enjoy the day!