With all this cold weather we've been having recently, there's been a sudden cold draught whipping through my house from the kitchen (why are kitchens always so cold?) so I needed a new draught excluder for my living room. Now, if you've seen my previous blog posts you'll know that I couldn't use just any old draught excluder in my 60s and 70s-inspired living room; it would have to be something suitably garish and preferably orange.
I had been given a lovely selection of vintage fabrics that a friend had found stashed away in a loft, and I'd had no idea what to do with them. Until now! The bright orange fabric had a perfectly gruesome 70s pattern and the pieces were just the right length to fit across the doorway, so I set about making a draught excluder, and making my home much cosier in the process.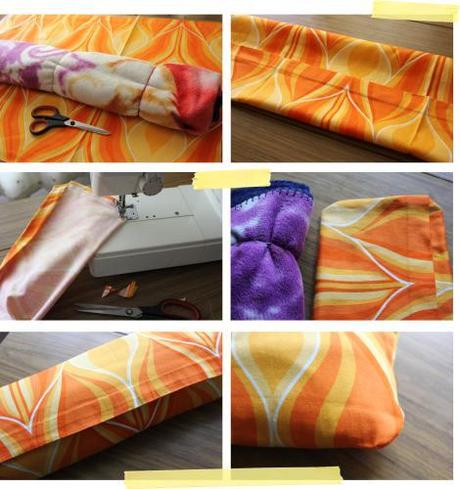 Here's how it went:
 I used an old fleece blanket for the middle of the draft excluder. I rolled it up to the width of the door and put 3 elastic bands around it to hold it in place – a very cheap solution! But you could use an old flat-ish pillow rolled up, or even a bath towel.
I measured the size width of the rolled up blanket  and then cut a piece that was 3 times the width so that the fabric could be folded into thirds to create an envelope, like you would use for a cushion back.
I folded the fabric in on itself and stitches both ends across, then trimmed off the corners and stitched diagonally across
I turned the cover right side out and inserted my rolled-up fleece filling. Done!