I got my Craft Beer Rising ticket many months ago, when I first heard about it. And I'd been looking forward to it for all that time, up until about a week or two before the event. That's when I started seeing a few non-positive tweets and hearing some opinions about the organisers. So when I went there, I went with lowered expectations. Since I bought my ticket early, it was an "early bird" ticket which gave me entry to both the afternoon and evening sessions on Saturday.
I arrived at about 3pm, exchanged some real money for CBR money and took a walk around. There was the keg room, the cask room, the music room and a small presentation area called the Mash Tun. Food stalls were dotted around the various rooms, with their tantalising smells wafting around invitingly. There were lots of stalls from bigger, well known breweries such as Sharp's, Martson's, Brains, Greene King, Wells and Young's and Thwaites. That doesn't exactly scream craft to me. But there were lots of other breweries there flying their small brewery flags. My first drink was half a Humulus Lupulus from The Botanist (I thought I'd support a London brewery) which was very tasty – refreshing, nice hop flavor and a clean, bitter finish. The place was busy and buzzy but as other people have pointed out, quite a trade show feel to the whole thing.
As I walked past the Mash Tun, Alex Barlow from All Beer was giving a talk and tasting of different beer styles. I found a space just as he was finishing off the first beer (a Kolsch). Then he moved on to a Timmermans Kriek beer, a Raw Grey Ghost IPA and Anubis Porter, and finished off with a Traquair House Scotch Ale. Alex was very animated and engaging and gave a good overall introduction to a range of beer styles. I heard lots of reactions (be they good or bad) to the various beers from the people in the room, but this was a very accesible introduction and hopefully opened some of their eyes to some beer styles they may not have tried before or wouldn't usually go for.
There was another session that afternoon but I had time for a quick half before it started, so I went to the re-branded Hogsback stand and asked for a half of something hoppy. They gave me a Hop Garden Gold. First aromas were subdued but the taste was good. Initially. It died quite quickly and the finish was too bitter and astringent for my tastes.
The next session was a food and beer matching by Melissa Cole that was excellent. She was bubbly and engaging, as you'd expect, and distributed glasses of Thwaites 13 Guns to whet our whistles. The pairings were good, and a little surprising. Good bitters and IPAs to match, respectively, a pork pie and posh fish finger sandwich, but the best was spicy Indian chutney with a wheat beer – the floral, fruity sweetness of the beer paired beautifully with the fragrant spiciness of the chutney. I'll definitely be trying this with my next curry.
The toilets were appaling, queues and wet floor and horribly drunk people pushing and shouting. Thankfully, they weren't like that all night, it must have been just because it was the end of the daytime session.
By now it was about kicking out time for the afternoon session, but after seeing pics on twitter of the queue from Patrick Kirkbright from the Friday, I decided to get £30 worth of vouchers for the evening session before I left for a bite to eat. I popped to a Brick Lane bagel shop, got a bagel and some water and went back in to the festival.
My friend Steve joined me for the evening session, and he's a big BrewDog fan so we started there. I'd heard a lot about their Jackhammer pale ale as one of theyr prototype beers, claiming to be so bitter that "this 7.2% IPA will literally destroy your mouth". Well, it didn't destroy my mouth. It was actually very tasty. It wasnt until she'd poured two halves of it for us that the friendly bar staff warned us about it's strength. Maybe not a good one to start on, but hindsight's a wonderful thing ain't it?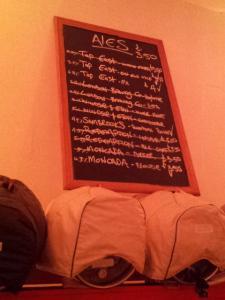 We went into the music room looking for the London Bar which was, very unfortunately, woefully stocked (see pic). And it had been like that since the afternoon session.
We tried some Stevens Point beers, which had that American Pale Ale caramel malt flavor that I'm not particularly keen on. Plus they tasted like nothing after the Jackhammer. So we decided to ground ourselves with a low ABV bitter from the cask room. We wandered and tried and spoke to the various brewers, which was a very nice experience. We spoke to William from Wildcard, a new London brewery. He was very passionate, and, somewhat strangely, viewed London as "wide open" in terms of breweries. At least compared to his native Nottingham. If you say so William. We shared a bottle of his flagship (and currently only brew) Jack Of Clubs. It was full of toffee malts, smooth and rounded with a hint of hoppy crunch. It definitely developed as we drank it. Then we had a Gravitas from Vale Brewery, and wandered to the Mother Flipper stand to smell the amazing burgers. But we decided to save our money for beers and grab a bagel on the way home.
At the end of the night, after trying Thornbridge's Saison and while Steve supped on a last half of Jaipur, we trundled over to the BrewDog bar to use up the last of our tokens. We purchased a bottle of Hardcore IPA each as neither of us had tried it. No matter what you think of their branding and PR tactics (I really don't like them), they do make good beer.
Then we headed home, stopping off for a salt beef bagel that was gargantuan, and very heavy on the condiments. As Steve said about the woman who served us, his eyes scrunched and watering, his hands clasped in fists as he took the last bite, "I'm not sure she's ever actually tasted mustard".
It was a good night, and I enjoyed some parts of the afternoon session more than the night and vice versa – the Mash Tun sessions were much better in the afternoon, but people didn't seem so hideously drunk in the evening, even though it was busier. The main issue I have with CBR is that for a London beer festival, only 3 breweries had stands of the over 40 potential ones within 20 miles of the event. I think this was mainly due to the amount of money asked by the organisers for the pitches. This meant that it wasn't wholly representative of the craft brewing scene in the UK as it favoured bigger breweries. I'm not saying the ones there weren't craft, but there was a bit of a corporate feel to it, more like a beer convention than a beer festival. And with the entrance ticket being over £10 and then having to get a glass on top of that, it felt like it was catered to a crowd that wouldn't usually go to a beer festival. It felt like someone was making a lot of money out of the weekend, but it wasn't the brewers.
It was very nice to get the beer from the brewers, to talk and learn from the people that actually make the beer. That was the best thing about it. It just needs to be more about promoting craft beer and less about making money, in my opinion.