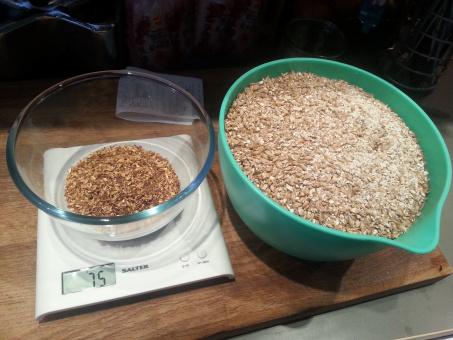 The grains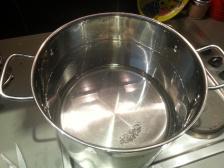 Strike water heating up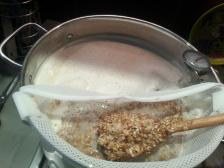 Malty porridge!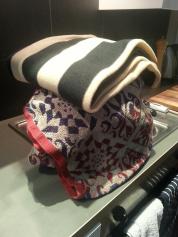 Designer mash tun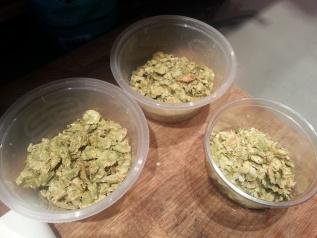 Hops ready to go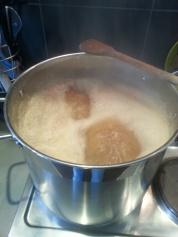 The boil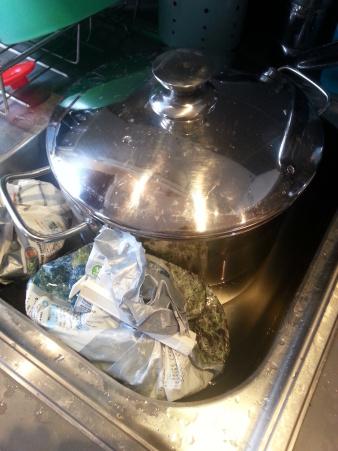 Cooling with the aid of frozen veg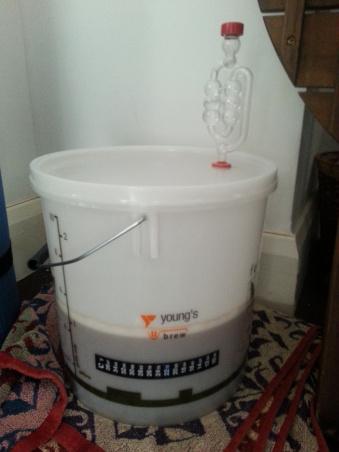 The morning after, close to beer!
I'm back, and I'm brewing. I wonder if anyone missed me.
I am finally brewing at home (my home, rather than my dad's) and finally doing all grain (technically brew in a bag, but it counts). I decided to go for small batches – 5L or so – which meant that setup was a lot cheaper and easier, especially for a small London flat. Also, this means I can try lots of recipes and refine the ones I like without having to go through 40 bottles at a time.
So I planned to do a few hoppy pale ales to start with and ordered some pale malt, a bit of crystal malt and then some Amarillo and East Kent Goldings hops. The first beer was a sessionable 4% Amarillo APA, which would hopefully be packed with citrus and resin flavours, and then I want to do the same grain bill but with EKG hops. The first would be fermented with US-05 yeast, for a clean, American pale finish, and the second will use S-04 English ale yeast for a more fruity flavor.
My dad very helpfully delivered all the equipment over the weekend, and on Sunday I made my first foray into proper brewing. This is the recipe:
Amarillo APA
Recipe specifics:
Style: American Pale Ale
Batch size: 5.5 l
Boil volume: 8.0 l
OG: 1.044
FG: 1.011
Bitterness (IBU): 58.6
Color (SRM): 12.7
ABV: 4.3%
Grain/Sugars:
1.10 kg Maris Otter Malt, 83.3%
0.075 kg Crystal 50-60L (British), 16.7%
Hops:
5.00 g Amarillo (AA 8.7%, Whole) 60 min, 19.3 IBU
15.00 g Amarillo (AA 8.7%, Whole) 10 min, 21 IBU
15.00 g Amarillo (AA 8.7%, Whole) 0 min, 0.0 IBU
15.00 g Amarillo (AA 8.7%, Whole) dry hop
Yeast/Misc:
American Ale yeast, 0.5 unit(s), Yeast Safale US-05
I weighed out my grains while the water heated up, and fitted my mesh bag into the pot for the mash. I used the brew in a bag (BIAB) technique that is so much simpler, quicker and easier than conventional brewing. Basically, you put the grain in the bag, put the bag in the pot and after 1 hour at mash temperature, remove the bag and start your boil. Easy! The bag I ordered, however, was a small, coarse straining bag which was both too small and too coarse. But, the mash went well, holding temp at 66°C for the hour, at which point the grains were removed and the pot brought up to boiling.
My first hop addition went in when it reached a boil, and this is where the beer gets most of its bitterness. The later hop additions are for flavor and aroma, and this is fairly heavily hopped for such a small batch.
After the boil, I put the pot in a sink full of ice and water to bring it down to room temperature ready for the yeast, who at this point were being rehydrated in a little warm water. This, I think, was the only error in the day: that I didn't leave the wort to cool long enough in the water bath. I transferred it into my sterilized fermenter bucket but it was still just over 30°C, too hot for the yeast. I sealed the bucket, shook it to aerate and cool the wort but the temp only came down by a degree or two. the kitchen was pretty warm at this point after the hour boil, so I put the wort in a cool corner to sit while I cleaned up.
Eventually pitched the yeast at about 27°C (not ideal) and left it. This morning, the airlock was blooping away and a thick finger of foam lay across the top of the near-beer. Oh, and the smell coming out of the airlock was wonderful, lots of hop aroma, with the still sweet malt underpinning it. I plan to see how it's going after a week and then dry hop it with more Amarillo for maybe 5 days.
It was all actually worryingly simple. But let's see how the beer turns out before I get too complacent.