I've long thought that crabapples weren't good for much of anything, figuring they were one of those ornamental fruits that tastes horrible–or worse.  I remember being disappointed when I was told that the crabapple trees in our hometown weren't going to produce anything worth eating, much as I found the native tree, the so-called Osage Orange, a bit of a letdown (at least from a culinary perspective.  The big green fruits were fun to stamp apart on walks home from the local playground, and more seriously apparently were planted to combat the terrifying clouds of the dust bowl).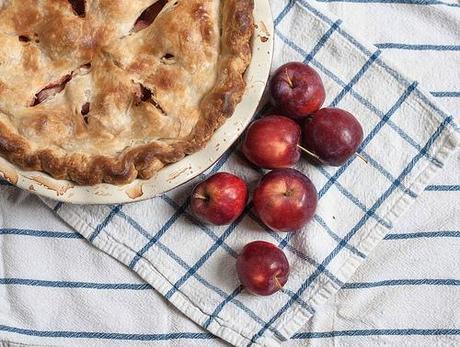 Back on topic, I realized I was wrong about crabapples when I started noticing them at the farmer's markets here, alongside the charmingly named heirloom apples:  winesaps, sheepnoses, Roxbury russets, Cox's orange pippin, and more.   Though I still didn't know what to do with them, being told that they were very sour.
When in doubt, make pie.  I saw a recipe for crabapple pie a few months back while paging through Mrs. Rowe's Little Book of Southern Pies and made a mental note.   No sooner had these smaller fruits appeared at our farmer's market, and I had already snatched up several pounds of Hyslop crabapples.  I don't know how many people buy crabapples at the farmer's market, but the vendor did seem a bit surprised, especially when I said "these are sour, right?"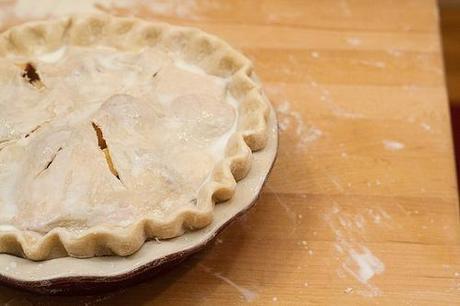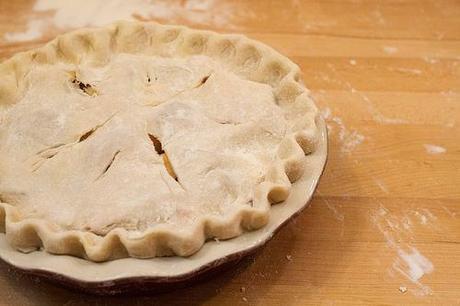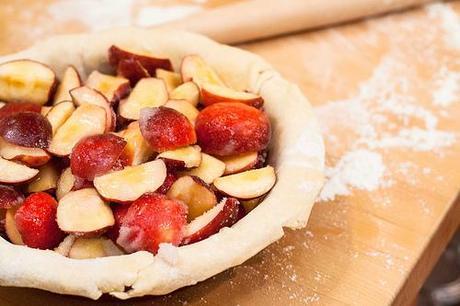 Sour is just right for this pie though–tart apples, such as Granny Smiths or Ginger Golds make an excellent apple pie, and pucker-inducing crabapples are no different.  The sourness is of course muted by a generous cup of sugar, but the tart notes still shine through, much as they do in a good lemon pie.  Meanwhile, dribbling in vanilla rather than the usual cinnamon and nutmeg added an unexpected richness. Apples either hold their shape or melt into an applesauce when baked, and the Hyslops at least fall into the latter category.  Therefore my decision to not peel, born of laziness, ended up also contributing a nice contrasting texture (as well as a glossy, ruby color to the entire filling).  My decision to ignore the original recipe's directions to finely chop was also happily ignored with no ill effect.  You could swap in some firmer apples for some of the crabs if you'd like something more to bite into, but not too much to mute the special flavors of the crabapples.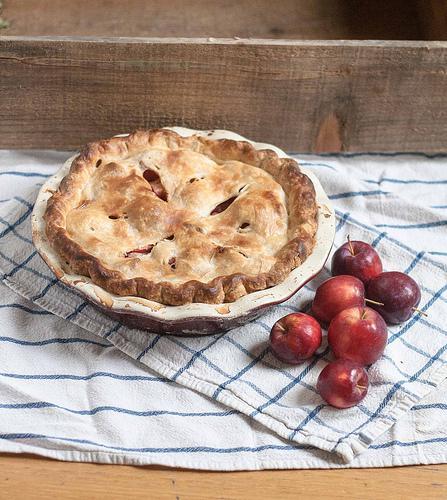 Besides pie, the most traditional uses of crabapples are for jelly (which of course I've also tried, and hope to manage a blog post on soon) and cider (which I haven't–no home distillery going on just yet).
Adapted from Mrs. Rowe's Little Book of Southern Pies
Use your favorite pie crust recipe–for our method, just click here.
Print
Crabapple Pie   Ingredients
6 cups of unpeeled cored and quartered tart crabapples. (A generous 2½ pounds)
1c sugar
1T all-purpose flour
¼t salt
1½T lemon juice
1t vanilla extract
¼c water
1T milk or cream
One prepared recipe of double-batch pie crust, divided into two discs.
Instructions
Have your pie crust prepared and chilling in the fridge.
Preheat the oven to 450F. Roll out half of your pie dough and place it in your pie pan. Return to the fridge or freezer to chill while you prepare the filling.
Toss crabapples with sugar, flour, salt, and lemon juice.  Pour this filling into your pie pan. Stir the vanilla extract and water together, and then sprinkle over the filling.
Spread filling in crust, sprinkle with vanilla lemon juice water  Roll out the second piece of dough and cover the filling.
Pinch or crimp the two crusts together, paint with the milk or cream, and then make several slits in the top layer of dough.
Bake for 15 minutes at 450F, then lower the heat to 375F and bake an additional 40-45 minutes, or until golden brown and bubbling.
Cool 1-2 hours before serving.
3.1.01