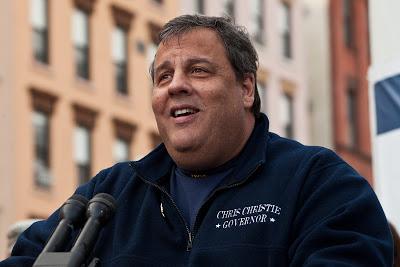 New Jersey Governor Chris Christie is one of the most popular governors in the country. The Republican governor is carrying a favorability rating over 70%, and is even viewed favorably by a majority of the state's Democrats. His re-election is pretty much assured, and he is even being talked about as a possible Republican presidential candidate in 2016.
But the right-wing extremists in the GOP don't like Christie. They don't like him so much that he is the only possible GOP presidential candidate that was not invited to the Conservative Political Action Conference (CPAC). A literal who's who of Republican presidential hopefuls were invited to speak to the CPAC attendees, including Marco Rubio, Rand Paul, Jeb Bush, Bobby Jindal, Paul Ryan, Sarah Palin, Rick Perry, and Rick Santorum among others. But the most popular Republican with the general public, Chris Christie, was pointedly NOT invited.
Why wasn't he invited? Because he did three things that right-wing extremists think are unforgivable sins. He shook hands and was photographed with President Obama, and publicly thanked the president for his help in getting federal aid to the New Jersey victims of Hurricane Sandy (right before the 2012 election). Then he berated his fellow Republicans for opposing reasonable gun restrictions. And finally he declared that his state would be expanding their Medicaid program in cooperation with Obamacare.
Now all of those things are good for the people of New Jersey, and that's why he was elected -- to serve the people of New Jersey. Those things have also served to make him very popular with New Jersey voters, and caused voters across the nation to look at him with fresh eyes. He is by far the most popular Republican in the country, and the GOP's best hope of winning back the White House in 2016.
But while he's become popular with voters in general, his actions for the betterment of the citizens of New Jersey have made him very unpopular with the extremist (teabagger) voters who make up a large part of the GOP base (and actually control the party in many states). The CPAC snub just highlights how much the extremists dislike him. These right-wing nuts don't care about popularity (or nominating a candidate who could win). They want someone who toes the extremist ideological line.
There's still a long time until the next presidential campaign, but the extremist base of the Republican Party seems determined to give the next presidential election to the Democrats. Personally, I don't think Hillary Clinton needs their help, but I appreciate their idiocy anyway.