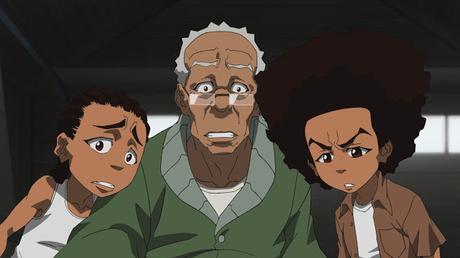 What makes The Boondocks so funny? Many people deem it racist and moreover, most humor that addresses race happens to more than often to be racist. In the age of political correctness and the word "woke" being at the forefront of everyone's vernacular, you would think that a show like this would not be able to run for more than a single season, much less than four. However, the humor and messages that the Boondocks are communicating are far from racist. In fact, the show is one of the most honest, progressive and thought-provoking shows about race that has been released in a long time.
In class, we watched a couple of episodes of Fat Albert and the Cosby Kids and a couple of episodes of The Boondocks. The differences in the humor and people's perception of the shows' humor were evident. Fat Albert produced laughter in more slap-stick manner. The kids play in the dumpster, their appearances are overtly dramatic for comedic effect and moreover, they say silly things and bully one another. For a child, it's straight-forward and funny. For an adult, there is something else almost sinister about it. For example, the kids live in a garbage dump. They play with trash and they swim around and bathe in dirty water. The simple fact of the matter is that they come from a poor neighborhood and live in poverty and it's made a joke out of. The Boondocks is quite different as the characters' disparity and the disparity of the African American community, amongst many other issues, are made out to be a discourse.
It's a satirical discourse, but with some contextualization, it makes sense and it is fewer people are likely to be offended.
The reading by Sarah Turner even illustrates the ways in which the "moment of decoding" occurs in which enables audiences to engage in an alternate reading of the text. This is what allows us to comprehend and explore the different animated works through a multitude of lenses, interjecting or reading through the lines by whatever means we choose to.
 For examples, when talking about The Boondocks, there is some historical/racial context that could be taken at face value, but in certain episodes, we are allowed to view things a gender-based or sexuality-based lens, especially with the introduction of future characters, like Thugnificient, who comes out as gay later on the series, or Tom, who has a perpetual fear of being gang-raped. There are things to say about each of these things, but decoding a work allows for a better, well-rounded understanding of it.