With the NHL All-Star Game coming up in Nashville on January 31, we decided to have a little fun with some hockey loving country music stars and hold a fantasy draft of our own.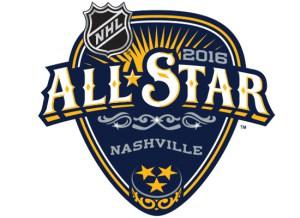 There are 14 players on the board, 12 skaters and 2 goalies… all picked because of their experience on the ice and/or love of the game.
There are a couple rules… and then we'll get to the draft!
How It Works…
1. Trish and I will take turns making our picks from the list of country artists below until we each have a team of 7 players.
2. Each team must consist of 1 goalie and 1 woman skater.
3. All other players are up for grabs in any order.
4. Jason & Tom Petric and Brad & Curtis Rempel may be picked individually or as a combo, but if drafted as a pair the next drafter's turn will have 2 picks to even things up.
The Players
★ Alan Doyle (Juno Cup goalie)
★ Brett Kissel (Family Tournament goalie, 2015)
★ Carrie Underwood (wife of NHL player Mike Fisher, Predators fan)
★ Jess Moskaluke (Floor Hockey Experience on tour with Chad Brownlee)
★ Chad Brownlee (former Vancouver Canucks Draft Pick)
★ Theo Fleury(Former NHL player)
★ Cory Marquardt (Former Junior player)
★ Bobby Wills (floor hockey experience on tour with Chad Brownlee)
★ Tom Petric (High School player)
★ Jason Petric (High School player)
★ Brad Rempel (Juno Cup player)
★ Curtis Rempel (Juno Cup player)
★ Jim Cuddy (Juno Cup captain)
★ Dierks Bentley (Nashville Rec. League player)

Trish won a coin toss, so she's got the 1st pick… here we go!
Round 1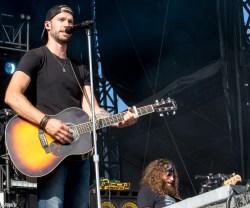 Trish: Chad Brownlee
Not a big surprise to my readers that Chad was my first choice. I watched him work his magic at The Mod Club and I have faith. His NHL career was cut short by injury but I think. at 6'2" in this field, he's my star defenceman.
Josh: Theo Fleury
Theo Fleury spent a bunch years playing NHL hockey, played in 7 All-Star games, and won a gold medal with Team Canada in 2002… and he's got a country album that he released in fall 2015. I'm happy with this pick!
Round 2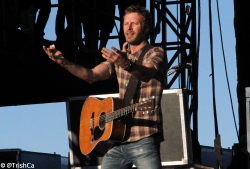 Trish: Dierks Bentley
Dierks' spends his spare time playing with the Nashville IceHoles and from what I've heard, he can't get enough hockey. He carries his hockey gear with him while on tour just in case he can get in some ice time. That's the kind of dedication I want on my team!
Josh: Cory Marquardt
The former junior player has a lot of high energy, and I'm betting his hands are just soft enough on the ice to make some plays.
Round 3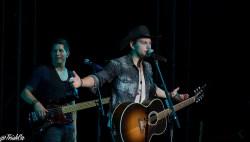 Trish: Tom Petric
I'll be counting on Tom as a forward and I'm thinking I'll put him on a line with his brother.
Josh: Brett Kissel
Brett's a big hockey fan who strapped on the pads last Christmas to play back home. We're playing 3 on 3, so I'm not hoping for miracles here, just someone to stop some pucks.
Round 4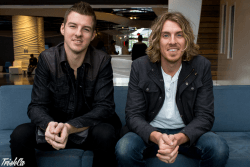 Trish: Jason Petric (picked in combo with Tom)
Jason may have spent a little time in the penalty box in during his hockey career. I'm happy to have him as muscle on my team.
Josh: Jim Cuddy
Cuddy's a vet who knows what he's doing on the ice. I need a captain, and his experience being the man in charge at the Juno Cup works for me!
Round 5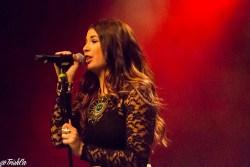 Trish: Carrie Underwood
Married to Mike Fisher, Carrie knows hockey? Can she shoot and skate? I hope she's been practicing since the Oprah video in 2012. She brings a great energy and I'm glad to have her.
Josh: Jess Moskaluke
Jess is a sweetheart, but we've seen her amp up the energy on stage, and she spent the When The Lights Go Down tour with a floor hockey stick in her hands. Sign her up!
Round 6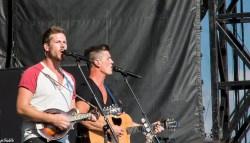 Trish: Curtis Rempel
Curtis grew up playing hockey and with a Juno Cup under his belt I'm sure he'll be an asset to my team.
Josh: Brad Rempel
I'll take the other half of High Valley, if nothing else we should create a little healthy rivalry between the brothers Rempel!
Round 7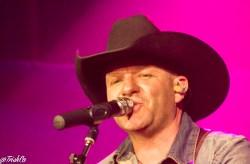 Trish: Alan Doyle
The most mature member of my team, and a lifetime lover of the game, Alan's proven his worth in the net.
Josh: Bobby Wills
Bobby is another When The Lights Go Down alumni, and I'll take him to skate with Jess, there's got to be some chemistry there!
Lines
Trish
1: Chad Brownlee, Tom Petric, Jason Petric
2: Dierks Bentley, Curtis Rempel, Carrie Underwood
Goalie: Alan Doyle
Josh
1: Theo Fleury, Cory Marquardt, Brad Rempel
2: Jess Moskaluke, Bobby Wills, Jim Cuddy
Goalie: Brett Kissel
Results and Evaluation!
Trish: I'm happy with my picks and can't help but think how awesome their team photo would look. Now if only we could make this game happen!
Josh: Trish has a great team, but I'm pretty happy with my 7 players… and I'd be happy to send 'em out on the ice for a Country Music All-Star Hockey game any day of the week!
Now tell us whose team you think would win by voting in the poll!
<a href="http://polldaddy.com/poll/9287591">Take Our Poll</a>