New to little Indiana? Subscribe for free to my RSS feed. Thanks for stopping by!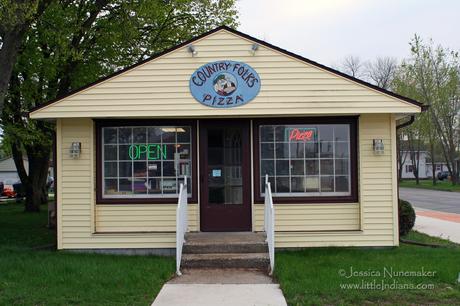 Country Folks Pizza: Kouts, Indiana
Kouts, Indiana may not be the Indiana town you think of when you want pizza. Let's change that now, shall we? You need to meet Country Folks Pizza.
For twenty years this June, this Porter County pizza joint has been cookin' up one heck of a perfect pie. This pizza is amazing!
Country Folks Pizza in Kouts, Indiana
This pizza is so amazing that I had to go grab a leftover slice after I wrote that second sentence. I kid you not. What will I do when it's gone?
I had a meeting with Jesse Harper from JBH Productions who will be producing a couple of travel vignettes for little Indiana. We met at Country Folks Pizza and chatted over water (me) and soft drinks (hubs and Jesse).
It smelled so good inside. After our sit-down was over–hubs and I decided we had to bring home some pizza.
Country Folks Pizza Menu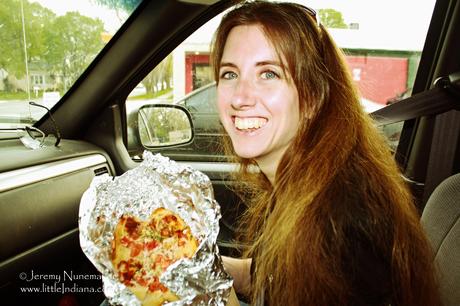 Country Folks Pizza: Kouts, Indiana
We didn't take long to make up our minds. In fact, I think this was some sort of record!
Looking over the sides and extras portion of the menu, we got started with Tomato and Cheese Bread. For the car. What? You think we could wait until we got home?
We didn't take home just any pizza. We took home the most unusual pizza we've seen in any of the small Indiana towns we've traveled through. We took home a Pepper-jack Swiss Beef Pizza!
For research purposes, we had to get the 20″ pizza. It is loaded with two pounds of roast beef. Two pounds! They say it is equal to four foot long sandwiches worth! Yowza.
Signature Pizza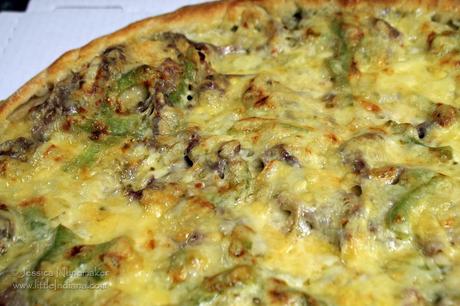 Country Folks Pizza: Kouts, Indiana
Laden with Pepper-jack and Swiss Cheese, garlic butter, green peppers, and onions–it is impressive. This is the Country Folks Pizza people's signature creation. Customers raved about this delectable sandwich selection so much, they thought, "Why not turn it into pizza?"
They sent me home with a pizza cutter because, if they cut it in store right then, butter would have leaked all over. Oh. My. Word.
I ate it for dinner, breakfast, lunch, and dinner. I also ate it cold. I also just ate it again.  Any way you slice it–I am obsessed!
You know me. You know my pizza obsession. You need to know Country Folks Pizza. It's more proof that great things are frequently found in the smallest of packages.
Go There
THIS is a menu. Between Stan's Stuffed Pizza or the classic crust, from super-thin to deep dish, Country Folks Pizza has it!
A slew of sandwiches and their own pizza creations, you'll find plenty here to keep you happy. As for me? I think there's one slice of pizza left in the fridge–and it's calling my name. Just don't forget to tell 'em that little Indiana sent you.
Find Country Folks Pizza images and other pictures in Indiana on my Flickr photostream.
Country Folks Pizza
401 Main Street
Kouts, Indiana 46347
219.766.3877

View Larger Map
little Indiana: Where to Stay, Play, and Eat in Small Towns in Indiana. Discovering Indiana's best small towns! Now get little Indiana on your Kindle.
Targeted. Relevant. Affordable! little Indiana advertising.