When Joyce from Kitchen Flavours suggested Savoury Pies / Tarts theme for our bake-along with Lena from Frozen wings, I was like... YAY!!!
My son and I love eating pies and tarts that are made with homemade pastries. In regardless of sweet, savoury, short or puff, we are loving them as long as they are buttery pastries. Having this Savoury Pies / Tarts theme in my mind, I have heaps of recipes to choose and was thinking of baking Chicken Pot Pie from the book, The Pioneer Woman Cooks by Ree Drummond or here. Eventually, I didn't want to choose this recipe because the pastry that Ree recommends is made of all shortening - eww!
This Maggie Beer country chicken and mushroom pies recipe that I have choose to bake for this bake-along is an interesting recipe as the pies are made of an egg-less sour cream pastry. Yes that these gourmet-style of pies require time to cook the chicken filling and much effort to make the pastry from scratch and assemble the pies accordingly but the time spent and effort made is definitely worthy. You will see what I mean...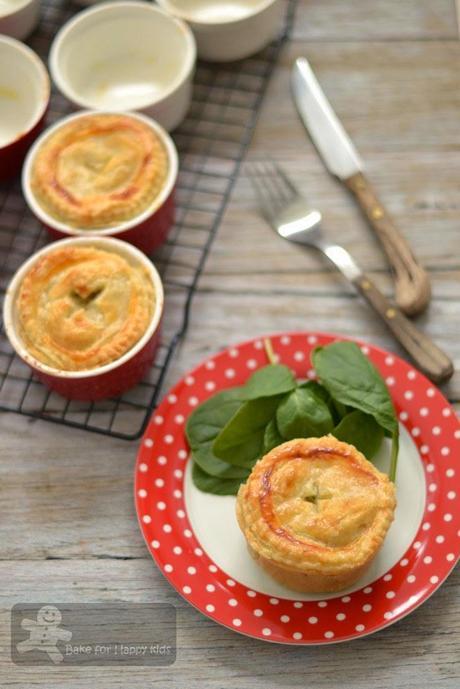 Country Chicken Mushroom Pies made with Sour Cream Pastry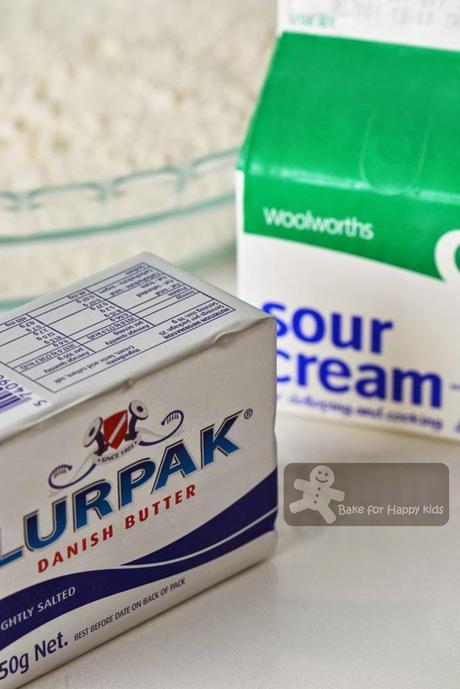 The pastry is made of just these three ingredients...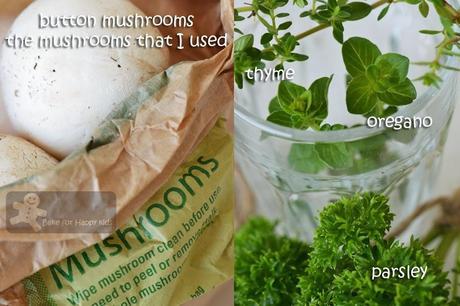 The filling is made of mushrooms and also these fresh herbs from my garden.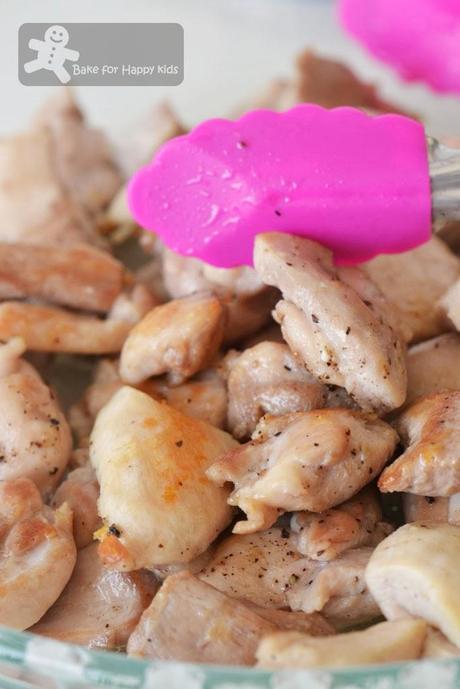 Not forgetting the main ingredient: Chicken, seared and then cooked in chicken stock until tender.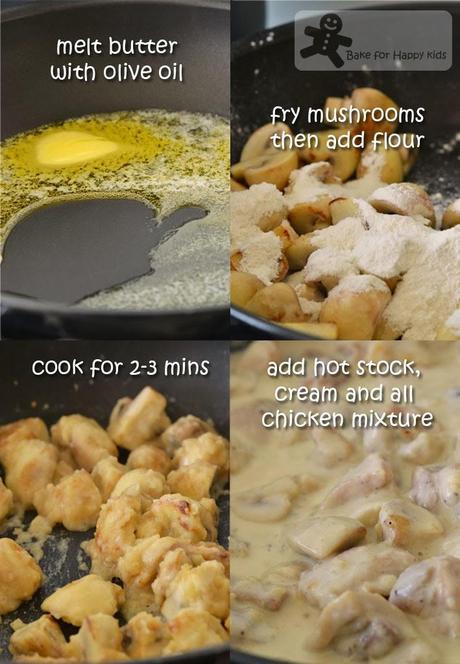 While cooking the chicken, this is how I cooked the mushrooms...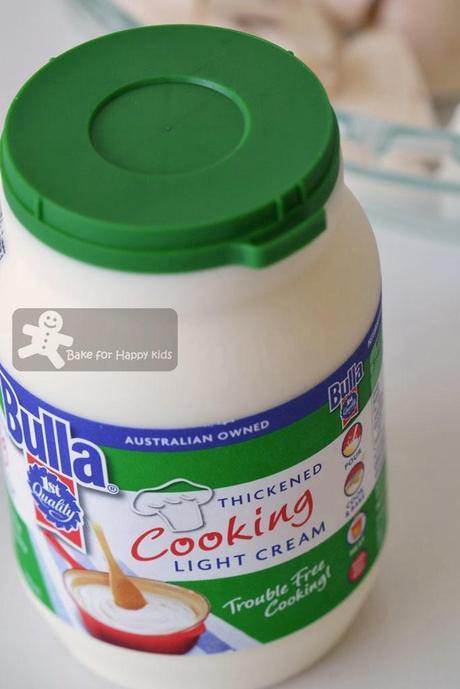 To be extra kind to my hip, I'm using the light cooking cream...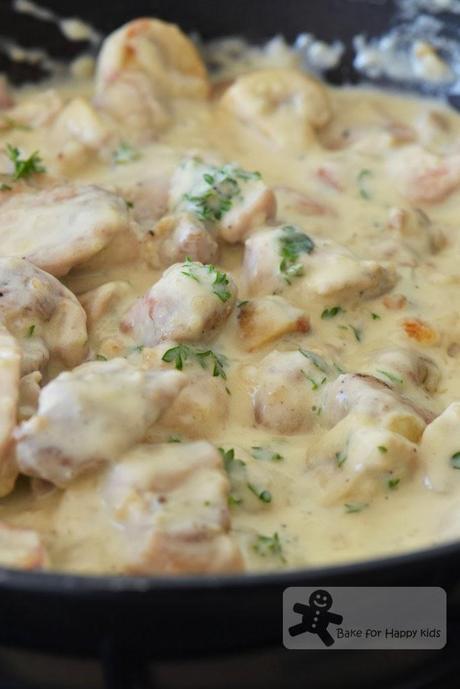 Add herbs, salt and pepper according to taste. Allow filling to cool and then chill...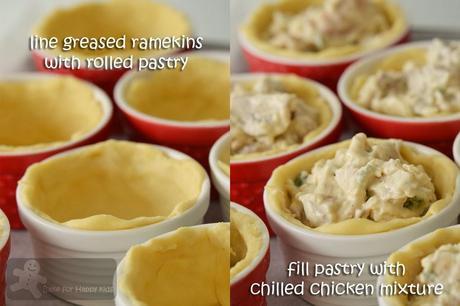 The pastry is soft and difficult to handle and so make sure that your work surfaces are well-floured.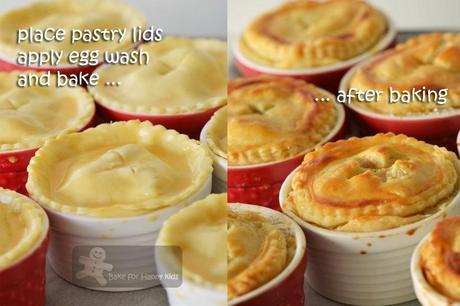 The smell of baking these pies is sensational. We can't wait to eat these pies!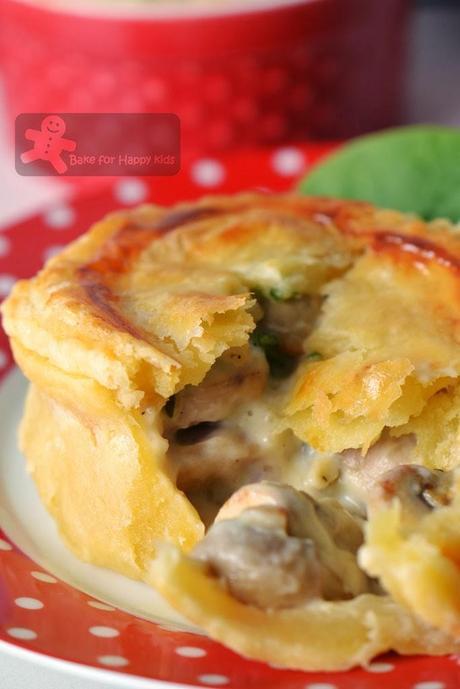 Yum!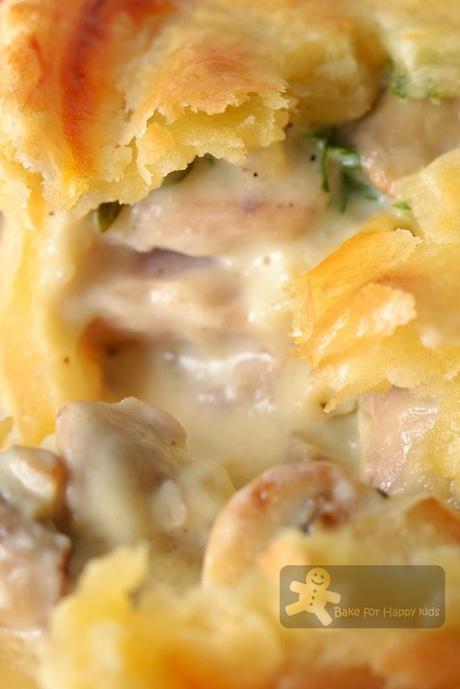 The pastry is beautiful... Buttery and flaky!
Here are the recipes:
(with my modification and notes in blue)
Sour Cream Pastry from Maggie Beer
125 ml sour cream
250 g plain flour
200 g unsalted butter, chilled
To make the pastry, dice the butter, then pulse with the flour in a food processor until the mixture resembles fine breadcrumbs.

- I made this by rubbing in the butter into flour by hand.
Add the sour cream and continue to pulse

(or to knead by hand)

until the dough starts to incorporate into a ball.
 
Wrap the dough in plastic film and refrigerate for 20 mins

or more

.
Roll the chilled pastry out until 3 mm thick and cut to suit your chosen recipe.
Country Chicken and Mushroom Pies from Maggie Beer
Makes 6 (or 8 small 10 cm pies)
6 chicken marylands, skin on
(I used 4 skinless, boneless chicken thigh fillets, cut into large cubes)
To taste salt flakes
To taste freshly ground black pepper
3 tbsp extra virgin olive oil
1 7/8 cup chicken stock

(I used only 250ml of the salt reduced one)
50g unsalted butter softened

(reduced to 30g)
7 large mushrooms chopped

(I used 11 button mushrooms, cut into quarters)
1/4 cup unbleached plain flour

(I used 35g)
200 ml cream

(I used the light cooking ones with 18% fat)
2 tbsp flat leaf parsley chopped
2 tbsp oregano chopped
2 tbsp thyme chopped
Egg wash
1 egg

(I used egg yolk only)
1/4 cup milk

(I used only 2 tbsp)
one batch of sour cream pastry
Preheat the oven to 200°C. 
Season the chicken with sea salt and pepper.

Butter a 24 cm x 18 cm baking dish. Place the seasoned chicken into the baking dish, drizzle with olive oil, and put into the oven to roast for 20 mins.
Remove from the oven and allow to rest for 15 mins, loosely covered with foil.
Instead of roasting the chicken in the oven, I have seared the cubed chicken in batches in a large pan, heated with 2 tbsp of olive oil. When all the chicken are browned, they were returned into the cooking pan. Add 100ml of stock and cook the chicken with low heat and covered for 40 mins or until tender.
Meanwhile, heat the Chicken Stock over a medium high heat in a small pot.
Place a large saucepan over a high heat, add the butter and once this has turned nut brown, add a dash of olive oil to inhibit burning. Add the mushrooms and fry for 4 to 5 mins. Sprinkle the flour over the mushrooms and cook for a further couple of minutes.
Gradually stir in

150ml of

hot stock, then the cream. Simmer gently until the mixture has thickened.
Remove the meat from the marylands and chop in to 1 cm pieces (I didn't have to do that), then fold through the chicken (including the stock) with the herbs into the mushroom mixture. Season to taste. Refrigerate until chilled.
Make the pastry and once chilled, roll to 3 mm thick and cut to line greased pie dishes / and lightly floured ramekins, leaving a 'lip' over the edge.
Cut out six (or 8) smaller rounds – these are the pie lids.
Fill the cases with the chilled chicken mixture. Egg wash the pastry lip and seal the lids in place. Trim the pastry and score the top of each pie. Egg wash the tops of the pies and refrigerate for 20 minutes.
Increase the oven temperature to 220°C or 200°C fan forced.
Place the pies onto a flat baking tray then place the pies into the oven and bake for 20 mins. Reduce oven to 180°C or 160°C fan forced and bake for a further 5-10 mins until golden brown.
Remove from the oven and serve.
Happy Baking
Here are our friends that have joined us for this bake-along. Please visit their blogs for more of their 
savoury pies or tarts baking.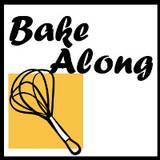 Please submit your details if you wish to link your post with this bake-along. This linking tool is open from 5 June to 14 June 2014.

For our next bake-along, we are baking Crisp Chocolate Bites from the book, Williams-Sonoma Baking, pg 44 or here
 which is to be posted on 26 June 2014. Please bake-along with us! All you need to do is to bake this recipe and blog hop with us for the next 10 days.

To blog hop with us, simply copy and paste this linky HTML code into your blog post where you want the blog hop list to appear. Make sure you are in HTML view/mode when you paste in the code. get the InLinkz code
Before using this linky tool, please make sure that: (1) Your post must be a current post. (2) Please mention Bake-Along in your post and link back to any of our hosts' Bake-Along post, (Joyce, Lena or Zoe). (3) Appreciate if you can display the Bake-Along badge in your post when linking up with us. Cheers!
This post is also linked to the event, Little Thumbs up organised by Doreen from my little favorite DIY and me, Bake for Happy Kids, hosted by Jozelyn from Spice Up My Kitchen at this post.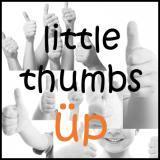 Only for this month (June 2014), Little Thumbs Up event starts on 1st June until the last day of the month. Please join us! To join, simply cook or bake any recipe with the theme of the month which is BUTTER for June 2014 and link with us at 
this post 
anytime until 30th June 2014. 
Don't forget your thumbs up or display this badge! And make sure that: (1) Your post must be a current post preferably within this month. (2) Please mention Little Thumbs Up in your post and link back to Bake for Happy Kids, my little favorite DIY or/and Jozelyn from Spice Up My Kitchen. For more details, please see this.
What after June 2014? Jasline from Foodie Baker will be the next hostess of July 2014 and her theme is POTATO! Her Little Thumbs Up event starts on first Tuesday of July 2014 until the last day of the month.