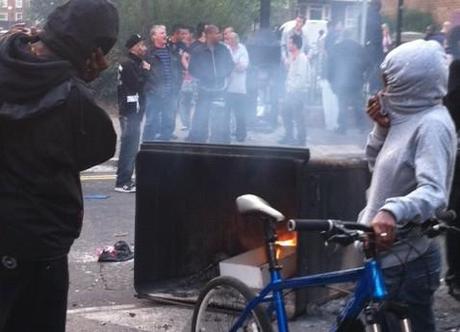 Hackney, London, August 9, 2011. Photo credit: Alexander Tsangarides
After taking heavy flak for initially choosing not to cut short his summer holiday in Tuscany, Italy, Prime Minister David Cameron flew back to the UK at 03.00 on Tuesday morning to chair a morning emergency meeting of Cobra, the government's crisis committee. Many have wondered why it took three consecutive nights of violent rioting to get Cameron off the sun lounger.
Looking to seize back control of the situation, which has led to the cancellation of high-profile London events including the England versus Holland friendly football match, Cameron has recalled Parliament from recess from Thursday. In a statement made shortly after 11.00 on Tuesday, Cameron said, "people should be in no doubt we will do everything necessary to restore order to Britain's streets" and promised there will be 16,000 police on the London streets this evening.
Lack of leadership has led to anarchy. An editorial in The Sun called on the "PM to take action against the yobs" to "reclaim the streets" and end "this anarchy." The tabloid called for the use of water cannons and tear gas to control the marauding mobs and insisted that both "would be justified" and "would already have been used elsewhere." Alarmingly for Cameron, the leading tabloid blamed a "lack of leadership" for the flat-footed response: "And why have our leaders taken so long to respond as London burns (and the economy crashes)?," asked the paper, which noted that Home Secretary Theresa May, London Mayor Boris Johnson, Cameron and Chancellor George Osborne were all on holiday when the riots kicked off in Tottenham on Saturday. "This lack of leadership may be why cops are hesitating to use water cannon and tear gas," suggested The Sun.
Crisis, what crisis? Michael White of The Guardian asked if "could attempt to play it cool be a 'crisis, what crisis' moment for Cameron?" White suggested that "Cameron's attempts to play the hands-off chairman of the board … have already backfired on NHS reform and much else. His inattention to detail is proving a weakness." White amplified the importance of Cameron's leadership during crisis because "in Britain's quasi-presidential system none speaks with the authority of the prime minister." And White insisted that, for Cameron and the coalition, failure to keep law and order is particularly damaging given they "are suspected by many supporters of being tougher on police budgets than they are on criminals."
Cameron is right to return. Writing at Coffee House, The Spectator's rolling blog, Peter Hoskin expressed relief that Cameron decided to come home. "Cameron's ability to control the situation may be limited, but his continued absence might only have inflamed things further," suggested Hoskin, who warned that "there are a lot of people scrabbling around for a grievance to bare and exploit." Labour leader Ed Miliband has also signalled his intention to return from his summer holiday.