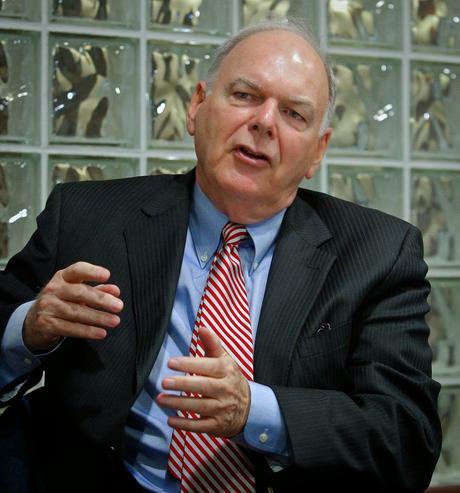 Paul Bryant Jr.
(From Bloomberg Markets
The incestuous nature of the University of Alabama Board of Trustees was in the spotlight last week, thanks to an
al.com
article that outlined
connections several board members have to Bryant Bank
, where fellow trustee Paul Bryant Jr. serves as chairman. Perhaps the most important news from the story involves Bryant's tendency to try end runs around the Internal Revenue Service (IRS), and we suspect many readers might have missed that.
It's important because Bryant stepped in a major pile of doo-doo once before from his efforts to evade the tax man. Could it happen again? Time will tell, but reporter John Archibald makes clear that
perhaps Bryant hasn't learned his lesson about the IRS
.
Near the end of his article, Archibald drops a bomb about the Crimson Tide Foundation, a nonprofit fund-raising organization for UA athletics. Bryant has been chairman since its inception in 2005, and Archibald writes the following about the foundation, using it as an example of UA leaders' tendency to seemingly feel basic rules and courtesies don't apply to them:
When UAB supporters went to Tuscaloosa in support of a Southside stadium, trustees did not even give them the courtesy of a hearing. They simply ignored the students from Birmingham and killed the plan without a word.
Because they don't believe they answer to anyone.
The Crimson Tide Foundation - which two years ago bought Nick Saban's house for almost $3.1 million -- is a perfect example. In February AL.com sought IRS filings on that foundation as well as Auburn's similar Tigers Unlimited Foundation. Auburn complied, but Alabama said they no longer file IRS 990s.
How did a UA representative respond when confronted with questions about this issue? Archibald tells us:
When Deborah M. Lane -- assistant to the president and associate VP for University Relations - finally explained that decision this week she said the group believes it does not have to file the form because it is affiliated with a government entity: The UA Board of Trustees.
Which would make that foundation's books ... public. Yet the dance goes on, as the family tries to keep it all in the family.
They have been allowed to do it so long, by politicians and by media too scared, too cheap, or too homer to challenge it.
Could this be an instance of history repeating itself? It's possible, because we've seen signs that no one has much challenged the way Bryant manages his private business entities under the Greene Group banner. Bryant apparently likes to surround himself with "yes men and women," a trait that almost landed him and several associates in federal prison back in the late 1990s. In fact, it almost certainly would have if Birmingham lawyer Doug Jones, then U.S. attorney for the Northern District of Alabama,
apparently had not called off a planned investigation of a Bryant company
(Alabama Reassurance) in the wake of a major white-collar prosecution in Philadelphia.
The Pennsylvania case ended with convictions across the board and a 15-year prison sentence for a lawyer/entrepreneur named Allen W. Stewart. In the course of the prosecution, Alabama Re was implicated in a $15-million insurance fraud scheme--and that was to be the focus of an Alabama investigation until someone (likely Doug Jones, a long-time Bryant associate) stepped in and called off the probe.
How does this involve the IRS? In fall 2013,
Bloomberg Markets
magazine picked up on our reporting about the Alabama Re case and turned it into a national story for its January 2014 print issue. (See print article at the end of this post.) An early version of the story
appeared at Bloomberg's Web site on November 25, 2013
.
Reporters Anthony Effinger and John Helyar show that Bryant got in trouble because of a scheme to avoid taxes. In fact, the whole purpose of Alabama Re was to hide dog-track profits from the IRS. This is what
Bloomberg
reported about a Mississippi Department of Insurance examination of Alabama Re in the 1990s: :
"They were propping up broke companies for a fee," says Tom Gober, who was examiner-in-charge at the Mississippi Insurance Department in the early 1990s. "Companies knew they could call on Alabama Re because Alabama Re had to offset dog track profits."
Bryant's enterprises are all units of a holding company called Greene Group Inc., which Gober says allows the firm to consolidate its tax liabilities and offset profits from other enterprises with insurance write-offs.
Experts in Alabama knew that Bryant's company intentionally worked with troubled insurers in a way that deceived the public--and the markets. From
Bloomberg:

The company made a business out of propping up troubled insurers with reinsurance that appeared to reduce liability, says W.O. Myrick, a retired Alabama state insurance examiner. The contracts carried little, if any, risk to Alabama Re, he says. One client, Inter-American Insurance Co. of Illinois, went into liquidation in 1991, according to Cook County court documents.
"Historically, Alabama Re has entered into contracts to assume liabilities from problem insurers to help them appear to be in better financial condition than they actually are," Myrick says in a telephone interview.
In other words, Alabama Re, under Bryant Jr.'s "leadership," was a scam from the get-go. What about the Crimson Tide Foundation, another of Bryant's creations? Why is it not filing IRS documents that similar foundations seem to file?
Bryant flirted with IRS-related disaster once before--and managed to get away with it. Is he heading down that path again?
ROLL MONEY ROLL
by
Roger Shuler