&version;
To all mums...
Do you remember what are the special food that you craved when you were pregnant?
For my first trimester, I went crazy with black vinegar, tomato sauce and pineapple juice! It was so bad that I had to drink "some" vinegar secretly especially when my husband and friends were not watching me. Shhh... A few of my friends kept telling me off saying my teeth will rot and too much acidic food is bad for my baby. I don't blame anyone for showing such thoughtful concern for me. I know. It was me and all my raving hormones!!!
At my last trimester, my craving changed dramatically... from vinegar to mee hoon kueh (hand pulled noodles) and Asian-style chocolate rice Swiss roll!!! LOL! Not any kind of Swiss roll as it has to be 1) chocolate 2) coated with chocolate rice 3) Asian-style being the cottony soft and fluffy! I remember telling one of my Aussie colleagues that I specifically wanted this kind of Swiss roll and she gave a "huh" look! LOL! This is an Asian old school kind of cake that the Aussies wouldn't understand!
My craving for Swiss roll was so bad that my husband had to drive to Boxhill (a Melbourne suburb which is notable for its significant Chinese population) to buy Swiss rolls for at least 2-3 times a week. At that time, I felt like I was a well-pampered queen.
Now that I'm not pregnant, I'm NOT a queen anymore...
"Remember that I was craving for chocolate rice Swiss roll when I was pregnant." I said to my husband whenever I was recalling those wonderful memory.
"Ya. You shouldn't eat too much chocolate Swiss roll. It will make you fat!!!" As usual, my husband would typically say this. LOL! Knowing my husband inside out, I don't blame him for being so brutally honest with me. It's reality. Told ya. I'm not a queen!!!
Does this mean that if I want to eat a chocolate rice Swiss roll, I have to bake it myself??? Nay! Glad that I'm not such a pathetic loser yet. Although my husband said that I shouldn't be eating too much chocolate Swiss roll, he didn't stop me from buying them from the shops.
Now that I'm no more a pregnant queen but rather a baking mum, I actually prefer to bake my own Swiss roll because I know I can bake a good one. So good that I don't buy it from the shops anymore? keke!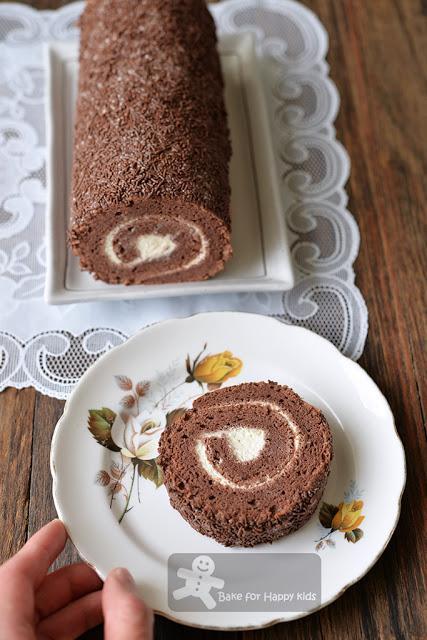 Soft Fluffy Asian-style Classic Chocolate Rice Swiss Roll
There are two different methods of baking an Asian type of Swiss roll which is typically light and cottony soft:
One is to "cook" and whisk the whole eggs with sugar slightly over a pot of simmering water until mixture until it reaches 100°F/ 38°C and then use an electric mixer with whisk attachment to beat the until it is voluminously thick and pale. So thick that I can use the batter to draw a number 8 on the mixture without having it disappearing into the mixture.
Two is to separate the eggs into the yolks and whites just like the chiffon cake method. The egg whites are beaten with sugar to form a meringue while the rest of the ingredients are mixed with the yolks. Just before baking, both mixtures are combined together. Today, I'm using the method two to bake my Swiss roll. This recipe that I'm using today is one of the recipes that I adore the most as I know that it is fail proof and can always produce a moist and fluffy cake in regardless!
First, I separated the eggs into team yellow and team white...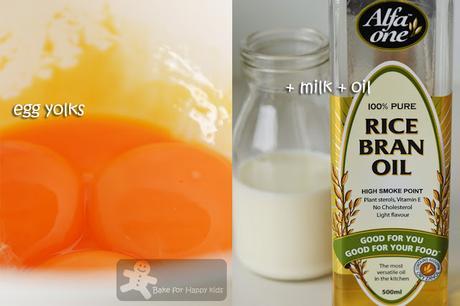 For team yellow, I used a hand whisk to combine these ingredients.
For my preference, I like to use the healthful trans fat free neutral tasting Alfa One Rice Bran Oil for my bakes.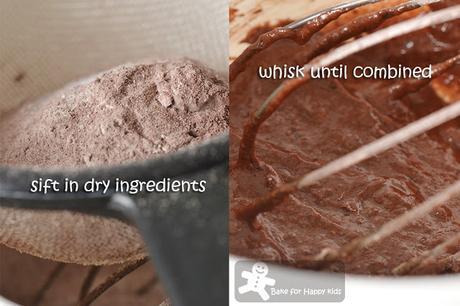 All done for team yellow. Set aside.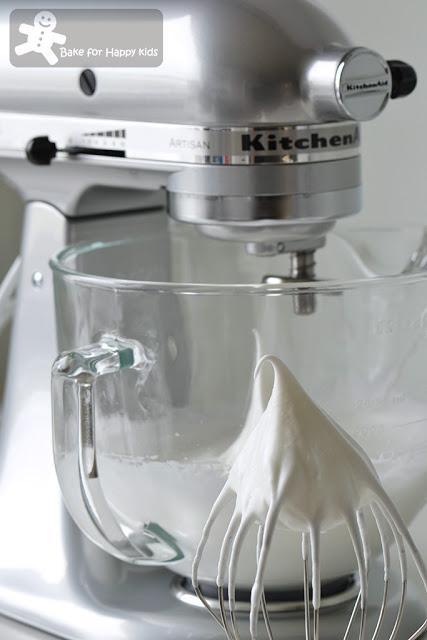 Beat team white until stiff peaks formed.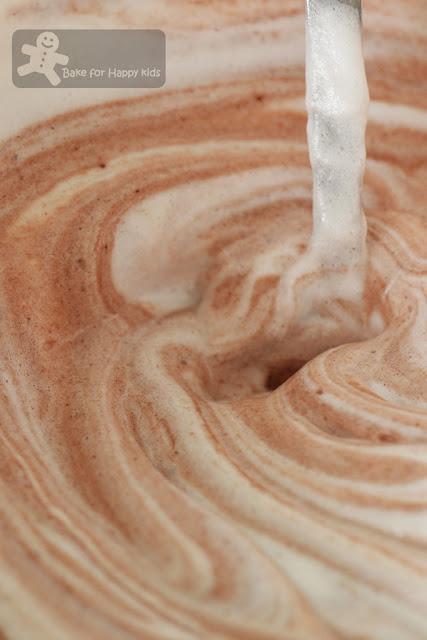 Combine team yellow and white in batches and also gently!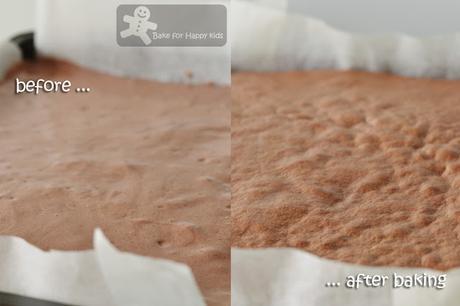 After a short 15 minutes of baking, the cake is done! Easy!!!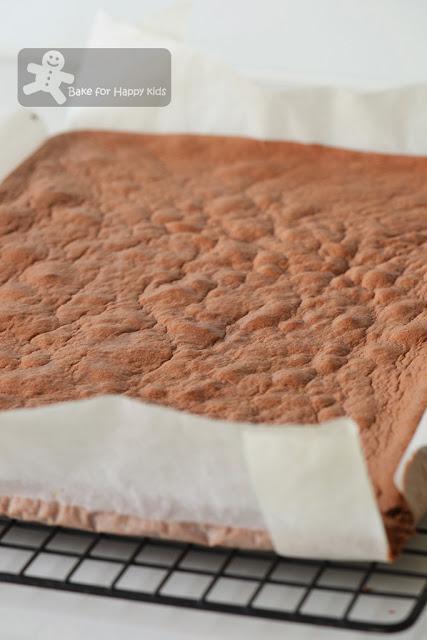 Remove cake from the tray immediately and transfer it onto a wire rack to cool.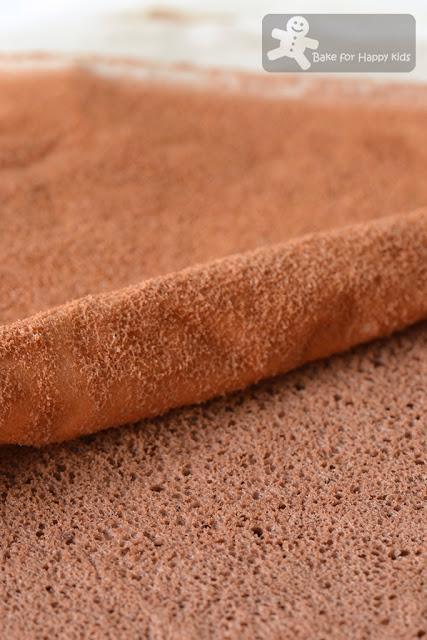 After 5-10 mins of cooling, remove the baking paper at its bottom.
See how soft and spongy the cake is!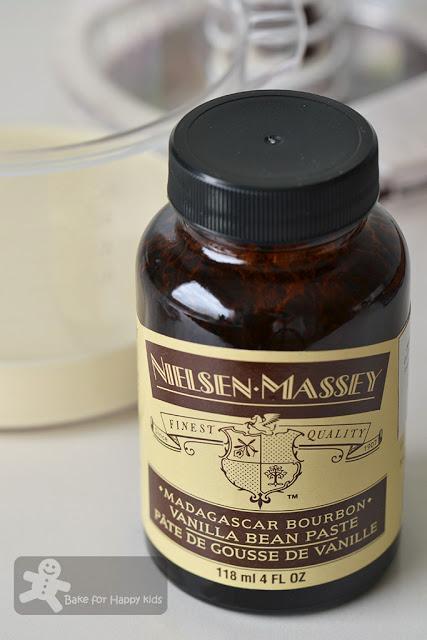 While waiting for the cake to cool completely, I made the whipped cream filling.
And all you need is vanilla and whipping cream!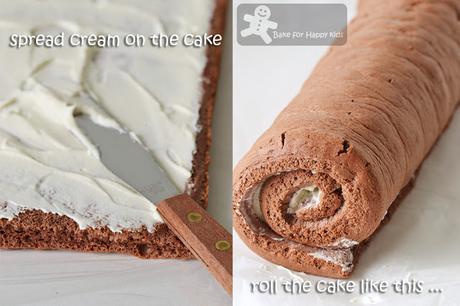 To assemble the cake, I did this...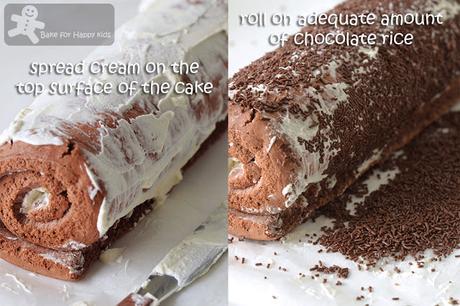 ... and this.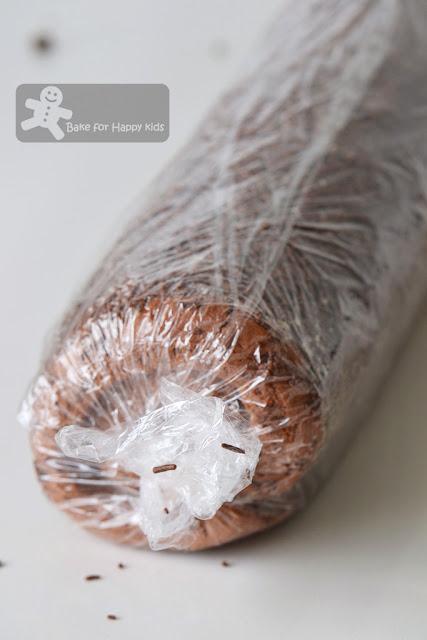 Oh man!!! There is chocolate rice everywhere!!!
The last step is to wrap the cake in cling wrap. Allow the cake to firm into its shape for 1-2 hr in the fridge.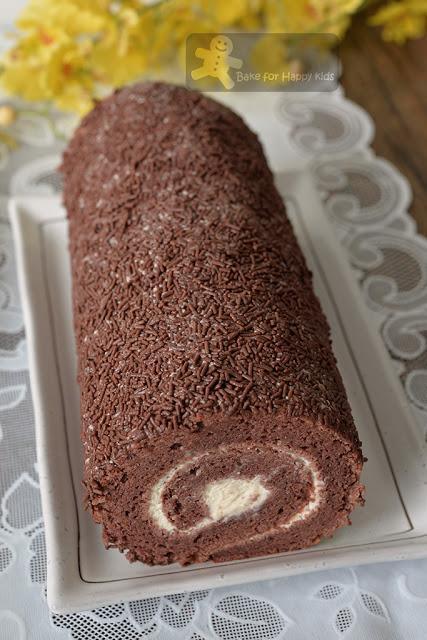 Trim off both sides of the cake and serve!

My excited son was squealing like a girl with beaming eyes when he knew that I baked this Swiss roll... So drama like a happy Japanese anime character! He is so funny!
Now I know why I was craving for chocolate Swiss roll like crazy... It was my son who was in me telling me that I need to eat this!!! LOL!
To all mums...
Happy Mother's Day to you and me!
To me, understanding my child since the day that I had him is my most wonderful gift! I love you, Sweetie!
To my mom and grandma, I miss you!!!
Here's my yummy mommy fail proof chocolate rice Swiss roll recipe.
Make one Swiss roll (unrolled size: 35 x 25 cm / 10 x 14 inches)
For the cake:
A
60g egg yolks* (about 4 large)
50ml milk
50ml vegetable oil, preferably something neutral tasting like Alfa one rice bran oil
B
70g cake flour
10g cocoa powder, preferably Dutch process (I used Valrhona)
3/4 tsp baking powder
pinch of salt to taste
C
140g egg whites* (about 4 large)
80g caster sugar
*Using the exact weight of the egg yolks and whites will yield the most ideal cake texture.
Preheat oven to 180°C.
Line one 35 x 25 cm baking tray with baking paper.For A:
In a large mixing bowl, add the egg yolks, milk and oil and use a hand whisk to mix until all are combined.
For B:
Combine all in B. Sift mixture B into mixture A and use a hand whisk to mix until well incorporated.
For C:
Using an electric mixer with a whisk attachment, beat egg whites in medium speed until foamy. Increase beating speed to medium high. While beating, add sugar gradually and continue to beat until stiff peaks form.
Combine A+B and C:
Using a hand whisk or a spatula, gently fold in the egg whites to the flour mixture in 3 portions. Making sure most of the white is not visible after folding.
Pour batter into baking tray. Use a spatula to spread the batter evenly and gentle tap the filled tray on the kitchen top to remove any large bubble. Bake for 15 mins or until the cake is well risen and fully cooked.
When done, remove cake (with its baking paper) from the tray immediately and transfer it onto a wire rack to cool. After 5-10 mins of cooling, flip the cake onto a clean baking paper and remove the used baking paper at its bottom. Allow the cake to cool completely.
For the filling:
120ml (1/2 cup) whipping cream
1/4 tsp vanilla paste or extract, optional
Note: You don't need to add any sugar as the chocolate rice coating is going to make the cake sweet enough.
To top the cake:
adequate amount of chocolate rice.
While the cake is cooling, using an electric mixer or a cream whipper, whip cream and vanilla until stiff peaks form.
To assemble:
Place cake with its flawless (you can choose which side if both of your cake looks good) side down on a clean baking paper. Use a knife to trim off about 0.5 cm from both the shorter sides of the cake.
Spread thin layer of cream evenly on the cake, keeping about 2 tbsp of cream to coat the cake later. Roll the cake from the shorter end along the longer side to form a Swiss roll.
Spread the remaining cream on the top surface and also the sides of the cake and roll it on chocolate rice to coat the cake thoroughly. Wrap in cling wrap and allow the cake to firm up into its shape for about 1-2 hr in the fridge.
Trim off both sides of the cake. Slice and serve.
Happy BakingPlease support me and like me at Facebook...