I was going to approach this article on cosmetic surgery by looking at the history, the current practices, future trends and the costs of these procedures. I got as far as some descriptions, sketches and photos of what has been done in the past for strictly medical reasons and I gave up. The terrible injuries caused by wars, the poor people who had been born with such disfiguring diseases were too much for me. The work done by pioneering cosmetic surgeons and their staff was extraordinary.
As I was wandering the undergrowth of the internet to find another, lighter, way into the subject, perhaps something to do with poetry, I came across the following: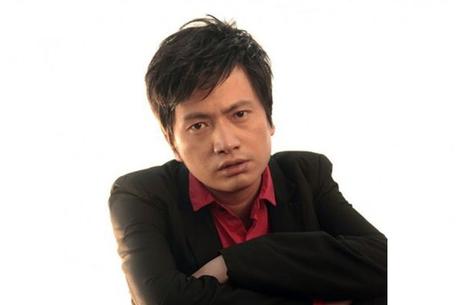 before surgery
It seems that a Chinese writer by the name of Zhang Yiyi, aged 34, has spent £150,000 to have surgery to make him look like his all time hero William Shakespeare. He decided to get work done on his nose, eyes and lips, and fans say he bears an uncanny resemblance to the poet from Stratford-upon-Avon, but his decision has shocked some in his home country and sparked debate on the internet.
One commentator, Na Peng from Beijing, said: "I think he has an excellent physical likeness to Mr Shakespeare". But city construction worker Feng Kung said: "It is ridiculous, what a total waste of money. Why would anyone want to do something like this to their face".Committed Yiyi had a total of 10 operations over several months including eye reconstruction, eyelid surgery, nose surgery and a face tuck. Shakespeare's famously bald head is something Yiyi is as yet unable to emulate, but he has now grown his hair much longer to aid the resemblance. The writer decided to save for the operations over three years , putting aside his book royalties to pay.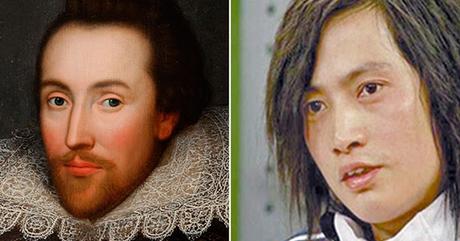 after ten operations
This story obviously made me look for others, like:
Nileen Namita, a 49-year-old artist and mother of three from England, underwent 51 cosmetic surgeries to achieve her dream of looking like Queen Nefertiti. Spurred by her belief that she was Nefertiti, the sun-worshipping wife of Egyptian pharaoh Akhenaten she has paid around £200,000 over 20 years.
57-year-old great grandmother Annette Edwards, spent £10,000 to make her look like cartoon character Jessica Rabbit, from the film "Who Framed Roger Rabbit." Annette had her operations performed in London's Harley Street. Surgeons carried out a number of procedures on her including a boob job, brow lift and Botox injections. Edwards claims she has been contacted by Playboy about the possibility of a photo shoot.
Gavin Paslow, a 39-year-old security guard, spent £3,552 to fund operations to give himself fangs, a forked tongue and horns. Paslow, who has changed his name to Diablo Delenfer, or devil from the inferno - carried out 'body modifications' to look more like Lucifer.
At which point it's time to pause and, as there are loads of other stories like these, make me wonder what I'm smiling at. Are these people to be pitied? Do I wonder if doctors who do these operations are fit to practice? What is acceptable, if anything, for purely cosmetic surgery? What about tattoos?
I have no poems dealing with cosmetic surgery but this one mentions another way of altering the shape of a body.

More Questions
(for the Curator at Haworth)
Apologies,
I know you're busy
but these contradictions
Bronte
hard and concise
leaving with a sigh
and the Parsonage
solid with love
so why does breath
drain through floors
and why the thistle
bottom right
doodled on paper
you said was precious
in eighteen something
why not a flower
were there problems
at the end of the poem
why was a woman standing
absolutely still
in the last room
totally entranced by a corset
that cruel fashion
that kind of leads
to the car park
and tight white lines
you see what I mean
so what do you think,
do you think they'd swap
their solitary life
their writing moors
for the fame of tea shops
and a thousand cars a day
would you?
(first published in The Journal, September 2014)
Thanks for reading, Terry.

Email This

BlogThis!

Share to Twitter

Share to Facebook