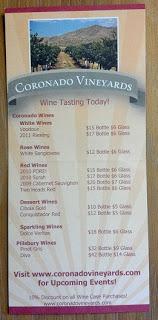 My husband, Eric, and I are on our cross country trip from North Carolina all the way to Arizona.  We have two vehicles, two CBs (still not sure what my handle is!), and a fat beagle.  We have encountered a freak snowstorm, dealt with a cabin fevered dog, and stayed unintentionally in some pretty shady areas.  To add insult to injury, three seconds after we entered Arizona, I was pulled over.  Apparently I was following too closely?  Although, it was my husband in front of me and he felt I was fine.  I think the officer just wanted to pull over a sports car with a CB antennae and Virginia plates.
The good news?  The officer was perfectly pleasant. The bad news? I still got pulled over three seconds into Arizona! As such, when I saw the billboard advertising the winery in Willcox, Arizona.  I radioed my husband.  The following conversation ensued:
Me: I see a billboard for wine.
Husband: Do you want to stop for a tasting?
Me: Wine!
Husband: So, that's a yes?
Me: So, very thirsty.  Need wine.
Husband:  Ok, we will stop.
Me:  Wine.  Tally-Ho!  (For some reason, I had decided around St. Louis that Tally-ho was the appropriate response and answer into a CB.)
The vineyard is located off Interstate 10 at Exit 344.  It is set back from the road and you have to drive over a bumpy, dirty lane to get to the actual vineyard.  I was mildly apprehensive, but we made it that far and I was determined to have a tasting.  We gave the dog a bone (haha! Unintentional hilarity! We really gave the dog a bone! Knick-knack paddywack!) and went inside.  The dog had plenty of water, it was only about 50 degrees and the windows were rolled down.  Don't worry.  She was fine.
The inside of the tasting room is absolutely beautiful.  To me, the highlight of a place is a clean bathroom.  The bathroom was lovely and smelled like lilacs!  It was a little chilly, so we didn't go out onto the grounds.  However, we could see the vineyard outside and the mountains in the background really added to the wineries charm.
The tasting was $5 or $6 dollars.  We were able to choose 6 of the 12 wines to taste.  We tried the white wines and the red wines.
The first white wine was called Voodoux.  This was a blend of Chenin Blanc and French Colombard.  The wine was really, really lovely.  The bouquet smelled citrus-y.  It was a wine that I wanted to enjoy out on the patio and just sit and chat with friends.  The second white was a 2011 Reisling.  The Reisling was a good one.  It didn't have that sickly sweetness or syrupiness that can be found in some Reislings.
We tried four red wines: 2010 FORE, 2010 Syrah, 2009 Cabernet Sauvignon, and the Two Heads Red.   All of the reds were excellent, except for the Cabernet.  The Cabernet was really only mediocre and didn't have any richness of flavor to it.  In fact, when my husband tried it, he didn't even realize it was a Cabernet. The Syrah was full-bodied and the bouquet smelled like berries.  The FORE was a lighter wine which was a blend of four different grapes.  Finally, the Two Heads Red was 50/50 Cabernet and Sangiovese.   The Two Heads Red was a very nice table wine.  Coronado Vineyards bills it as a full bodied blend, however, I found the wine to be more medium bodied.
We will definitely return to the winery in the summer, so that we can enjoy the patio.  Also, on the weekend, they offer a tapas menu.  I do love some tapas and wine!
Contact information for Coronado Vineyards is 2909 E Country Club Dr, Willcox, AZ, 85643.  Phone number 520-384-2993.
Thanks for reading our Coronado Vineyards Review.  Do you have a similar experience?  Did you visit Coronado Vineyards recently?  Did you find our Coronado Vineyards review helpful?  Please leave us a comment below!