Good evening all,
I have a short post for today.
This is Cordlife Group Limited, P8A.SI, which went public just last year. After a fairly good IPO, Cordlife fell down to the 40 cents region. Over the last year, Cordlife regained lost ground and is now making new all-time highs. I like the picture of share price recovering and breaking through the IPO price levels. The uptrend is very strong,and you can consider the last few weeks as an acceleration of the uptrend. I believe there should be more room for upside, but in the near-term, it is probably better to wait for a better entry level.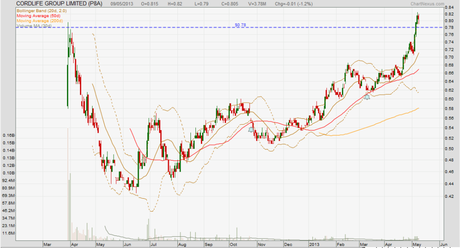 All analyses, recommendations, discussions and other information herein are published for general information. Readers should not rely solely on the information published on this blog and should seek independent financial advice prior to making any investment decision. The publisher accepts no liability for any loss whatsoever arising from any use of the information published herein.