0 Flares
0 Flares
×
New to little Indiana? Subscribe for free to my RSS feed. Thanks for stopping by!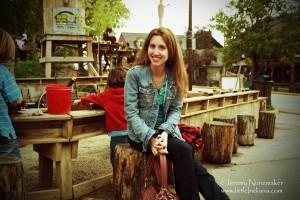 Copperhead Creek Gem Mine: Nashville, Indiana
Nashville, Indiana may be a grown-up shopping paradise, but you can find a bit of hands-on fun for all ages at Copperhead Creek Gem Mine!
Part of the Brown County Rock Shop (keep watch for info about that one), it's a great place to let little ones let loose.
Copperhead Creek Gem Mine in Nashville, Indiana
After repeating "Don't touch! Don't touch! Don't touch!" while venturing in and out of so many amazing Brown County shops, our boys were more than ready to be kids for a moment. Copperhead Creek Gem Mine was the perfect answer!
Located right downtown, it's easy to find. Just look for the water tower and sluice and you've found it.
You can get a bag or bucket of gem-laden sand. Then? Get to work! Pour or scoop the sand into the sifting pans and see what you can find. As you can see from the image to the right, even younger members can not only get involved–but have a lot of fun, too!
Gem Mining in Indiana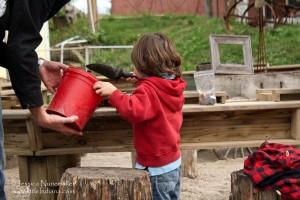 Copperhead Creek Gem Mine: Nashville, Indiana
Our boys were thrilled by the gems that they uncovered. There's not itty bitty gems here–there are big chunks of Quartz, Amethyst, and (my favorite) even Fool's Gold. There's over sorts of different kinds that you may find in your bucket or bag!
Kid #1 was very thorough and carefully picked through each pan to make sure he found even the tiniest flake of a gem while Kid #2 was in it for the big chunks.
They went away with quite the full bags. It was awesome! Kid #1 couldn't wait to go through and identify his loot.
Go There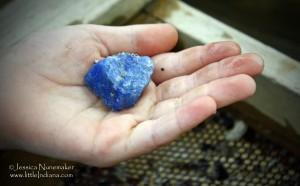 Copperhead Creek Gem Mine: Nashville, Indiana — There's Plenty of Big Gemstones to Be Found!
Set aside a little family bonding time at Copperhead Creek Gem Mine. We oohed and aahed as much as the kids.
You can try your hand at panning for gems until the water freezes. There's plenty of time to get to this small Indiana town and get panning!
Find pictures in Indiana on my Flickr photostream or on the new little Indiana Tumblr blog.
Just don't forget to tell 'em that  little Indiana sent you!
Copperhead Creek Gem Mining
79 N Van Buren Street
Nashville, Indiana 47448
812.988.2422

View Larger Map
Special thanks to Brown County Rock Shop/Coppperhead Creek Gem Mine for providing a bucket of mining rough. My opinions remain mine and mine alone. 
Don't miss a moment. Subscribe to little Indiana and receive instant updates to stay on top of everything "little."
little Indiana: Where to Stay, Play, and Eat in Small Towns in Indiana. Discovering Indiana's best small towns! Now get little Indiana on your Kindle.
Targeted. Relevant. Affordable! little Indiana advertising.