It may have been a long, cold winter, but summer is finally arriving, and with it comes the need for some refreshing treats to cool off in the heat. I have a suggestion that will please the whole family: Minute Maid Juice Bars! As a parent, you'll love them because: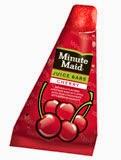 They're made with 100% real fruit juice!
They contain a full day's supply of Vitamin C!
They have only 60 calories!
They're naturally flavored!
They're available in three flavors: grape, cherry, and orange!
My boys love every flavor of Minute Maid Juice Bars. They're just the right size for their little hands, and they satisfy the need for a refreshing summer treat. Adults love them, too! Learn more about Minute Maid Juice Bars at: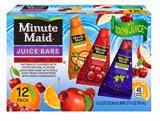 http://jjsnack.com/minutemaid/home1.aspx
http://twitter.com/jjsnackfoods
http://instagram.com/jjsnackfoods
Then head to your local grocery store's freezer to pick up some Minute Maid Juice Bars for the summer!