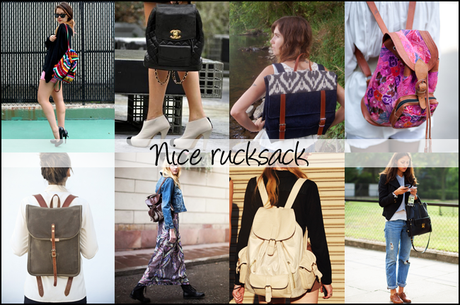 I carry a lot of crap with me on a daily basis. At the very minimum, I have my lunch, two notebooks, a journal, my Nook, a magazine, some makeup, and either my camera or my running sneakers. Not only do I end up whacking people left and right on T with the multiple bags it takes to hold all of this, but my shoulders and back hurt like whoa. So on a whim (and partially inspired by this post from Emily), I bought a backpack at Urban yesterday.
Something you should know about me: I'm VERY indecisive when it comes to buying bags or purses -- my friend Jennifer once spent multiple hours (yes, multiple!) with me at Target as I debated between backpacks -- and true to form, I asked
Alex
about a million questions about it when I saw her yesterday: Is this ugly? Do I look nerdy? Do adults wear backpacks? Etc.
After all that (and many internal conversations), I finally came to the conclusion that my backpack totally rules. It's a million times more comfortable than all those random purses and reusable bags I normally carry, it holds everything, and -- most importantly -- it's cool.
I'll show you my rucksack tomorrow after I bribe Jack with cupcakes and cookies to take a photo of me from behind. That sentence sounds dirty, which doesn't really surprise me since backpacks are also sexy.
Images all found via Pinterest but I linked to the original source where available. (PSA to Pinners - please link to original sources!) 
Top row: 1 / 2 / 3 / 4
Bottom row: 1 / 2 / 3 / 4