We haven't been celebrating Snubnose's birthday much in the last couple of years, just keeping things within the family. Not having a party for the past two years was pretty much her decision as she was getting bullied a lot within her friend's circle and she had got into a shell.
However things improved a lot last year. She made some great new friends and really wanted a party to celebrate. And since she and her friends love to bond over some cooking, we decided a cooking themed party would be a great idea. Slurp Studio is a cooking studio that has newly opened in Indra Nagar and when we went for a go-see a couple of weeks back, we knew it would be the perfect venue.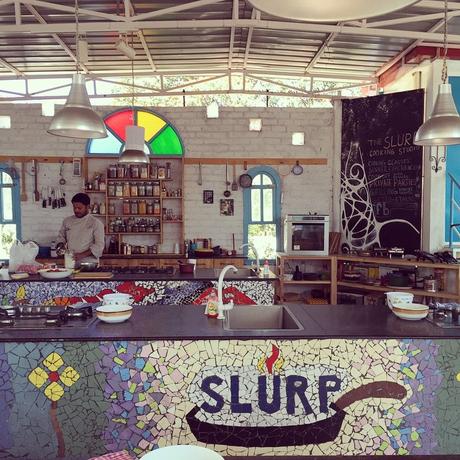 Bright and airy Slurp Studio
After some quick n easy negotiations with the owner, the matter was decided. The kids would all gather together to make cupcakes, pizza, and smoothies. Apart from what they made, there would also be fries and mac and cheese. Now, all I needed to do was organize the cake.
The cake was the most brain-dead decision ever. We went to good ole Cakewalk, and since Snubnose wasn't particular about a themed cake, we got her a chocolate cake with some basic icing.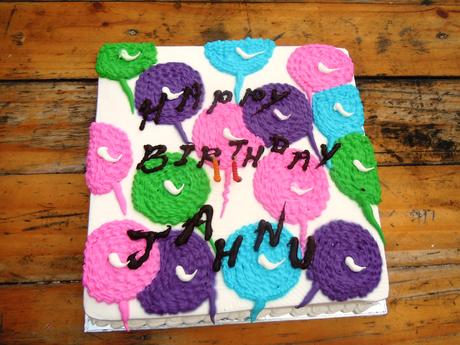 Snubnose decided on the balloon cake as soon as she saw it in Cakewalk's design book
On the day of the party, disaster struck! Snubnose who had been doing fine suddenly developed a cough and an alarmingly high fever. I was prepared to cancel the party but Snubnose was so disappointed that I didn't have the heart. I gave her some paracetamol and crossed my fingers hoping things would work out ok.
And work out ok they did, her temperature came down to normal just for the duration of the party and she was able to enjoy her big day with friends.
I was also worrying that the boys in the party would not be too keen on the cooking theme, but surprisingly they had a blast, and did an awesome job with the food.
After cooking the kids got to eat what they made, and they loved it. This is probably the first birthday party I had where there were absolutely no leftovers whatever. Extra cupcakes went back home (as part of the return gifts) with the kids for their parents and siblings to sample their cooking.
Piglet didn't take part in any of the cooking festivities. He preferred to play on the tabla, and when he wasn't being the maestro, he secretly gorged on the chocolates stealing them from the return gift bags
.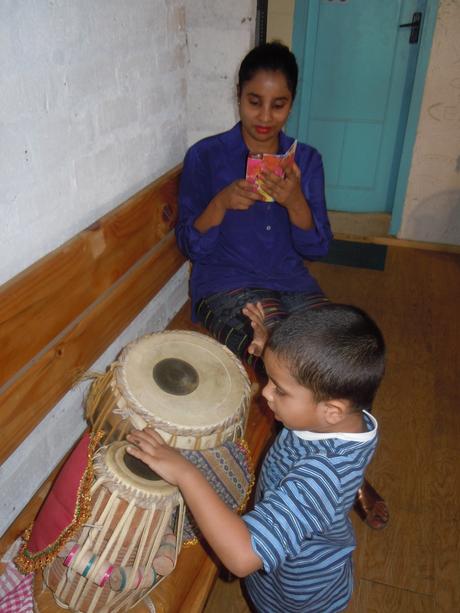 K capturing me capturing Piglet on the tabla
My FIL was the enabler here. Both of them have a solid sweet tooth and they spent the rest of the time eating chocolates companionably together.

Grandfather and grandson sneaking chocolates at the party together
The party ended up being a smashing success, and towards the end, the energy levels got really high when some kids got into a flour fight throwing flour at each other. Thankfully, all the parents came back before things got too out of hand and the party came to a natural close. Thank god it ended when it did because almost as soon as the party was done, Snubnose's fever raced up high, and we rushed back home. When I checked her temperature at home it was a 104 degrees! She's been home the entire week taking it easy before passing on the fever to Piglet who's still yet to recover fully.
Sigh! This bout of viral just doesn't seem to be going away. The kids seem to have been constantly low since the start of the year. I am just waiting for summer to come, with the holidays, hopefully they will be back to fighting fit form.