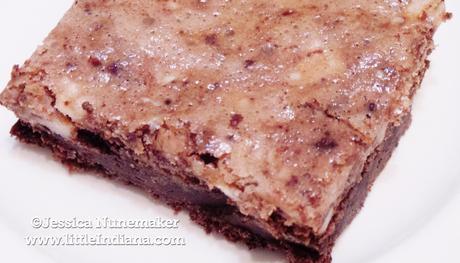 Best Brownie Recipes: Cookies and Cream
This
Cookies and Cream Brownie Recipe
is so good my husband won't stay out of it!
Kept cool in the fridge, this would be an especially wonderful brownie recipe to whip out during the hot days of summer.
These Cookies and Cream Brownies taste a lot like a cookies n' cream cheesecake thanks to the sweet swirled cheesecake layer that tops the moist brownie base. My brownies are flatter as I did not have the 11 x 7 pan and substituted a 12 x 9. The cheesecake layer won't really swirl but they sure do taste good! From Taste of Home.
Cookies and Cream Brownie Recipe
Print Cookies and Cream Brownie Recipe
Rating: 51
Prep Time: 15 minutes
Cook Time: 25 minutes
Total Time: 40 minutes
Yield: 2 Dozen Brownies
A huge hit with our family, this is a wonderful recipe from Taste of Home!
Ingredients
Topping
1 8 oz. Package Cream Cheese, Softened
1/4 Cup Sugar
1 Egg
1/2 teaspoon Vanilla Extract
Brownies
1/2 Cup Butter, Melted and Cooled
1/2 Cup Sugar
1/2 Cup Brown Sugar
1/2 Cup Baking Cocoa
2 Eggs
1 teaspoon Vanilla Extract
1/2 Cup Flour
1 teaspoon Baking Powder
12 Cream-Filled Chocolate Sandwich Cookies, Crushed
Instructions
Cheesecake Layer
Beat together Cream Cheese, Sugar, Egg, and Vanilla Extract. Set aside.
Brownie Layer
Combine Butter, Sugars, and Cocoa.
Beat in Eggs.
Combine Flour and Baking Powder.
Slowly add to Cocoa mixture.
Mix in Cookie crumbs.
Pour Batter into greased 11 x 7 baking pan.
Top with Cream Cheese mixture.
Swirl knife through batter.
Bake 350* for 25-30 minutes or until a tester inserted near the middle comes out with moist crumbs.
Cool on wire rack.
Store in the refrigerator.
Schema/Recipe SEO Data Markup by ZipList Recipe Plugin2.2
http://littleindiana.com/2014/03/cookies-and-cream-brownie-recipe/
Photos are the Property of little Indiana. Do Not Use Without Permission.
Small Towns: Destinations, not Drive-Thrus! I'm Jessica Nunemaker and THIS is little Indiana!
Find pictures in Indiana on my Flickr photostream or on the new little Indiana Tumblr blog.
Just don't forget to tell 'em that  little Indiana sent you!
Don't miss a moment. Subscribe to little Indiana and receive instant updates to stay on top of everything "little."
little Indiana: Where to Stay, Play, and Eat in Small Towns in Indiana. Discovering Indiana's best small towns! Now get little Indiana on your Kindle.
Targeted. Relevant. Affordable! little Indiana advertising.