0 Flares
0 Flares
×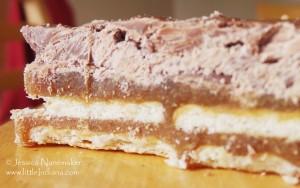 Copycat TWIX® Recipe
Have you been scouring the web in search of the
best Christmas cookie recipes
? You'll love this selection of cookie recipes and bars!
It's an update to last year's favorite cookie recipes: 7 Christmas Cookie Recipes that Make My Nice List.
Cookie Recipes for the Holiday Season
Chocolate Chip Cookie Dough Cookie Cups Recipe – Do I have an obsession with chocolate chip cookie recipes? It's an interesting question and I think we all know the answer to that one!
Peanut Butter Balls Recipe – Holidays just weren't complete unless this easy recipe appeared on the cookie trays.
Chocolate Peanut Butter Bars: Copycat TWIX® Recipe – If I were forced to pick out what recipe really took my family by surprise and was gone in record time, it would be this chocolate peanut butter bar recipe, a copycat TWIX® recipe!
Soft Ginger Drop Cookies – This Soft Ginger Drop Cookies recipe is such a breeze to put together–and smell so homey while they bake.
Chocolate Chip Cheesecake Cookies Recipe – You probably don't expect a Chocolate Chip Cookies recipe to appear on this list, but in our house, chocolate chip cookies rule!
Peanut Butter Bars Recipe aka Kougar Kandy – A family favorite! It's so easy to throw together and a hit every single time.
Best Christmas Cookie Recipes
This is just the beginning! Take a peek at last year's list (the link is listed above) and your holiday season just got a whole lot easier.
Small Towns: Destinations, not Drive-Thrus! I'm Jessica Nunemaker and THIS is little Indiana!
Find pictures in Indiana on my Flickr photostream or on the new little Indiana Tumblr blog.
Just don't forget to tell 'em that  little Indiana sent you!
Don't miss a moment. Subscribe to little Indiana and receive instant updates to stay on top of everything "little."
little Indiana: Where to Stay, Play, and Eat in Small Towns in Indiana. Discovering Indiana's best small towns! Now get little Indiana on your Kindle.
Targeted. Relevant. Affordable! little Indiana advertising.