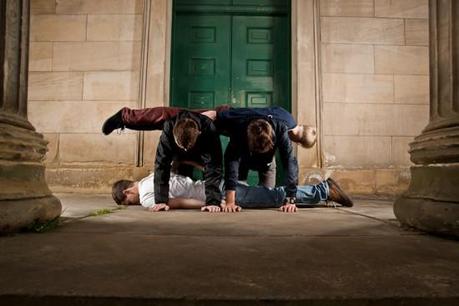 Alt-J (@altj) are a trip-folk four-piece from Leeds, formerly 'FILMS', formed in 2008 after Joe, Gwil, Gus and Thom met at the city's university. They've introduced us to their latest song, "Fitzpleasure", after touring all over the UK and performing with Das Racist in Manchester.
"Fitzpleasure" is a coarse new track from the UK group. It features an aspect of unapologetic metallic grittiness — like corrugated iron being sucked into a garbage disposal, coupled with a series of competing guitar chords and charming vocal melodies.
The song elegantly navigates between two different, yet equally important tonal changes: one a raw expression of exasperated, exhausted guitar, and the other, a brit-pop inspired, fractured indie rock. This is probably what gives the song it's attractiveness, though, — at one point it sounds like it should be punctuating a Chuck Paladuik novel, but then it quickly changes to emulate the endearing vocal melodies of a Brooklyn indie movie.
Alt-J also provide wonderful tonal leakage from one aspect of the song to the other, permeating each pieces' rhythm and finishing with a blurry flurry of tonal ambiguity. Look out for their other releases "Matilda", "Hand-made" and "Breezeblocks", tracks which will finalize an excellent and diverse album.