TAKEAWAY: One expert tells us one thing, but another one challenges the notion completely. Who is right? What is right? How much knowledge do we have to make decisions these days? It pays to be informed about contrarian views. PLUS: Gulf News special: farewell to a legendary Indian cricketer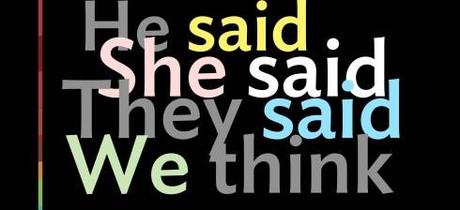 What makes our times fascinating (and challenging) is that it is a period of experimentation for the media.  The most adventurous media companies are going out to try new things, not always knowing how they will turn out.
I like to be involved with such companies, where someone says: How about if we do this?, then someone in authority answers: Why not?
Of course, there will be fear and a bit of trepidation. It's like walking in the swamps of the Everglades, not knowing what will turn up. Well, maybe not that bad, but you get the point.
And so, as I peruse the media commentaries on a daily basis, at a variety of sources, like many of you do, too, I am fascinated to see the contrarians at the gate.
This past week, we had two such reports, both worth reading:
This Week in Tablets: Are tablets the savior of print magazines?
http://tabtimes.com/analysis/media/2013/11/02/week-tablets-are-tablets-savior-print-magazines?utm_source=newsletter-daily
In this piece, George Jones, a founding editor of Tabtimes, argues that, while Google CEO Eric Schmidt may think that magazines and tablets make good companions, as he told the Magazine Publishers Association recently,  Jones says it's beginning to become clear that tablet adoption of magazines is "sluggish at best." (See a short item about the Eric Schmidt presentation below)
He adds:
In August, Ad Age reported that the entire universe of digital magazine subscriptions totaled 10.2 million subscribers in the first half of 2013, and that, on its own, the gaming magazine Game Informer accounted for one-third of these subscriptions.
Jones thinks that the Flipboards and the Zites of the world are "cannibalizing magazines outright. Why would anyone buy a single magazine when they can have access to all magazine content via aggregators on their iPad or Android tablet all the time?"
He proposes that magazines, instead, create partnerships themselves with outfits such as Flipboard and Zites, instead of competing with them.
I agree with Jones that these partnerships with companies that already have captured the attention of millions are important. However, it is critical to remember that both Flipboard and Zite started fresh as digital publications. They do not have to deal with the legacy of print, as do a majority of the magazines that make their way to the tablet. It would be unrealistic to think that publishers will "drop" the historical elements that characterize their brands.
A better solution for publishers/editors of magazines going tablet: partner with the Flipboards and Zites of the world, learn from them and how they do things, but also dig into your rich history to make sure that the tablet edition weaves a rich texture of past, present and future.
There is not just one way to execute the transition of a print magazine (or newspaper) to the tablet.
Multimedia storytelling: too many bells and whistles?
The Guardian's "NSA Files Decoded" and Multimedia Journalism
http://www.subtraction.com/2013/11/01/the-guardians-nsa-files-decoded?utm_source=API%27s+Need+to+Know+newsletter&utm_campaign=72aaa128a4-Need_to_Know_November_5_201311_5_2013&utm_medium=email&utm_term=0_e3bf78af04-72aaa128a4-31701869
Here, the talented Khoi Vinh, formerly of The New York Times, expresses strong views about The Guardian's latest multimedia storytelling piece, "NSA Files Decoded", which he refers to as a "multimedia extravaganza". Vinh compares this to Snow Fall, and says that he is "pretty ambivalent about this new strain of multimedia journalism."
As well executed as these early examples are, both this and "Snowfall" clearly cross the line from utilitarian storytelling to superfluous bells and whistles. Also, in my own personal, decidedly unscientific polling, of all the people I've met who marvel at "Snowfall," no one has ever told me that they actually read it.
This argument has been a resounding one that I hear at conferences in which I participate as a speaker.  "Too many bells and whistles in that Snow Fall, but did anyone read the text?," is a common complaint.
Whether this is inspired by a bit of jealousy, or is a legitimate concern, I am not sure, but it is definitely an argument that I have constantly heard.
I confess that I did read Snow Fall, but was more selective in the segments I read from The Guardian's NSA piece.  But, heck, that is why the writers and designers have broken up the piece into segments.
The argument can be made about traditional enterprise pieces, or series, that newspapers have ran for decades. 
I was once involved as co-author at The Miami News on a 10-part series about Cuban exiles in the Miami of the 1960s.  Did anyone assume that readers would read the entire series? It was written and edited as segments: The Doctors, The Children, The Politicos, etc. 
I am certain that readers decided what to read. As an aside, I do know that at least one angry reader read the part where we said that not every exile was in the US for political reasons. Ouch, that made someone throw red paint at my house one night, thinking that I was an "infiltrated" communist and not patriotic enough.  That was scary and an early reminder of the passion that our stories may evoke. My Mom, who woke up to the sounds of the fast-speeding car,  suggested that I change professions.
But back to Vinh's well crafted piece. He insists that he does not think people are reading these multimedia pieces.
To be clear, if you are The Guardian or The New York Times, and people aren't reading the text that you're putting in front of them, you are not delivering the core value that only you can deliver, that your whole enterprise is based on.
True, multimedia storytelling appeals to all the senses, and, indeed, we do marvel at them because of all that is new in the way we can tell stories.
Who reads what, anyway?
We in this business have never been in full control of what our audience does with the material we produce.  We strive to select the best content, to write it and to edit as efficiently as possible and to design it in a way that is visually appealing.
But, in the end, the audience assumes control and makes choices.
As multimedia storytelling pieces become more common place in newspapers and magazines globally, we must ask the pertinent question: What constitutes bells and whistles? What is too much dazzle dazzle?  How much of what appears in the story is there simply "because we have the ability to do it"?
I thought that The Guardian's NSA piece was focused, and assigned a meaning to every element. (See our own review of The Guardian's NSA story here: http://garciamedia.com/blog/articles/pthe_guardian_elevating_multimedia_storytelling_p)
The wisest words I have ever heard on this topic came from the great Nigel Holmes, formerly of TIME Magazine, still one of the savviest visual storytellers around.  Every time I would invite him to speak to a Poynter Institute seminar, he would never leave the room until he reminded those in attendance that:
Everything must have a meaning. If you don't give it a meaning, the audience will.
Same applies to multimedia storytelling.
Google Chairman and the future of tablet magazines
Google chairman Eric Schmidt says that tablet magazines have a bright future. We think that so do tablet newspapers.
Not that anyone doubt that tablets are hot, but coming from Google chairman, Eric Schmidt, magazine publishers have one ear—-and their hopes—-up.
"Tablets are now more popular than PCs," Schmidt said. "You can read it, it knows where you are, it has an accelerometer. There are all sorts of stuff [publishers] can do in tablet magazines [that they] couldn't do in print magazines."
Schmidt continued that he envisions a time by 2018 in which "powerful, tablet-looking things" come to replace "traditional media" and where "incredibly immersive" tablet apps would be able to leverage the reader's location data and social graphs to make the reading experience more interactive.
I would dare say that this will hopefully be happening before 2018.  And, while Schmidt is referring to magazines, I believe that we will see equal developments in the use of tablets by newspaper readers.  As multimedia storytelling gets better with each new example, the tablet is particularly useful for readers to engage with those stories in a platform that they favor during day and night.
Read the full story here:
Google chairman Eric Schmidt thinks tablets are key to the future of magazines
http://tabtimes.com/news/media/2013/10/24/google-chairman-eric-schmidt-thinks-ta
Pages we like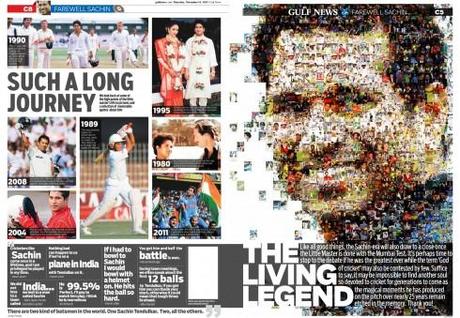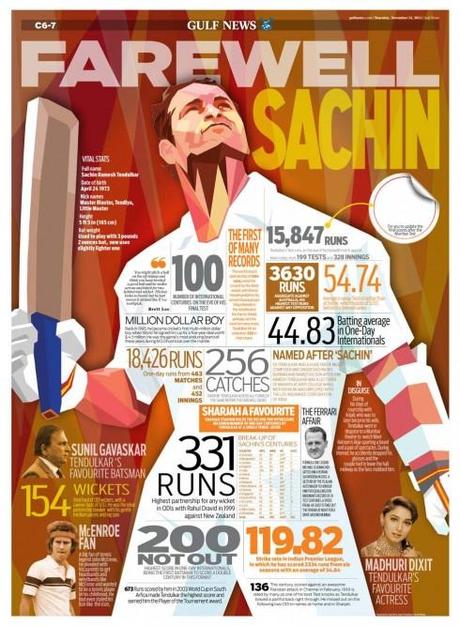 Gulf News, Dubai: Special farewell tribute to cricketer Sachin Tendulkar. Top—front and back cover (to be seen as a poster), the since two-page poster
In Dubai's Gulf News, a special reports in sports section to honor Sachin Tendulkar,  an Indian cricketer widely acknowledged as the greatest batsman of his generation. Sachin is set for an emotional farewell when he plays his 200th and final test at home in Mumbai starting Thursday, exactly 24 years after he began his record-breaking career.
Thanks to Miguel Gomez, Gulf News design director, for these images. 
"It was a team effort," Miguel says. "**S M Arshad**, Design editor, came up with the idea and coordinated the project, but others were involved. It took three weeks to produce it."
The team:
Layout: Douglas Okasaki and Talib Jariwala
Illustration and mosaic portrait: Nino Jose Heredia
Story and Research:**** Gautam Bhattacharyya and K R Nayar
Research of more than 500 Sachin pictures: Devadasan K P, Prasad Nair and S M Arshad
It took around three weeks to produce it.
About Sachin:
http://en.wikipedia.org/wiki/Sachin_Tendulkar
Of interest today:
10 facts that prove print is still in the game
http://www.inma.org/blogs/value-content/post.cfm/10-facts-that-prove-print-is-still-in-the-game#ixzz2kWhZKUbD
Highlight:
Printed newspapers are more popular with older, more educated, and affluent Canadians — and therefore are an ideal environment for advertisers. Still, young adults do read printed newspapers; the free dailies have successfully captured that market.

Teenagers say goodbye to Facebook and hello to messenger apps
http://www.theguardian.com/technology/2013/nov/10/teenagers-messenger-apps-facebook-exodus
Sunday Times, Telegraph and Observer report increase in sales for October
http://www.theguardian.com/media/2013/nov/08/sunday-times-telegraph-sales-increase
TheMarioBlog post # 1379