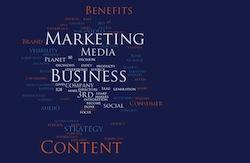 "Confession: I'm a content marketing manager who hates most content. It's all so boring! It's true in the consumer world – as Choire Sicha, co-founder of The Awl, just said in an interview for The Atlantic:
I opened up my Digg reader the other day, because I was on blogging duty at work, and everything was so duplicative of each other. I was like, yeah, okay, there's that piece of news filtering through all these different websites, all the same things … no wonder I don't go to them.
And the same is true in the business-to-business world. Over 90% of B2B companies do content marketing – but 90% of that content marketing is redundant crap, e.g. "5 Ways to Do Blah Blah the Same Way as Everyone Else." Publishing blog posts like this is basically cargo-cult marketing; it's trying to make a phone call with a banana phone. Content marketing doesn't work if nobody cares.
Confession #2: We did some of this ourselves in the past – going through the motions, publishing received wisdom just to get a blog post up. At some point, we decided that wasn't good enough, and we raised our standards. The results were undeniable: We've more than doubled site traffic year over year and grew more than 30% just in the last quarter. Perhaps more exciting, we've seen a huge uptick in brand mentions and word-of-mouth referrals." More from this article by Elisa Gabbert>>>