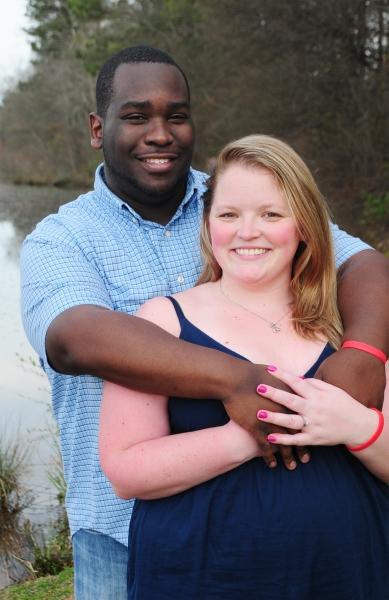 In honor of Valentine's Day we held a great contest this year. We love to talk to our winners and get more information about them and their wedding planning process. So, we're happy to introduce you to Melissa and Phillip.
How did you two meet?
Phillip and I met through Match.com.
How long did you date before getting engaged?
We dated for roughly 5 months before Phillip popped the question.
When is your wedding and how long will your engagement be?
We are getting married August 17, 2013. By that time we will be engaged for a little over 1.5 years.
What ideas or theme do you have for your wedding?
Currently we are working with a vintage yet modern theme. It's sort of the simple take on all the overly extra vintage blogs you see out there.
What's been the hardest part about wedding planning so far?
For me, it has been trying to make sure our wedding isn't just about what I want, but about what we as a couple want. I realize that dudes don't always want to help, but our wedding isn't just for me so it has to be a partnership. I would also be remiss if I didn't mention that families are always more stress during weddings than normal.
What's been the most fun?
It is fun ordering samples of invitation or swatches and really starting to see the vision in your head come to fruition. It is always exciting and fun to win things too, which happens in the wedding world way more than people realize.
Where do you get ideas for your wedding plans?
I would say I have a wide variation of where ideas and projects come from. I get tons of ideas from blogs and magazines. I usually catch things from the 100+ wedding people I follow on twitter. I have also gained ideas for table decorations from attending bridal events like NotAWedding Atlanta.
How did you hear about the Love Is in the Air contest?
I heard about the contest from the Beau-Coup twitter account. I follow them and saw it pop up and new something so easy as a re-pin to win could not be passed up. Gotta follow the right peeps to know where all the good finds are!
Care to share any wedding plans?
We are having a church wedding in Sioux City, IA followed by a reception at a conference center nearby. Since we both live in Atlanta currently it is a destination style wedding for most of our family and friends. Plenty of good times will be had.
Thanks so much to Melissa for sharing her thoughts and thanks to Beaucoup Favors for co-sponsoring the contest with us!
Don't forget what Melissa said, you have to know who to follow to find out about all the great free stuff available for weddings so make sure you're following us on Twitter (@GigMasters).