Time for a new contest!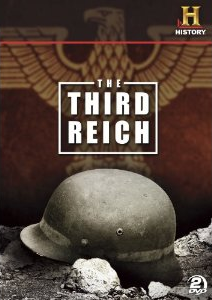 HISTORY's The Third Reich: Rise and Fall
This rare and never-before-seen amateur footage tells the epic story of the Third Reich as it's never been told before: through the eyes of the people who lived it. A unique perspective on the rise of Nazi Germany and how millions of people were so vulnerable to fascism, told through rare and never-before-seen amateur films shot by the Germans who were there.
TO ENTER: Post a comment at the bottom of this post, or the fast way by clicking the "Like" Facebook link below which will do it automatically!
If all else fails you can submit your entry to [email protected] with your name and contact information.
THIRD REICH: THE RISE AND FALL
Based on the Bestselling classic of the Nazi era and World War II by acclaimed historian William Shirer.
For the second half of the twentieth century, the Third Reich has been deliberated and dissected. Now, as the "Greatest Generation" fades into history, the image of 40,000 uniformed Nazis goose-stepping in perfect synchronization represents all most Americans know about history's most dangerously successful totalitarian government. Dig deep beneath the surface of our collective understanding of the Third Reich as HISTORY unearths what we don't know about the individuals who comprised one of the most fascinating and complex regimes of recent history. THE THIRD REICH uncovers familiar anecdotes and fascinating details about the people who comprised the Nazi Party, and raids the treasure trove of archives the Nazis left behind, including rarely-seen German newsreel recordings along with other unique footage carried home by Russian troops.
DISC ONE: THE RISE
DISC TWO: THE FALL
©2010 A&E Television Networks, LLC. HISTORY and the "H" logo are trademarks of A&E Television Networks, LLC. All Rights Reserved. Art and Design ©2011 A&E Television Networks, LLC. All Rights Reserved.
*Terms & Conditions – This contest is for a copy of Third Reich: Rise & Fall on DVD from A&E Home Entertainment to 1 contest winner. The film is brand new and provided by the publisher. All entrants must complete the entry task(s), or in case of any issues an email to [email protected] All information provided will be kept confidential. Entries must be received by May 6, 2011 11:59pm Pacific Standard Time. Contest winner will be drawn at random and notified after the close of the contest. The film will be shipped directly to the winner. US residents only. One entry per person.