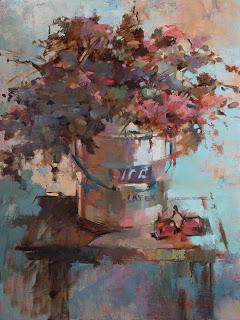 Bucket Bouquet
40 x 30
How do you take a traditional - and feminine - subject like florals and make them contemporary?  I've given that a lot of thought because I love to paint flowers but don't like them to look like they should only be in a woman's room. ``Bucket Bouquet`` is an attempt to bring flowers into a more modern context.
I used a lot of my new favorite colour, pthalo green, in this piece; I bought it for Mexico and am hooked, for now, at least.  It`s powerful and quite unnatural, forcing me to avoid an earthy background which puts the painting into a more traditional setting.  By putting that color in early, I could guide the painting towards my goal, because no realistic painting of flowers would harmonize with it.  This was liberating!  The flowers became simply colour, mass, edge and pattern, and I could explore those elements without feeling like I had to define a single bloom.  I enjoyed creating and then obscuring the silhouette of the flowers against their background, trying to get as many interesting edges as possible.
Some other deliberate choices that I made to update this floral were to use a paint bucket to display the bouquet rather than a pretty vase, and to fragment the table on which the display sat.
This painting feels edgier than my usual work, but I like it.  It`s definitely not my grandmother`s floral bouquet!