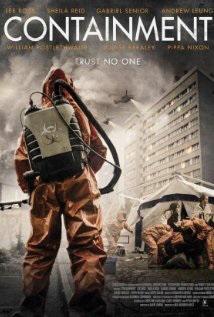 Director: Neil McEnery-West
Writer: David Lemon (Screenplay) Neil McEnery-West, Antony Woodruffe (Story)
Starring: Louise Brealey, Sheila Reid, Lee Ross, Pippa Nixon, Andrew Leung, Jill Buchanan, Hannah Chalmers, William Postlethwaite, Gabriel Senior
Plot: No water. No power. No explanation. No escape.
There may be spoilers the rest of the review
Verdict: Atmospheric Paranoid Thriller
Story: Containment starts as Mark (Ross) wakes up late only to find his apartment sealed shut with no power, water or electricity. When fellow residents Sergei (Leung), Sally (Brealey) Nicu (Senior) Enid (Reid) and Aiden (Postlethwaite) break through the wall we get thrown into the idea of this happening overnight and speculation ensues.
The group witness the government pulling people out of the flats with force as they have to start planning for an escape from their fate. The group capture one of the hazmat people Hazel (Nixon) as they look for answers it turns out it isn't only the other hazmat suits they have to worry about.
Containment brings us a story that could happen to anyone with an overnight containment. The feel of the whole story is of unanswered questions as we only learn a tiny part to what is actually happening. The story is filled with paranoia which works for the character's actions and if you have seen Right At Your Door you can see similarities between the too. This will make you question just how safe you are when you sleep in the government did something like this to you.
Actor Review
Lee Ross: Mark is our leading man who becomes the reluctant hero of the piece when he finds himself sealed inside his own apartment block, when he teams up with the rest of his floor to try and figure out why. He is calm through the situations even when the aggressive Sergei gets in his face. Lee is good in this leading role coming off well in the reluctant hero role.
Pippa Nixon: Hazel is one of the hazmat workers that gets capture, she gives the answers to the group in a hope that she won't be killed. Pippa is solid in this role hold enough mystery about herself and what is going on.
Andrew Leung: Sergei is one of the residents on a floor, he has been breaking through walls to get out, he comes off very aggressive and is trying to protect his little brother Nicu. He is the loose cannon of the group making rash decisions that put the group in more danger. Andrew is good in this role playing out the typical shady resident in a block of flats.
Sheila Reid: Enid is the old resident and neighbor to Mark, she has been in the flats for over 30 years with no problems, she does add comedy to the dangerous situation but also care to the youngest member of the group. Sheila gets the better lines with her character's dry wit which add the comedy needed in the serious situation.
Support Cast: Containment has a small supporting cast that includes all the fellow prisoners in their own home along with the hazmat people and the other residents in nearby buildings. They all help make the tension rise for our group of survivors.
Director Review: Neil McEnery-West – Neil gives us a thriller that keeps the answers away from us as the tension rises.
Horror: Containment puts us into a horror scenario as our residents have no escape from an impending terror moment.
Sci-Fi: Containment puts us into a sci-fi world of an unknown containment for our characters.
Thriller: Containment doesn't give us any answers to what is going on which only pulls us in more.
Settings: Containment keeps the entire film inside the block of flats which shows us just how trapped the characters are against the terror coming for them.
Special Effects: Containment has good effects when needed but it is more about making you think about what is happening.
Suggestion: Containment is one to try for all the horror fans out there. (Try It)
Best Part: Settings inside of a block of flats.
Worst Part: You might want a few more answers.
Believability: No
Chances of Tears: No
Chances of Sequel: No
Post Credits Scene: No
Similar Too: Right At Your Door
Oscar Chances: No
Runtime: 1 Hour 17 Minutes
Overall: Thriller that fills you with paranoia that keeps you guessing without giving you answers.
Rating