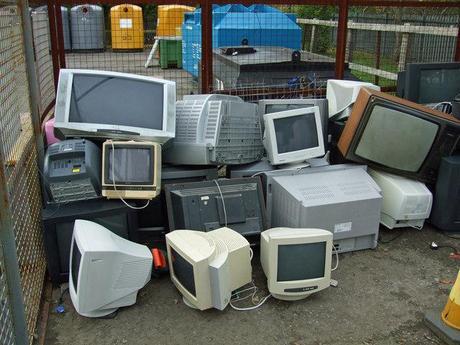 Before plasma and LCD technology became widely available, images on TV's and computer monitors were produced using partially leaded, glass video display components known as Cathode Ray Tubes (CRTs). In the past decade, however, consumers and the electronics industry have moved beyond this technology. As a result, stockpiles of old CRTs waiting to be recycled will continue to grow until an alternative application is found.With the aim of expediting this process, the
Consumer Electronics Association
(CEA) has teamed up with the
Environmental Defense Fund
(EDF). In a recent statement, the CEA said the two organizations would award $5,000 to whoever proposes the best business model for reusing old CRTs by December 11th of this year. Walter Alcorn, CEA Vice President of Environmental Affairs, mentioned X-Ray shielding as a potential example of how the leaded glass could be repurposed. Even if you don't win the challenge, there is an additional $4,000 in prize money for other submissions, with no single award being less than $1,000. Submissions will be evaluated based largely on their financial viability and environmental impact. Click here for registration details.
The joint initiative by CEA and EDF is important, though very ambitious, as it seeks to create an end market for an obsolete, hazardous technology. According to the Environmental Protection Agency (EPA), most CRTs contain enough lead to be categorized as hazardous waste. Despite this, some states (like California) are considering legislation that allows old TVs and monitors to be sent to landfill. Without an alternative use for recycled CRT glass, more states will likely follow suit. In the U.S. alone, CEA estimates that several million pounds of CRT glass will be collected next year as more consumers switch to LCD and plasma displays.
Though the EPA and many state laws regulate and prohibit harmful electronics from entering the waste stream, it's obvious that too few actually consider how they might be used in new applications.