If you haven't noticed yet from my previous post, my twin boys turned 3 this weekend.  And like any 3 year old boy, they
love
trucks!   So what other theme to celebrate their birthday with than a
truck
party.  The big, noisy, fun trucks.. Construction Trucks!
I think my boys had a blast and I thought I might share the pics with you all.
Because the theme was 'construction trucks', I tried to utilize as many surfaces and elements of one.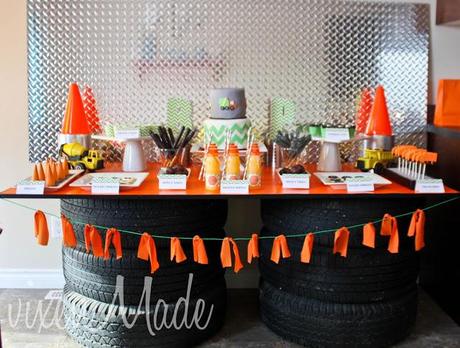 So using tires and a plywood sheet for a table, a sheet of checker plate metal for a backdrop and chevron to mimic the look of tire tracks.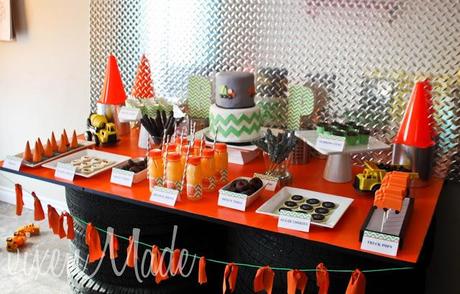 The orange drink served was mini bottles of Sunny D wrapped with my custom made stickers.
And the boys were pretty adamant about having 'truck pops'.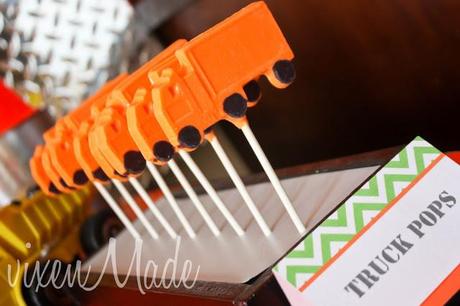 Black aniseed candies filled the bed of the dump truck.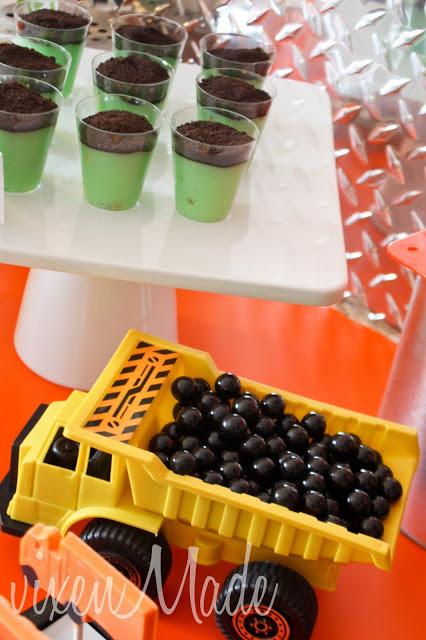 We had pistachio pudding topped with oreo crumbs to have the look of dirt.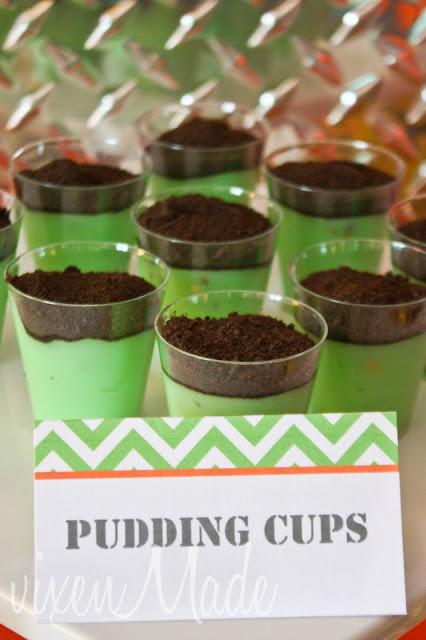 'Rock' candy.  Of course.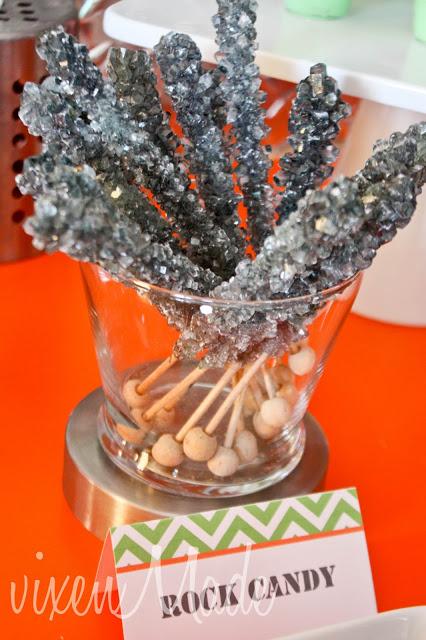 Chocolate donut tires.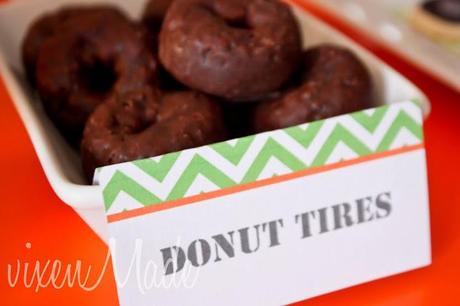 Sugar cookies.  Decorated like tires...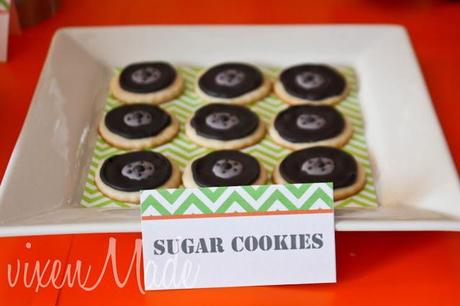 and the other topped with custom toppers from my talented sister from 
Candy and Cake
.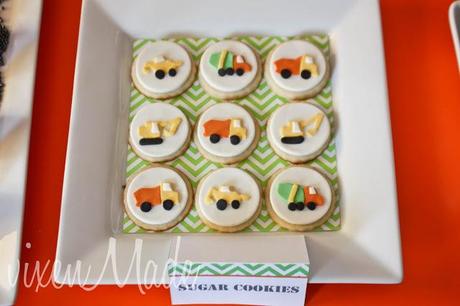 I made pylons out of ice cream cones (that I cut down in size) coated in orange candy melts.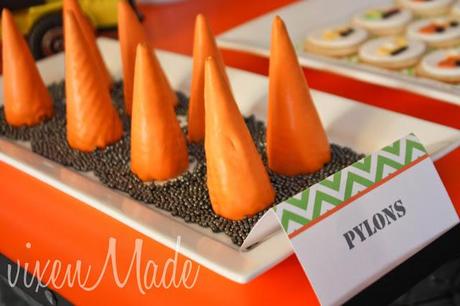 Chocolate dipped pretzels, or 'pretzel logs'.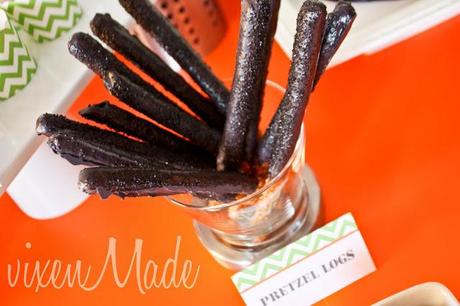 The garland was made of green utility twine and orange fabric strips to look like 'lumber flags'.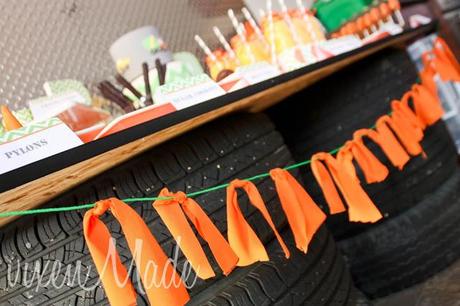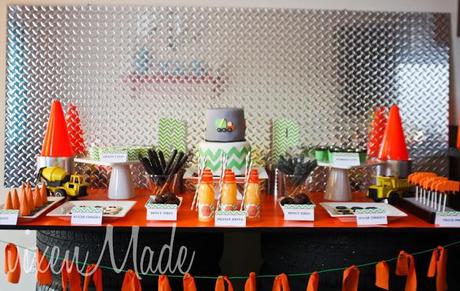 The chevron candy cups were filled with gravel rock candies.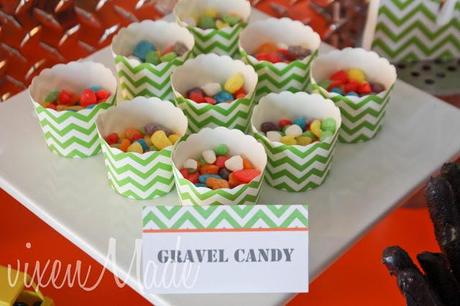 And the awesome cake was made by my sister (once again) from 
Candy and Cake
.  Told you she's talented!!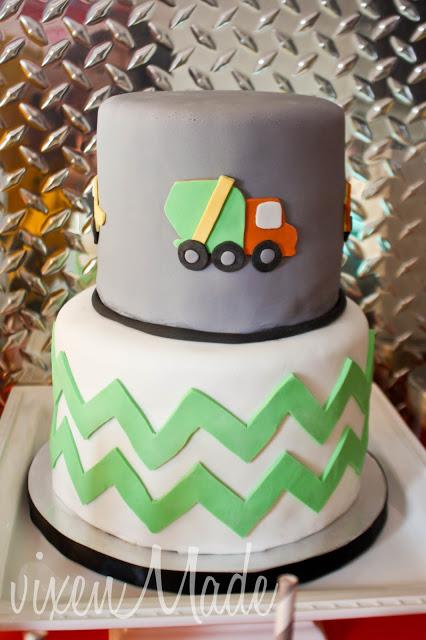 I requested chevron on the bottom and the top was surrounded by the construction trucks.  I loved how it turned out!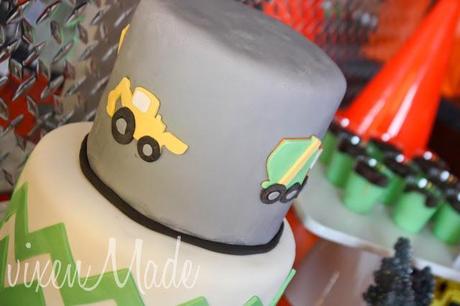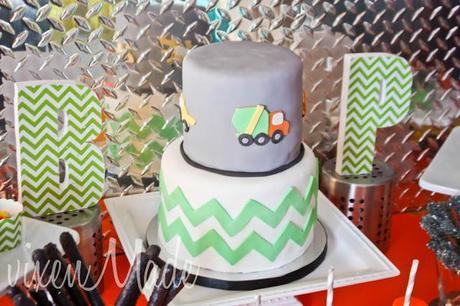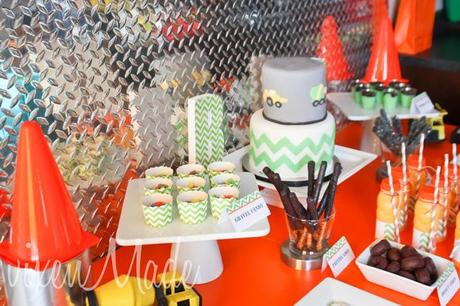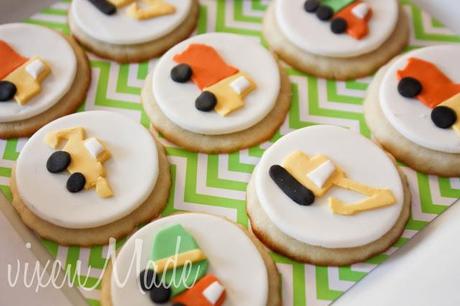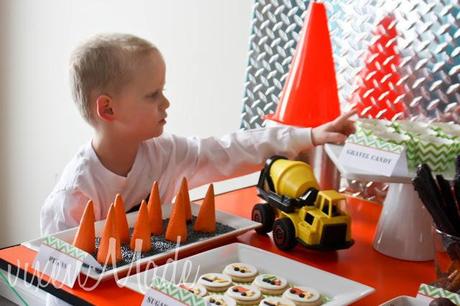 And here are the birthday boys.  Who, of course, didn't want to take the time for a picture together.. so this was the best I got!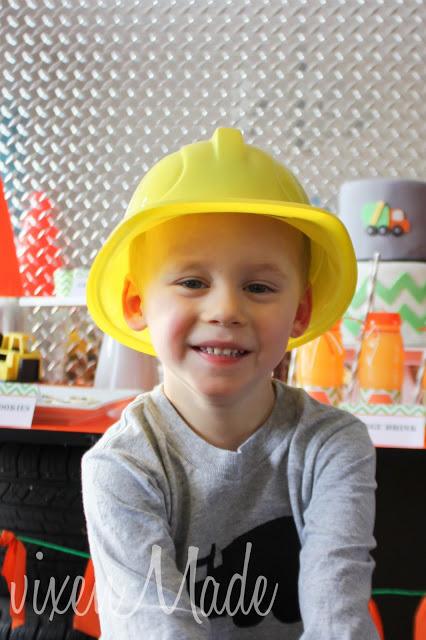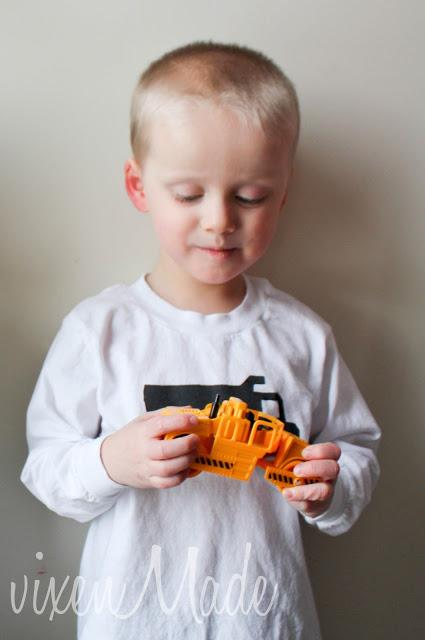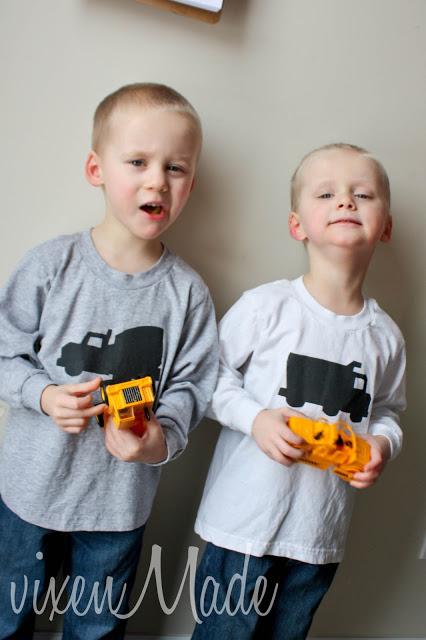 The kids each went home with an orange lunch box favor box.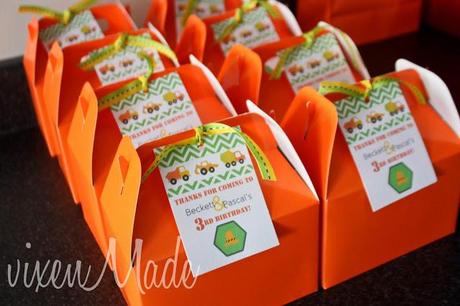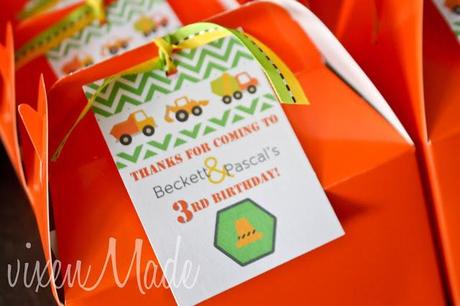 Which were filled with a water bottle, truck stickers, toy truck and truck crayon.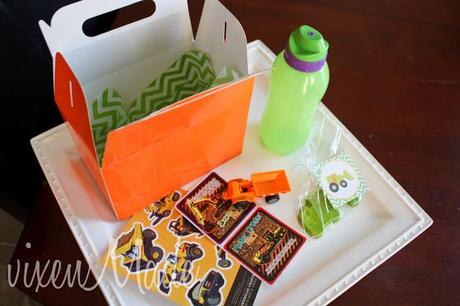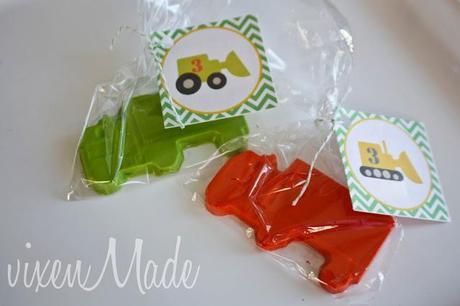 The kids activity table was used for coloring truck pages and doing some painting on wood truck shapes.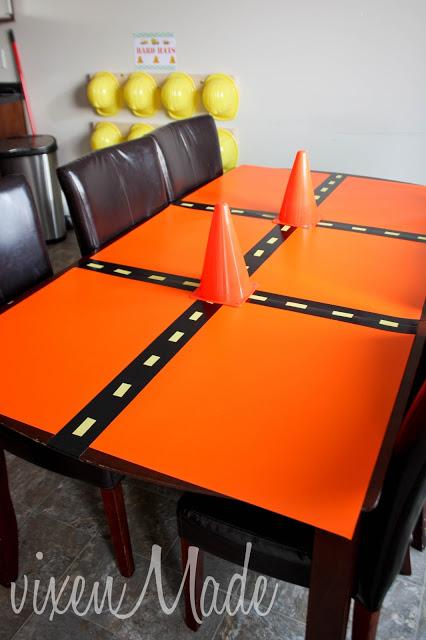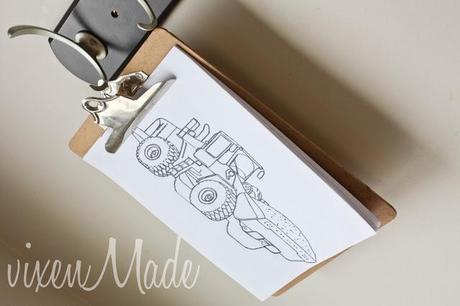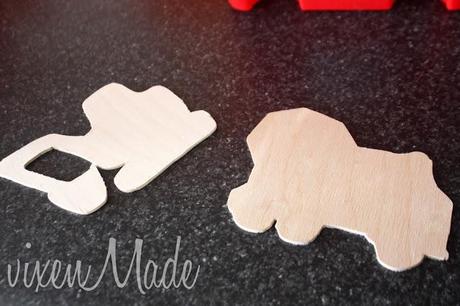 And each little guest got their own hard hat to wear.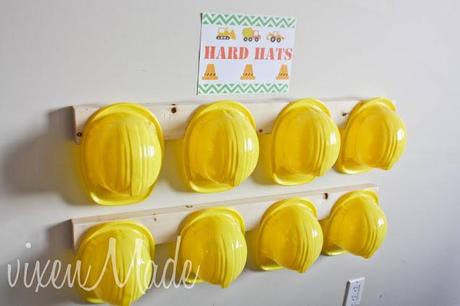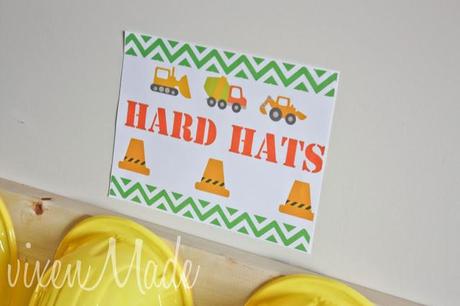 Which came in handy when playing 'Topple the Tower'.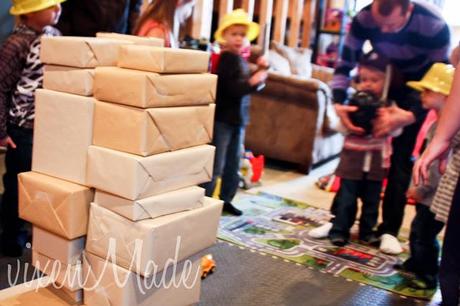 My husband created a 'wrecking ball' with newspaper (and a weight inside) wrapped in a ball and covered it in black duct tape hanging from a cable.  Luckily for us, our basement is still unfinished, so he was able to hang it from an open beam in the ceiling.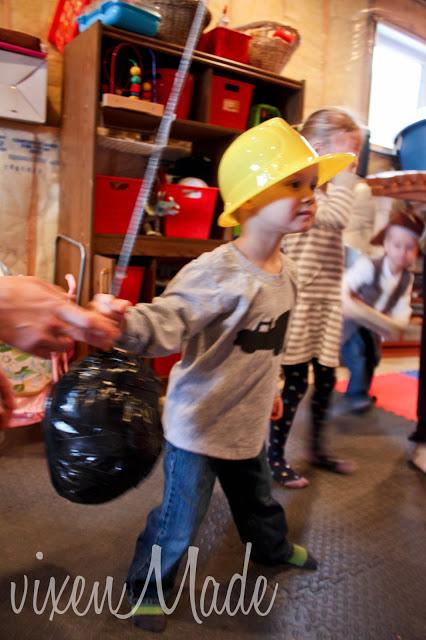 The kids swung the wrecking ball into the tower of building blocks (wrapped boxes).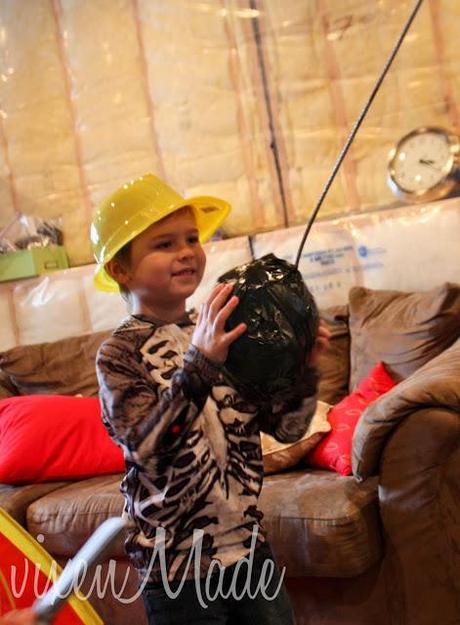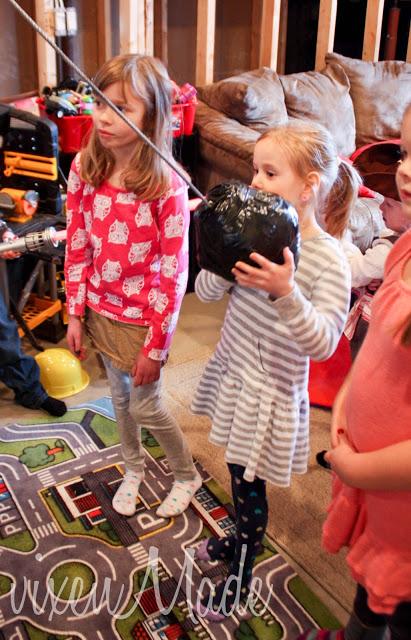 The game was a real hit.  The kids didn't want to stop playing!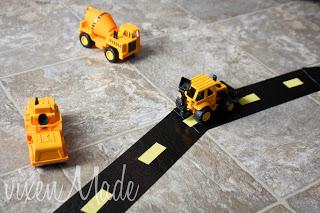 Another big hit were the roads taped to the floor.  I used black duct tape and yellow electrical tape for the lines in the road and it ran the length of our livingroom and kitchen.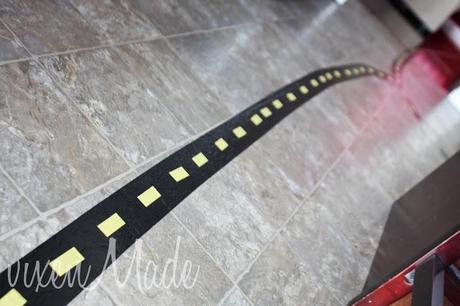 The boys loved driving their trucks around the road.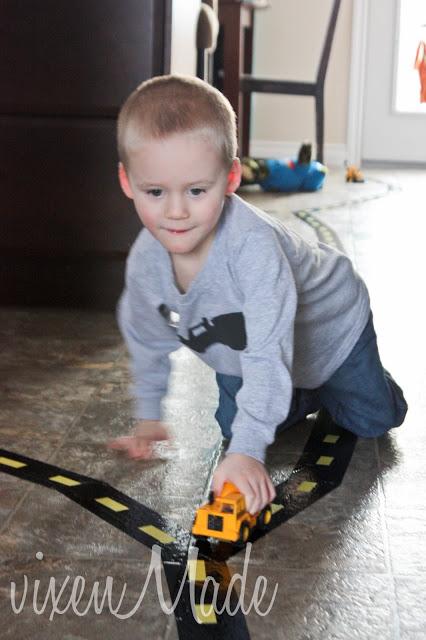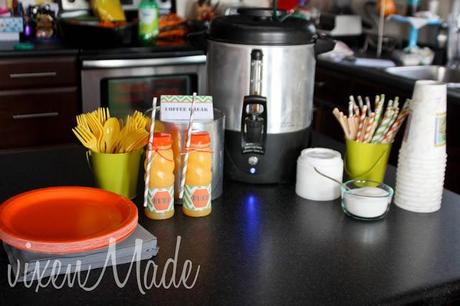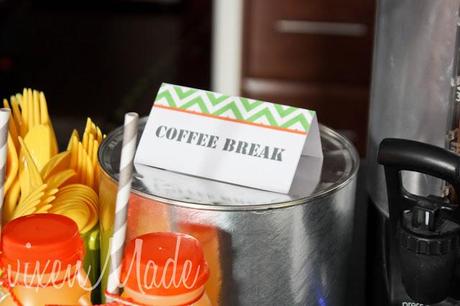 We used large oil drip pans to hold snacks and punch.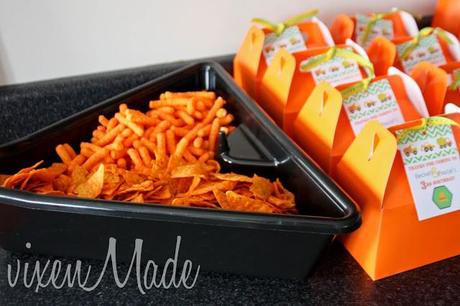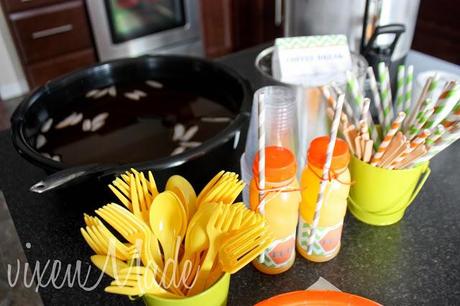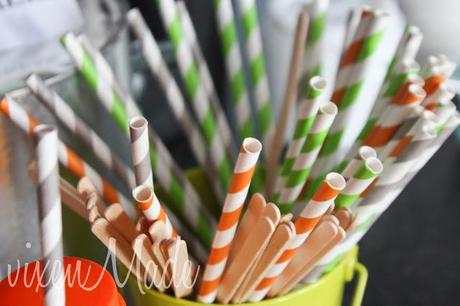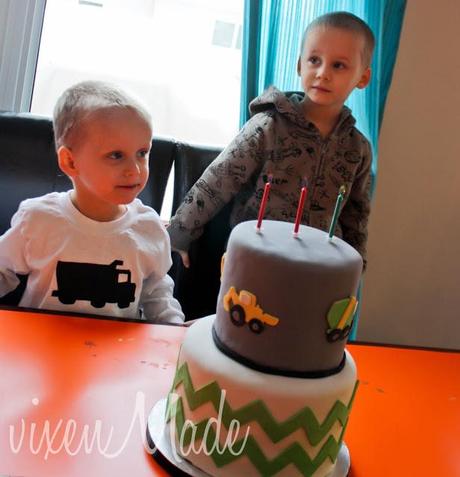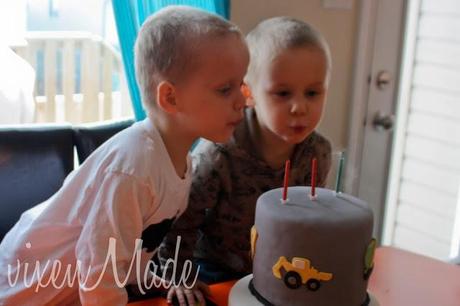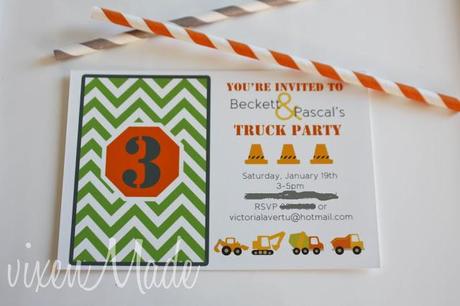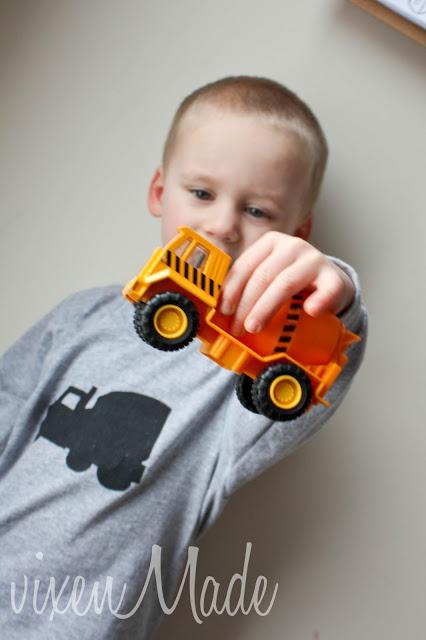 Thanks for stopping by!!

I link up here!