You know, we all have dreams and when we are lucky our dreams come true!  I had dreams when I was in school of becoming a graphic artist. Yep! That was my one and only thing I wanted to do if I went on to college. So....one day it was my turn to make a visit to the counselor and tell him my plans for the future.  I went in and told him I want to go to college for Graphic Design! I was excited about this plan.  My excitement was crushed when he told me that would not be a good idea and that it was too competitive and I would never get a job!!! OMG!  I look back on that now and think how crazy it was for him to tell a student that.  I wish so much that I had gone ahead and done what I dreamed about.
My daughter, Alyssa, has dreamed of doing something in the medical field since around age 3! Seriously, it was all Dr. Barbie, and dr. kits for her at Christmas.  After much thought, she decided she wanted to be a nurse.  She graduates TODAY with her BSN.  She got a job at a wonderful hospital in the Medical Center called St. Lukes.  She will be in the Cardiovascular ICU!!!! She is sooooo thrilled.  It was very nerve racking going through the interviewing process and all, but she is now starting her dream job, and career in July!  Her Dad and I couldn't be more proud!
I made this card for her and had to put the little heart in the background since she will be in the CVICU. This is Nurse Lucy from C.C. Design colored with copics.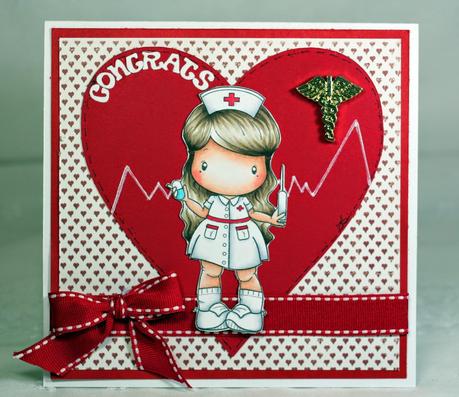 Congrats to Alyssa for following her dream!
Thanks for stopping by my blog today! 
Big hugs, Dena