Hello again, I'm back to share another sweet Whimsy Stamp with you.
This time around I am using one of Crissy Armstrong's stamps called Polar Bear's Christmas Tree.  I truly have a "thing" for polar bears.  I think they are adorable.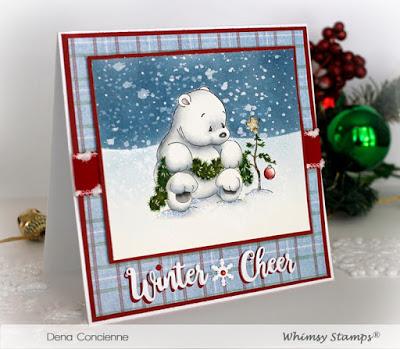 He is super cute right?!!  I tore a piece of paper to make the snow bank background and used distress ink to color the sky.  I then flicked white paint onto the sky for the now.  The polar bear was also colored with distress ink.  I added some fur details with a white pen when all was dry.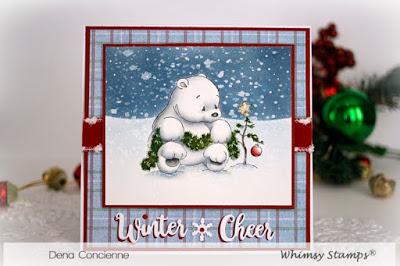 I added the Holiday Word Die from Whimsy to the bottom.  I cut out several and stacked them together for a raised effect and cut a single red slightly off from the white.  I have again added lots of stickles for some winter sparkle.
Thank you Whimsy Stamps for having me as a Guest Designer, I totally enjoyed working with these super sweet stamps.
Thank you for checking out my blog today!  Hope everyone is keeping warm and cozy!
Hugs, Dena