We started a monthly Contest over at Polyvore.com
.
Every month we will  feature a favorite
celebrity
and a
fashion look
you think she or he would wear created by a
Polyvore member
.
Congratulations to member "planetlipstick" from
Polyvore
.
She's our
3rd
winner of our contest
FashionTake-Out Celebrity Style: BLAKE LIVELY.
If your a member already... she would greatly appreciate a like from you.
Give her your support Click Here..
Hey, if you want to join in the FUN.  You can hop on over to
Polyvore.com
and sign up! Then under the members  or groups section look for our group Serving FashionTake-Out or if your a member already you can
Join Serving FashionTake-Out
Q & A:
Where do you live?
USA
What do you love about Polyvore?
 I love fashion and I like to experiment with different styles, polyvore lets me see and make outfits easily. I like to be creative and I'm inspired to make fashion sets of celebrities and blogger style that I love and add my own style to it too.
What are your favorite clothing brands?
Favorite clothing brands and stores are modcloth.com, forever 21, topshop and delias
Who are your favorite designers?
Designers that I like are D&G, Herve Leger
Check out "Planet Lipstick" fashion set below
Join us in the fun!!!!!!!!!!!
~........................................~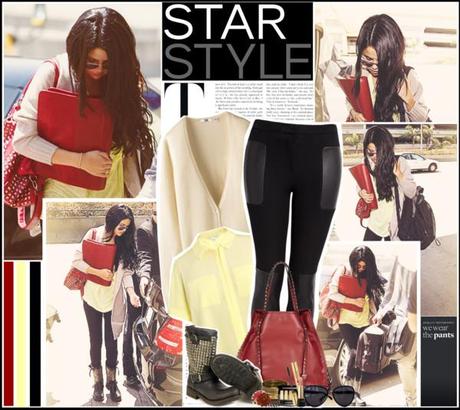 Celebrity style inspiration: Selena Gomez by
planetlipstick
featuring short sleeve silk shirts