I remember a conversation I had with a teen several years ago; this young person's bitter voice still rings in my ears to this day.  This is what he said:
"If only my parents have gone to this church, they would not have separated."
He said so because the church where my family worships in (and where the teen attended youth) is known for its great advocacy for the family, particularly our parenting seminars and marriage retreats.
My wife and I have attended several of these retreats (our most recent undertaking was so successful it had to be done 3 times, selling out each time), and one of the lessons that always sticks out is that
conflicts in marriage are a given, but if managed properly, they can actually strengthen marriage and family life.
You got that right.  
Conflicts can be a marriage strengthener.
It doesn't mean that you have to be an angry wife or an angry husband all the time, but
when conflicts arise
, and often (as the audio/video below humorously puts it) they come when you least expect it,
the conflict is managed correctly and you have a stronger relationship as a result.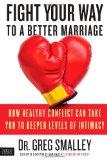 The audio/video file I'm talking about would explain it way better than I can.  It's a Focus On The Family broadcast with a great marriage counseling couple, Dr. Greg Smalley and his wife Erin.  They talk about a really funny conflict early in their marriage and
conflict resolution principles that they have imbibed
(and now teach to married couples everywhere).  Dr. Smalley has authored many books, but the one in particular that's covered in this broadcast is
Fight Your Way To A Better Marriage
.
(See part 2 of the video
here
)
The marriage retreats in our church use very much the same principles (and we will again have these awesome events in 2013) but the
book
will, of course, do a much more through job and it
makes a great gift to give to your married friends this holiday season.
So, don't forget, husbands and wives,
conflicts in marriage are a given, use them to strengthen your relationship.
 Here are more books by the author, which you can enjoy either book form or kindle:
Here are some other marriage books you might like: