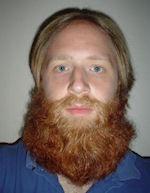 Research into whether beards are attractive has produced mixed results, scientists from New Zealand and Canada say. The result: women don't find beards attractive.
Men were rated more highly when they
shaved their beards off
. Being bearded also made them seem older and more aggressive. But there is some good news for gents who are fond of their facial hair - having a beard commands respect, particularly from other males.
image credit
The Presurfer