Welcome to our tutorial for configuring the Akismet plugin settings in order to filter out all of the spam from the genuine comments on your blog.
Akismet is a WordPress Plugin that comes already installed with every new installation of WordPress.  This is a very simple plugin that verifies each and every comment that gets submitted on your blog against the Akismet web service to flush out and block spam comments.  I have been using Akismet for a couple of years now, and I have personally witnessed this plugin flush out thousands of spam comments.  This plugin is simple, fantastic, and we recommend using it.
Additionally, configuring the Akismet plugin settings in WordPress is very simple.  It's just a matter of obtaining and entering your API Key.  But to avoid any confusion, we have put together this very simple and fast tutorial to walk you through the Akismet plugin settings in order to get it working on your blog immediately.  You'll be done in 5 minutes.
First off, Akismet should already be installed, but if not:
Hover your mouse over "Plugins" and click on "Add New." 
Plugins >> Add New
Type Akismet into the search field provided and hit enter.
Click on "Install Now" and then activate the plugin.
Once installed, you'll see the following message at the top of your dashboard.  Click the message, and this will take you to the Akismet plugin settings page.  All that is left is obtaining and entering your API Key.

Click on "enter your Akismet API key"
Akismet Plugin Settings Page
Once you are on the settings page, right-click on "Get your key" to open in a new window.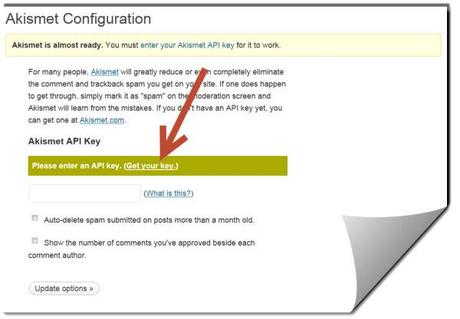 Click on "Get your key"
Once the new window opens, click on the blue "Get an Akismet API Key" button.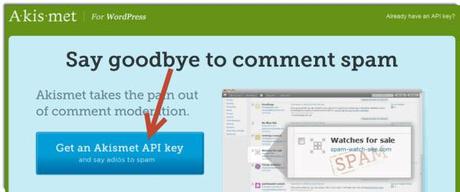 Click on the blue button
On the next window, you'll see three options.  These will include Enterprise, Pro, and Personal.  Unless you have a need for the other services, click on "Personal."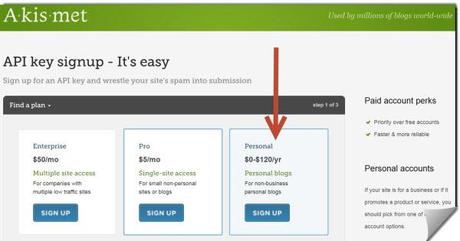 Choose the Personal Edition
On the next window, enter your contact information.  The email address that you enter will be where your API Key will be sent, so ensure that you enter your address correctly.
You'll also notice that you'll have the option to make a yearly donation to the plugin author.  I might add that small donations are always appreciated and provide plugin creators with the resources to provide service and updates on their plugins, but this is not required.  Move the scroll bar all the way to the left if you do not wish to make a donation.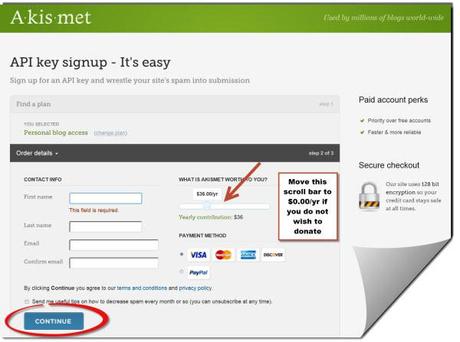 Fill in your information and check your email.
Once completed, click on the "Continue" button.
Check your email inbox for an email.  Open that email, and copy the API Key that they provide.  Paste that key into the Akismet plugin settings page.
After entering your API Key, you'll notice two fields:
"Auto-delete spam submitted on posts more than a month old."  We do not use this feature.
"Show the number of comments you've approved beside each comment author."  We do not use this feature.
Click on the "Update options" button.
You are done configuring your Akismet plugin settings.
Now, please be advised that this plugin is not 100% accurate in blocking potential spam comments, and does make some mistakes here and there.  For this reason, it is important to sift through your comments in the spam folder to ensure that Akismet did not confuse legitimate comments as spam.
Now, just sit back and watch as this plugin goes to work over time.  Spam is an ever increasing nightmare for bloggers, and this plugin does a great job to remedy that and make blogging simpler.
Configuring the Akismet Plugin Settings in WordPress is a post from: BloggerGo