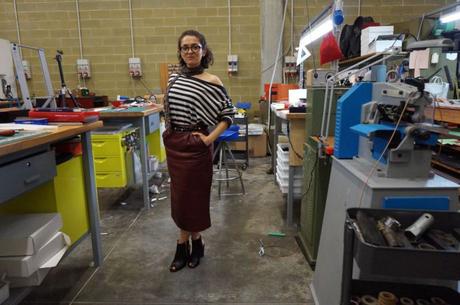 Girls in Paris are Confident. Confidence is sexy. And sex sells.
So when Theodore La Motta came to our factory to film our Kickstarter Campaign video for the new brand I knew that I needed to channel my inner French girl to help me get over my (deep-rooted) fear of being filmed.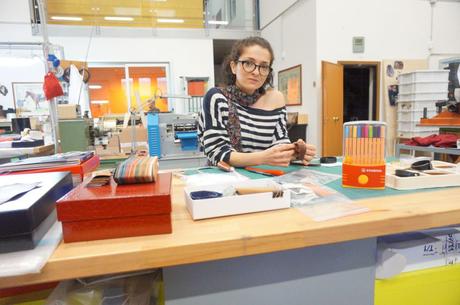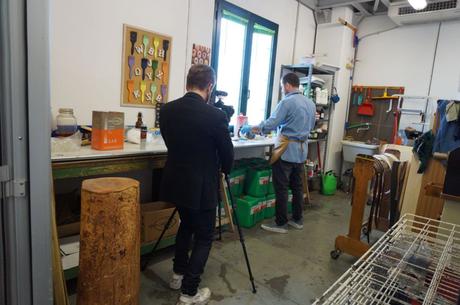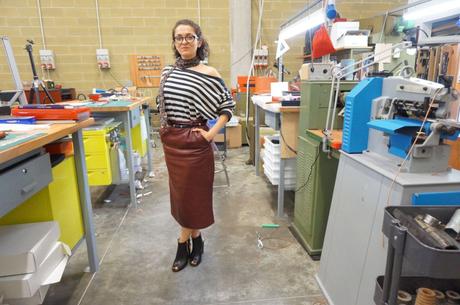 I mean, it's one thing to write a blog and post photos, lest we forget that I specifically choose every photo that gets published and rarely (never) publish those were I think I look brutal. I make a *selection* to put my best self forward, but with a video there is no choice. And that makes me so nervous!
But you can't sell luxury bags, belts and accessories when you're nervous so my outfit for the video was inspired by le dames de Paris - the ladies of Paris!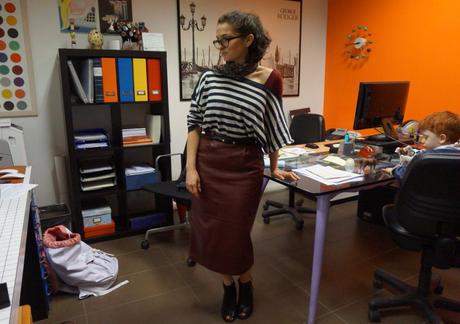 In fact, every time we went to Paris, one of our French clients would often call me "Ahn-jè- Là", and I secretly loved it. "Où est Ahn-jè-La?" she would say as she made a dramatic entrance into our showroom, with her big hat and oversized presence, filling every inch of the room with character, charisma and snobbery.
THAT is the kind of confidence I needed.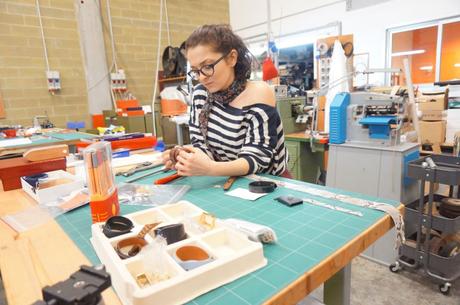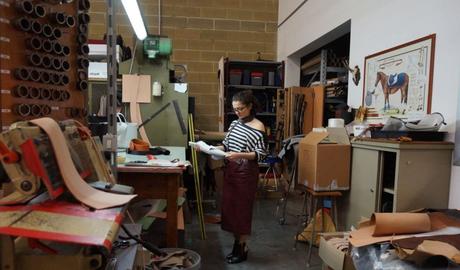 What I Wore - How to Dress Like a French Girl
My husband didn't like this skirt and neither did one of my guy friends when I asked for their opinions. I don't know why. Is is the color? The cut? The fit? The way I styled this outfit?
Maybe the lesson here is that I need to STOP asking for their opinions and just have more CONFIDENCE! I felt totally great in this outfit and I need to start trusting myself more. La confiance est le meilleur aphrodisiaque - Confidence is the best aphrodisiac, afterall.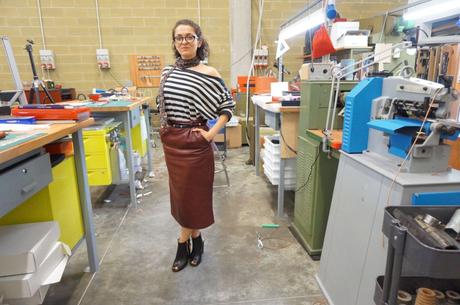 I loved it when I first saw it at the Vintage Market in Cervia that I wrote about last week in this post, and I couldn't help myself when I tried it on and it fit like a glove, plus at only 15 euro and real leather, how could I resist?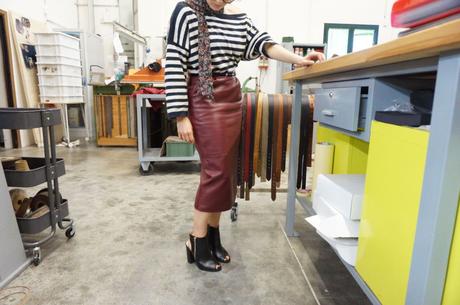 I paired it with a burgundy, wide collar body suit layered with an off the shoulder dark blue and white striped cotton top
and a thin floral scarf from Zara.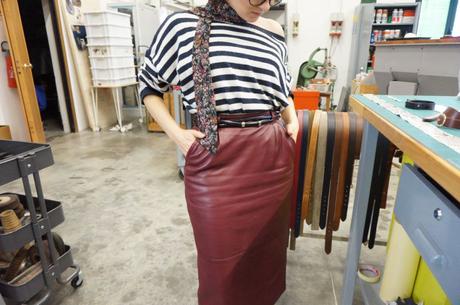 My belt is one of my designs that will probably not be produced because it is so difficult to make (sad face), even though it is one of my favorite and most versatile pieces. This version is in black python leather with palladium coated brass loops.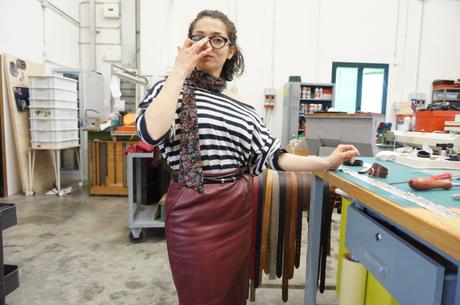 I bought these open toe booties last year in September just as the summer sales were finishing for only 15 euro from one of the small boutiques in the centre of Modena. They are probably one of my best buys from last year and are actually so comfortable that I wore them to a kid's birthday party! My glasses are from the online store Firmoo, and you can read a full review on what it is like to order glasses online without actually trying them on here.
The bag I'm testing out in these pictures is the second bag design that we've been working on, and as soon as I can I will share more about this design and the awesome colors that we'll be making it in, such as light greys, blush pinks, high gloss black and deep wine!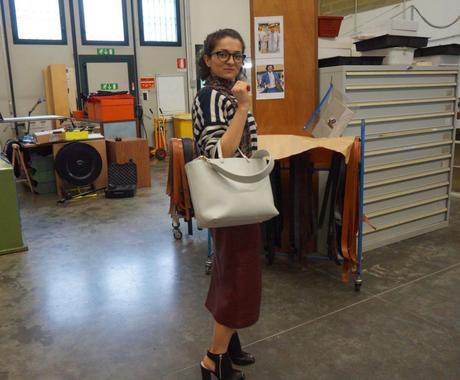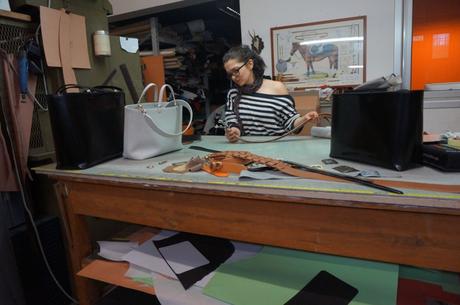 I've been working on a few posts that I want to share over the next two weeks, one is about the building of the brand and the actual making of the video, the other is about a phase I'm going through....you could call it a crisis- I prefer to think of it as a Renaissance
In any event, I'm always changing.
What would you wear if someone was going to take a video of you? And for all of you video bloggers out there, how do you deal with hearing your own voice?? Oh my goodness, I'm like the 4th Chipmunk.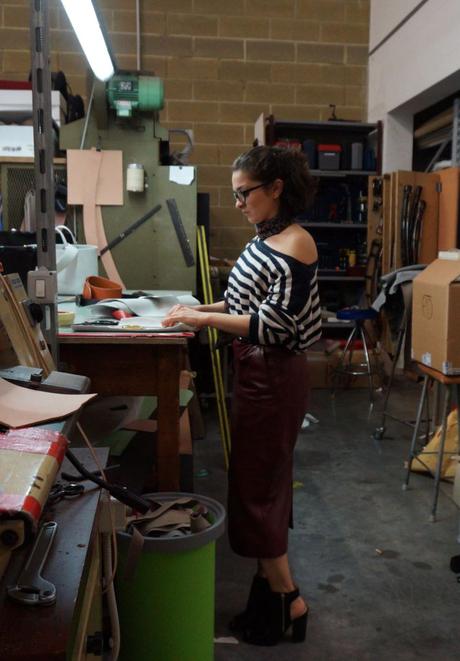 But I digress....now it's onto your style and my co-host this week:
#REASONSTODRESS DRESS TO IMPRESS FASHION BLOGGER LINKUP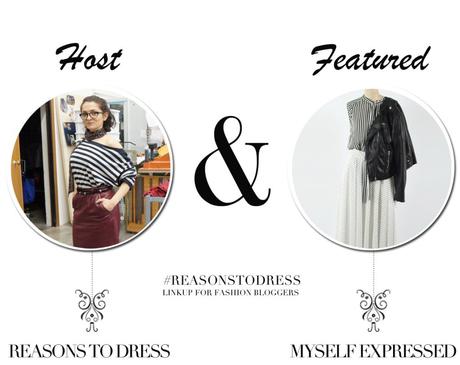 Written by Jo-Anne Myself Expressed is probably one of the most original and inspirational fashion blogs I have found over the years. It is UNLIKE anything out there because she DOESN'T photograph herself, she uses a mannequin that has her same proportions/height/shape and focuses on the clothes and outfit combinations and less on her personal beauty (check out her "Twice as Nice" posts for how to style one item, two ways, they are the best!).
In a world so inundated with "Instagram Models" I'm getting so tired of the return of using the medium of a perfect body to talk about fashion. Myself Expressed puts fashion back into the context of letting the clothes speak and making personal style about STYLE and not about a hot body or pretty face (although I've seen her profile picture and she is pretty!)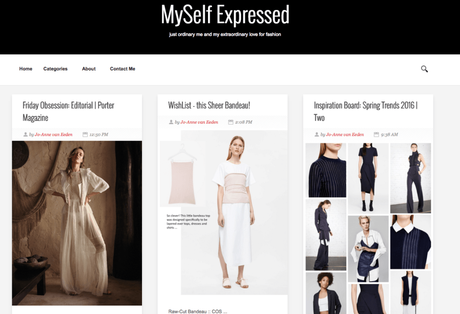 Jo-Anne is a cool-hunter, meaning you can rely on her for picking up on the season's subtle,chic and cool trends ( like this one!), the best magazine editorials of the month and reviews of up and coming designers. In fact in this month's edition of the RTD Magazine, I'm proud to share her Spring trend board editorial!
Welcome to the #REASONSTODRESS DRESS TO IMPRESS LINKUP for fashion and style bloggers!
This linkup is hosted by REASONS TO DRESS - An Italian lifestyle blog about an expat-Canadian married to an Italian leather artisan. Part of this new linkup is sharing up and coming style bloggers and we're always looking for fabulous co-hosts who will be interviewed and featured - email [email protected] for info!

SHARE YOUR POST ON TWITTER with the hashtag #REASONSTODRESS & you'll get a retweet!
REASONS TO DRESS - An Italian Lifestyle Blog About Fashion, Travel & Life in Italy
MYSELF EXPRESSED - Just ordinary me and my extraordinary love for fashion
THIS WEEK'S BANNER / INSTAGRAM IMAGE :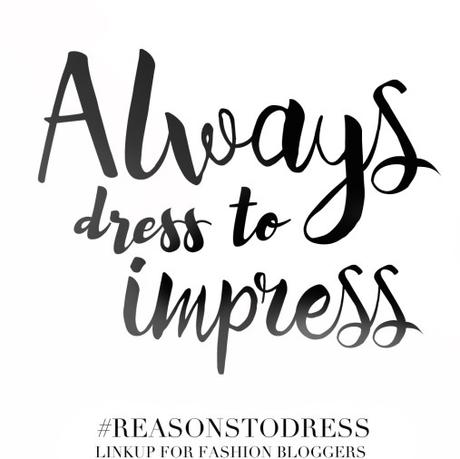 Grab the 200 x 200 version of this banner for your blog post with the code below!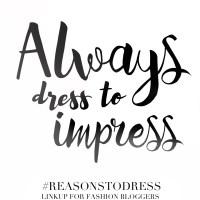 PLEASE : Linkup your STYLE related posts, new and old! Or Linkup a FASHION related picture from Instagram with the hashtag #REASONSTODRESS
PLEASE: Add the badge or a link back to EITHER of the weekly hosts
PLEASE: Follow each host on at least 1 social network , we're friendly, social and generally over-sharers! Let us know that you've followed so that we can share the love!
PLEASE: Please be social and visit a post that interests you. Don't forget to use the #REASONSTODRESS hashtag to let people know how you found them!