Perhaps you've seen this floating around Facebook.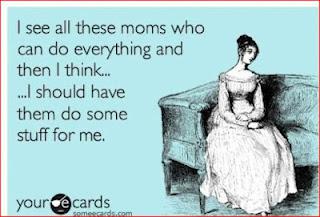 It gave me a chuckle and so, I reposted it.  I got a few responses stating that I'd be the one people would love to give their extra 'stuff' to --- that I surely have it together.
While I appreciate the compliments, I have to confess that I do not have it all together!!!  In fact, I'm taking this week while my oldest is at Week of Hope to tie up some loose ends, watch Institute for Excellence in Writing's Structure and Style DVD's and get my middle two kids ready to start their school next week.
On a very positive note, we seem to be coming out of the intense toddlerhood phase.  The Nip Napper is now content to stay in a group or child-care area without Mommy nearby.   This has opened up so many new avenues for all of us!
Now for that intense preschooler phase.  Never a dull moment to be sure!This post written and property of Homeschool Circus and can be found at: www.upatdawnreadytowork.com. If you are reading this from a source other than www.upatdawnreadytowork.com (www.upatdawnreadytowork.blogspot.com) you are reading a scraped copy!