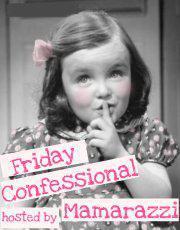 I suppose I have a few things to confess this lovely Friday evening...
I confess...
I really did have a lot of fun teaching an academic summer camp this week, but I am happy to be through with it now.
I confess...
Working with children over the age of nine taught me that I'm pretty sure I never want to teach children over the age of nine. I'm an early childhood girl. In fact, I think once our children all hit age ten, I'm going to tell Shaun that they are all his from that point forward.
(No, not really)
I confess...
I stayed out late last night with my friends from my Mothers of Multiples group even though I knew I had to be up at 5:30am again this morning. I loved it and I don't regret a second of it.
I confess...
I'd really like to go somewhere on a little vacation, but I should probably spend what little extra money I make this summer on more important things. Like getting the car fixed. Or dental work. Blah.
I confess...
I'm so glad Mamarazzi hosts this confessional because I did not have a post ready for tonight! :)