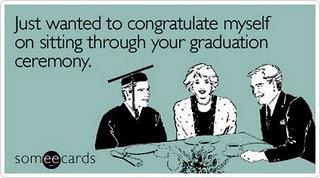 I
'm not going to say one single snarky thing about my daughter's graduation ceremony this morning. Even though the diploma is sitting on my kitchen counter right now, I still fear her guidance counselor's powers. It still might not be safe to diss the high school, because they could reach out from the alumna-grave and hurt our family.
So, yes, the commencement ceremony at which we had to leave the house at 5:45 a.m., fist fight for a parking spot, beg the $35-diploma-plaque-hawkers to please please leave us alone if you have an ounce of mercy in your commission-riddled soul, was lovely.
It was just lovely.
My daughter kept her cell phone tucked in her bra.
Wait. Did I just say that? No, she didn't. She didn't break a single rule of the graduation ceremony. She did everything right and there are no problems here, officers.
The rules were announced at the onset of the ceremony, in the cheerful-yet-authoritative voice of the principal. They were also flashed up on the big screen, and drilled into the graduates' brains at rehearsal. I believe they were told that if their parents broke any of the rules, their final transcripts would shredded and 100 points would be added to their SAT score.
PLEASE STAY IN YOUR SEATS DURING THE CEREMONY AND DO NOT GET OUT OF YOUR SEATS TO TAKE PHOTOGRAPHS
NO AIRHORNS
PLEASE KEEP YOUR APPLAUSE TO A MINIMUM SO EVERYONE CAN HEAR THE GRADUATES' NAMES
ABSOLUTELY NO AIRHORNS
AT THE CONCLUSION OF THE CEREMONY PLEASE WAIT UNTIL THE GRADUATES HAVE FILED OUT AND THEN EXIT BY THE SIDE DOOR AND WAIT FOR YOUR GRADUATE IN THE REAR OF THE BUILDING
IF YOU BLOW AN AIRHORN WE WILL HURT YOU
NO FOOD OR DRINK IN THE CONVENTION CENTER
IF WE HEAR EVEN ONE SQUEAK FROM AN AIRHORN PEOPLE WILL DIE AND WE'RE NOT KIDDING
GRADUATES PLEASE DO NOT THROW YOUR HATS OR MAKE ANY DISRUPTIVE NOISES DURING THE CEREMONY
THE MINUTE WE HEAR AN AIRHORN WE WILL TAKE THE SALUTATORIAN AND CLASS HISTORIAN AND YOU WILL NEVER SEE THEM AGAIN. WE KNOW HOW TO GET TO THE EVERGLADES AND BELIEVE YOU ME, THERE WILL BE NO TRACE OF THESE TWO HIGH ACHIEVERS
Rumor has it, there was a year back in the late '90s when airhorns were cheap and easy to conceal, where one of the soon-to-be-retired English teachers lost three of her senses because of an enthusiastic parent.
Our high school is huge. There were 713 people in my daughter's graduating class. There are quite a few towns in Pennsylvania with a population of less than that; towns with their own post office and a couple of traffic lights.  So even though almost 90 percent of the graduates are going to college or some type of higher education after today, there are still some who are as proud as peacocks that they got through high school.
My daughter is not one of those students. If she was such a slacker that graduating from high school was something to blow an airhorn about, I would have to smack her upside the head, possibly with the butt of said airhorn.
"We're so proud of you!" parents tell their children at this milestone. We don't really do that.
"Good job with that GPA," we tell her. "Yeah, whatever," she responds.
I couldn't find a card that properly expressed our pride at her accomplishments but yet was not overly gushy. So our gift to her was that we did not get out of our seats during the ceremony, we did not use flash photography (that wasn't a rule, but we were just being safe), we did not bring our coffee into the convention center.
And we left the airhorns in the car. For later. Much later, when it's safe.