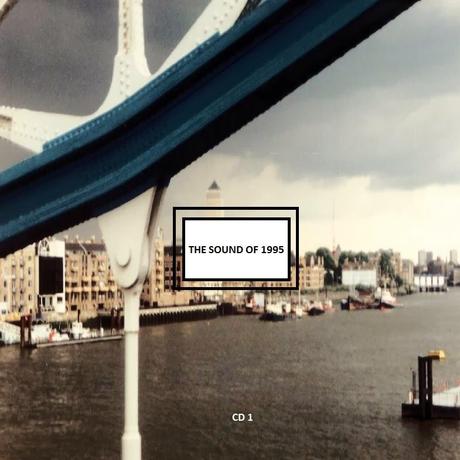 At last, it is ready. My epic 1995 compilation, six CDs of incredible music from a glorious year. Remember when pop music was made by musicians who had talent? 1995 was a year that changed many lives as Britpop took the nation by storm and music entered a new (and final) golden age... While parts 1,2 and 6 deals with the indie guitar legends, the other instalments of this compilation delve into more eclectic worlds. 
Truly, there was no better time for me to grow up. Sometimes part of me wishes that I could have been a few years older, so I could have understood Britpop more at the time and experienced it fully. But it was fate that it all happened before my teens. It put me on the right path, at the right age, at just the right time. A few years later it would be a lot more difficult to discover great music in the mainstream, but I got there just in time. If I didn't, I wouldn't be talking to you now. If people told me back then that those were the best days of my life, I wouldn't have believed them. At that age all I wanted to do was grow up. 1995 was a year that changed everything for me, hence why I have spent such a long time writing about it. People will argue that many of the Britpop bands were far from alternative, but to an 11 year old in the mid 90s this really was something new and exciting. Many of the bands and artists who arrived into my life in 1995 have never left. What a year. You can read two rather lengthy articles about my memories of 1995 HERE...
The Sound Of 1995 - Part One by Rw/Ff on Mixcloud
CD1
OASIS - HELLO
THE VERVE - THIS IS MUSIC
BLUR - STEREOTYPES
SUPERGRASS - MANSIZE ROOSTER
CAST - FINETIME
THE BOO RADLEYS - IT'S LULU
THE BLUETONES - BLUETONIC
SLEEPER - INBETWEENER
ECHOBELLY - GREAT THINGS
MCALMONT AND BUTLER - YES
MENSWEAR - DAYDREAMER
MARION - SLEEP
THE CHARLATANS - JUST LOOKING
BLACK GRAPE - IN THE NAME OF THE FATHER
GENE - HAUNTED BY YOU
CAST - SANDSTORM
DUBSTAR - NOT SO MANIC NOW
PAUL WELLER - THE CHANGINGMAN
ASH - GIRL FROM MARS
PULP - SOMETHING CHANGED
OASIS - SOME MIGHT SAY
The Sound Of 1995 - Part Two by Rw/Ff on Mixcloud
CD2
ELASTICA - LINE UP
GENE - FOR THE DEAD
EDWYN COLLINS - A GIRL LIKE YOU
THE BOO RADLEYS - WAKE UP BOO!
OASIS - ROLL WITH IT
BLUR - COUNTRY HOUSE
PULP - COMMON PEOPLE
SUPERGRASS - ALRIGHT
SLEEPER - WHAT DO I DO NOW
ECHOBELLY - KING OF THE KERB
THE CHARLATANS - BULLET COMES
MENSWEAR - BEING BRAVE
THE VERVE - HISTORY
CAST - ALRIGHT
LEVELLERS - FANTASY
RADIOHEAD - HIGH AND DRY
TEENAGE FANCLUB - MELLOW DOUBT
BLACK GRAPE - REVEREND BLACK GRAPE
BLUR - BEST DAYS
The Sound Of 1995 - Part Three by Rw/Ff on Mixcloud
CD3
Spiritualized - Medication
The Chemical Brothers - Leave Home
Bjork - Army Of Me
David Bowie - The Heart's Filthy Lesson
Tricky - Overcome
Leftfield - Afroleft
The Orb - Oxbow Lakes
Dreadzone - Little Britain
The Fall - The Joke
Pavement - 
The Smashing Pumpkins - Bullet With Butterfly Wings
PJ Harvey - Down By The Water
Garbage - Queer
Levellers - The Fear
Radiohead - Street Spirit (Fade Out)
The Sound Of 1995 - Part Four by Rw/Ff on Mixcloud
CD 4
THE CHEMICAL BROTHERS - LIFE IS SWEET (WITH TIM BURGESS)
DAVID BOWIE - HALLO SPACEBOY
LEFTFIELD - MELT
TRICKY - HELL IS ROUND THE CORNER
SHANE MACGOWAN AND SINEAD O CONNOR - HAUNTED
THE CONNELLS - '74-'75
THE SMASHING PUMPKINS - TONIGHT, TONIGHT
PJ HARVEY - GIVE HIS LOVE TO ME
BJORK - ISOBEL
GARBAGE - MILK
PAVEMENT - Father To A Sister Of Thought
THE FALL - DON'T CALL ME DARLING
ELASTICA - WAKING UP
CORNERSHOP - 6am Jullander Shere
THE CHEMICAL BROTHERS - SONG TO THE SIREN
RADIOHEAD - JUST
LEVELLERS - MEN-AN-TOL
The Sound Of 1995 - Part Five by Rw/Ff on Mixcloud
CD5
EDWYN COLLINS - THE CAMPAIGN FOR REAL ROCK
LEFTFIELD - ORIGINAL
DREADZONE - ZION YOUTH
SKUNK ANANSIE - WEAK
THE BOO RADLEYS - FROM THE BENCH AT BELVEDERE
CATATONIA - BLEED
THE CARDIGANS - CARNIVAL
GARBAGE - STUPID GIRL
TEENAGE FANCLUB - NEIL JUNG
MARION - TIME
MENSWEAR - SLEEPING IN
MORRISSEY - SUNNY
RADIOHEAD - FAKE PLASTIC TREES
DAVID BOWIE - STRANGERS WHEN WE MEET
PASSENGERS - MISS SARAJEVO
LEVELLERS - JUST THE ONE
THE BEATLES - FREE AS A BIRD
The Sound Of 1995 - Part Six by Rw/Ff on Mixcloud
CD6
GENE - OLYMPIAN
OASIS - THE MASTERPLAN
TEENAGE FANCLUB - SPARKY'S DREAM
PULP - DISCO 2000
DUBSTAR - STARS
BLACK GRAPE - KELLY'S HEROES
ELASTICA - CONNECTION
ECHOBELLY - DARK THERAPY
ASH - ANGEL INTERCEPTOR
CAST - WALKAWAY
THE VERVE - LIFE'S AN OCEAN
SHED SEVEN - WHERE HAVE YOU BEEN TONIGHT?
SUPERGRASS - TIME
GENE - LONDON CAN YOU WAIT?
PAUL WELLER - BROKEN STONES
PULP - BAR ITALIA
BLUR - THE UNIVERSAL
OASIS - CHAMPAGNE SUPERNOVA