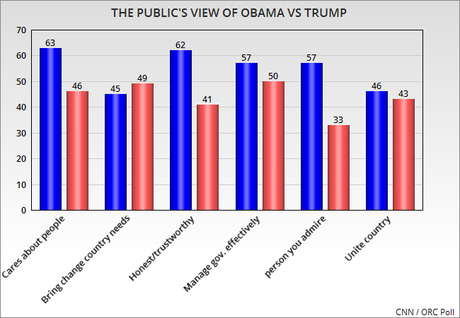 Both the charts above and below were made from information in a new CNN / ORC Poll -- done between November 17th and 20th of a random national sample of 1,003 adults, with a margin of error of 3 points.
The poll asked its respondents their views of Donald Trump as he starts his presidency and Barack Obama as he ends his presidency. Trump suffers by the comparison. Obama has a 17 point advantage in "cares about people like me", a 21 point advantage in being "honest and trustworthy", a 7 point advantage in being able to "manage the government effectively", a 24 point advantage in being a "person you admire", and a 3 point advantage in being able to "unite the country".
Trump only led in one category -- with a 4 point advantage in "bringing change the country needs".
The chart below shows the job approval rating of this poll throughout the presidency of Barack Obama. He started his first term with a high rating (62%), and is finishing his second term with a high job approval rating (57%).