Over the next week, I will be reposting a series I did way back at the start of Baseball By The Yard that covers common mistakes players make by position.  New posts will begin again on Wednesday, January 2.
Next up … common first base mistakes!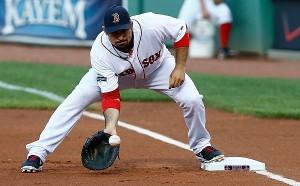 Adrian Gonzalez … now a Dodger
Assuming you're just a hitter.  It is true that many great hitters who have lost a step on defense get put over at first base but that doesn't mean the position should be taken lightly.  Only those who have never played with a great first baseman say the position is overrated.  Virtually every play in the infield involves the first baseman in some capacity.  Take great pride in your defense.  Practice, study, and master the position.  Your teammates in the infield will love you!
Stretching too soon.  Most first basemen know to stretch with their glove-side foot first.  However, many don't wait for the throw to be made before stepping.  In other words, they assume it is going to be a good throw and have already committed their feet.  Good first basemen get to the bag and place both heels near the bag.  After they see where the throw is they step to the ball, square up to block it, jump, or do whatever else is called for.  To be a great first baseman, master your footwork around the bag and be ready for any scenario on every play.
Relying on the catcher too much on relays.  First of all, good players know where they are on the field at all times.  A good first baseman should never have to rely on the catcher to line him up on a relay throw.  Many stadiums at the higher levels are too loud on plays like that for the first baseman to hear "Left!" or "Right!" anyway.  It's the first baseman's job to get himself lined up properly.  Second, a good first baseman doesn't wait to hear for the catcher to yell "Cut, home!"  He can see the throw himself and judge if the throw is off-line or if it doesn't have the carry to reach home plate.  In those situations, he cuts it regardless of what the catcher says or doesn't say.
Letting balls get past them.  It is considered a "cardinal sin" to allow a playable ball to get past you as a first baseman.  A first baseman can knock a ball down, kick it, step on it, bobble it again, and still get to first before the runner.  He even has the help of the pitcher in covering first base.  A first baseman doesn't have to have tremendous hands.  However, he does have to do everything in his power to keep the ball in front of him.  Tip:  Practice diving for ground balls regularly.  It's great fun and you get a chance to practice your own "web gems!"
Tomorrow:  2nd Base