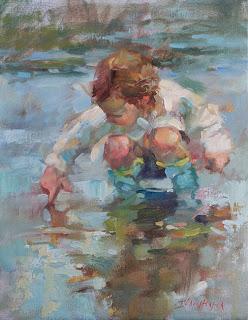 commissioned painting
18 x 14
This is the first of 4 commissioned paintings that I'm doing for the same client.  She has 4 grandchildren that she wants to see depicted at their happiest: at the beach.
From a CD of images of all of the children and a written description of each, it's my job to create paintings that both look like the kids and also represent their personalities.  The client asked not for exact portraits, but more for a sense of who these children; the likenesses were to be left loose and unforced.
This little girl was easy.  Her grandmother said that she is very "girl": feminine and delicate, and that she loves the water.  There were some shots of her in a swimsuit, frolicking with her siblings, but there was a delicacy in the photo reference for this shot that seemed appropriate given the description of the 2 year old. As well, the intensity with which she was dabbing at her own reflection and the fascinating cool, gray light made that photo my immediate choice.
The painting is all about colourful greys: the water, sweater, and skin are all muted but appear colourful in their context.  If a gray can be named (blue-grey, yellow-grey, purple-grey, etc) it can read with amazing intensity and create a vibrant effect; it's the greys that are neutral and un-nameable that sit lifelessly in a painting and suggest nothing.  Every gray in this painting is either warm or cool and some of the most interesting areas occur where the two temperatures are layered or placed side by side.  This happens in the shadow of the white sweater and in the little girl's hair which holds both cool greens and warm orange hues.
The next painting is under way and is a real departure from this, depicting an athletic, adventurous "tween" - this child's sister.  I'll post it when I'm content with it.
Happy
Thanksgiving
to all of my fellow Canadians!